Pluma Moos Recipes

Be sure to try the following pluma moos recipes. They make a traditional cold fruit soup that German Mennonites prepared on Saturday for serving on Sunday, a day of rest.
Served cold, slightly chilled, or warm, moos makes a colorful meal and a festive dessert for Christmas Eve, Easter, or any special occasion. So fruity, so delicious, and such an easy dessert to make!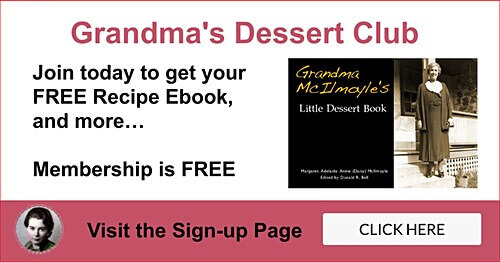 Grandma's Pluma Moos Recipe
Submitted by a Visitor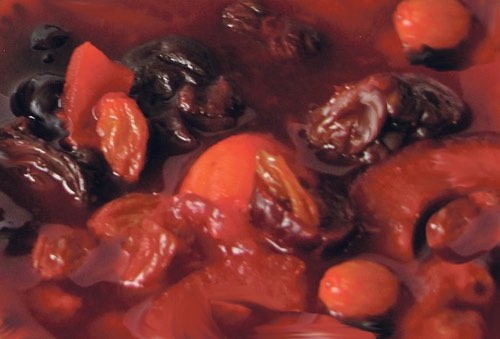 Traditional German Mennonite Pluma Moos
(Source: Adapted by Don Bell)
Grandma taught us how to make traditional Pluma Moos (pronounced mouse, also known as plumi moos) from her German Mennonite heritage, and this is exactly how she said to do it. —A Visitor

Storage Tip
Always cool your moos to room temperature before refrigerating for up to 3 days.

Ingredients:
2 cups each prunes and raisins
4 level tablespoons flour
1/2 to 2/3 cup sugar
2 cups milk, approximately
1/2 teaspoon salt
1/3 teaspoon cinnamon (or 2 cinnamon sticks)
Heavy cream, enough to thicken
Directions:
Wash fruit and place in a large saucepan and pour enough warm water to cover the fruit. There should be about 2 inches of water in the saucepan all the time. Boil the fruit for 1-1/2 hours, adding a small amount of water as needed, until the fruit is very tender.
Mix the flour and sugar together in a bowl. Slowly pour the milk into the flour-sugar mixture, stirring constantly until smooth. (I prefer to do this in a gravy shaker.) Then, slowly pour into the boiling fruit mixture, stirring constantly until it comes back to a boil.
Occasionally when I do this the mixture curdles, but if you keep on stirring the curdles should disappear. Add salt and cinnamon. Allow to cool.
When it is cold, add some heavy cream as a thickening agent, until the mixture is the consistency you want. Serve to an amazed and happy group of people.
Be sure to try this Old World recipe and make pluma moos a holiday tradition at your house.

Family Pluma Moos Recipe

Submitted by Ann Goertzen

Here's an easy family recipe for Pluma Moos that I have used with good results. Enjoy! —Ann Goertzen

Serving Tip
Serve your moos with a swirl of cream, if desired.

Pluma Moos Ingredients:
7 cups water
1 cup pitted prunes
1 cup raisins
1 cup sliced dried apples
1/2 cup each dried sliced apricots and peaches
Combine above ingredients in a large pot and cook for 15 minutes until dried fruit is tender but not overcooked.
Next, combine 1/4 cup cornstarch, 1/2 cup sugar, 1 cup cold water, and 1/4 teaspoon cinnamon in a separate small bowl; stir well, and then add to moos mixture, cook until thickened.
Sometimes I add a jar of canned bing cherries (or a similar canned fruit, a tart fruit is best) or add about a tablespoon of cherry jello powder to the cornstarch mixture. Gives the moos a nice pinkish color if it's to be served at the kitchen table on a special occasion.
Will be making this festive fruit soup for Easter weekend!