German Christmas Cookie Recipes
Traditional German Christmas Cookie Recipes

Here's a great collection of traditional German Christmas cookie recipes to make a variety of holiday cookies bursting with that Old World depth of flavor.
Whether it's the Lebkuchen, the little Belsnickel cookies, or the simple Butter Cookies, these traditional German cookies are festive and delicious anytime. And the almond macaroons are family favorites.
I can recall Mom making a batch of the German Crescent Cookies. She didn't have any almonds in her cupboard, so she substituted chopped pecans instead. Still, absolutely delicious cookies!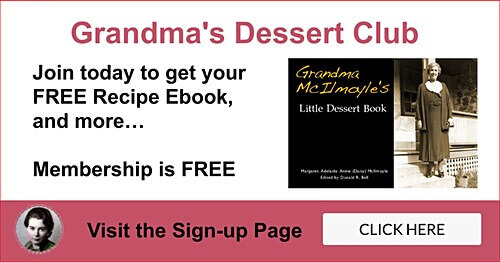 Traditional German Christmas Cookie Recipes

Mary At the Farm and Book of Recipes (1915)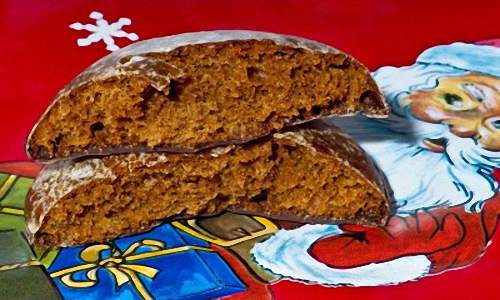 Homemade German Lebkuchen for Your Christmas
(Source: ©iStock/george-tsartsianidis)
Have fun making glazed Lebkuchen. These homemade almond cookies (aka cakes) are traditionally served on Christmas morning, but they are delicious the year-round.

Also try the sweet little Belsnickel Christmas cookies, and the crispy cinnamon wafers. Special cookies for the Holiday Season, and so delicious!

German Lebkuchen Cookies

Lebkuchen are small German cookies that somewhat resemble soft German gingerbread cookies. This is one of the traditional German Christmas cookie recipes from which Aunt Sarah's mother always baked.
She used:
1 pound dark brown sugar
3 whole eggs and yolks of 3 more
1/4 pound citron finely shaved on a slaw-cutter (cabbage shredder)
1/2 pound English walnut meats (chopped fine)
1 quart flour sifted with 2 teaspoonfuls of baking powder
Mix well together. Do not roll thin like ginger snaps, but about a half inch thick. Cut out about size (diameter) of a large coffee cup.
Bake in a moderate oven (375°F) and when cold ice the cookies using the following Lebkuchen icing recipe. However, these little cookies may also be enjoyed without icing.

Icing for Lebkuchen
Boil 2 cups of sugar and 1/2 cup of water seven minutes. Pour over the stiffly beaten whites of three eggs; ice the cookies.
Place cookies in cookie tins when sugar glaze icing has become cold, and these will keep quite a long time. I have eaten high-priced, imported Lebkuchen no better than those made from this traditional German Christmas cookie recipe.

Small Belsnickel Christmas Cookies
Belsnickel
Belsnickel is the fur-clad, ill-tempered, Saint Nicholas-like character who's traditional in parts of Germany along the Rhine and among the Pennsylvania Dutch in America. He bears gifts of candies, nuts, and fruits for good children and a birch switch for naughty children at Christmas time.

This old Belsnickel recipe of Aunt Sarah's mother derived its name "Belsnickel" from the fact that the Belsnickels who invariably visited the houses of Bucks County farmers on Christmas Eve, were always treated to some of these delicious little Christmas cookies.
2 cups white sugar
Pinch of salt
1 cup melted butter
1 teaspoonful baking soda
4 eggs
About 3 cups of flour
Mix in just enough flour so the cake dough may be rolled out quite thin on a floured board, using as little flour as possible. Cut out small cookies and bake lightly in a moderately hot oven (375°F).
The butter, when melted, should fill one cup; pour it over the two cups of sugar in a bowl and beat until smooth and creamy; add the eggs, beating one at a time into the mixture. Sift the teaspoonful of baking soda several times through the flour before adding to the cake mixture.
Stand this dough in a cold place one hour at least before cutting out cookies. No flavoring is used. Sift granulated sugar thickly over cookies before placing them in oven to bake.
From these ingredients were made over one hundred tiny cookies. One-half this traditional German cookies recipe might be used for a small family. The tiny cookies keep well in a dry, cool place.

Zimtwaffeln / Thin Cinnamon Wafers
When baking in an electric wafer or pizzelle maker, spread dough mixture evenly and bake for about 2-1/2 minutes until light brown, then remove quickly. Allow to cool completely on a wire rack, then store in an airtight container to maintain crispness.
These little wafers are delicious for the festive season with their three different flavors.

Here's a traditional German Christmas cookie recipe as made by Aunt Sarah. I have never eaten these Christmas cookies at any place excepting at Aunt Sarah's. The wafer or waffle iron she possessed was brought by her Grandmother from Germany. —Mary
10 eggs
3/4 pound sugar
3/4 pound butter
1 pound flour
Mix like ordinary cake. Divide this into three parts. Flavor one part with vanilla, 1 with chocolate, and the other with cinnamon. These latter will be darker than the first.
Place a piece of dough as large as a marble in a small hot, well-greased waffle or wafer iron. Press two sides of iron together, which flattens out cake, and hold by a long handle over heat, turning it over occasionally until cookies are baked.
The wafer, when baked, is a delicious, thin, rich wafer, about the size of half a common soda cracker.

Traditional German Christmas Cookie Recipes
Pennsylvania Dutch Cooking (1935)

Lebkuchen Cookies

1-1/2 cups flour
1 tablespoon cinnamon
1/2 teaspoon nutmeg
1/2 teaspoon cloves, ground
1/2 teaspoon cream of tartar
2 eggs, beaten
1 cup dark brown sugar
1/8 pound citron, chopped fine
1/8 pound almonds, chopped
Sift the flour, cinnamon, nutmeg, cloves and cream of tartar. Mix the sugar and beaten eggs thoroughly. Combine with the flour mixture, add citron and the almonds.
Roll out dough on floured board, 1/4 inch thick. Place on a greased baking tray and bake in moderate oven (350°F) for 15 minutes. Cut into squares or diamonds while still warm.
Ice thinly with plain white or lemon frosting. This is an old fashioned recipe for a traditional Christmas cookie complete with Lebkuchen spices.


Belsnickel Christmas Cookies
1 cup sugar
1/2 cup melted butter
2 eggs
1-1/2 cups flour
1/2 teaspoon baking soda
pinch of salt
Pour melted butter over sugar in a bowl and beat until smooth and creamy. Add the eggs, beating one at a time, into the mixture. Sift the baking soda thru the flour, add the salt, and add to the cake mixture. Stand the dough in a cold place for an hour to rise.
Roll out on floured board, quite thin. Cut into small rounds or other different shapes. Sprinkle with granulated sugar and bake in hot oven (400°F) for 10 minutes. Happy baking!

Christmas Butter Cookies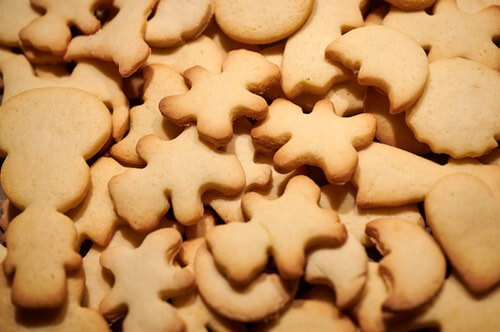 German Butter Cookies Ready for Christmas
(Source: ©hechtsheimer72/Depositphotos.com)
1 cup soft butter
1⁄2 cup brown sugar, packed
2-1⁄4 cups flour, sifted
Cream butter until it resembles whipped cream and slowly add the sugar, beating well. Add flour gradually and blend thoroughly. Wrap in waxed paper and chill for several hours.
Knead dough slightly on floured board, form into a smooth ball. Roll to about 1⁄8 inch thick and cut to desired shapes. Place on ungreased cookie sheets and bake in moderate oven (350°F) about 12 minutes.
When cold decorate your buttery cookies with butter icing, candied fruit, etc.

Moravian Christmas Cookies
This traditional German Christmas cookie recipe for delicious German spice cookies possesses a rich history, as it had its origin in the 17th century.
The spicy cookies are related to Lebkuchen, and are traditional Christmas treats enjoyed by Moravian descendants in Europe and North America. Moravia was part of the 11th century kingdom of Bohemia, which became part of the Czech Republic in the 20th century.
The dough for these crisp gingerbread-like cookies can be rolled paper-thin, and some have called it the world's thinnest cookie.

1/2 cup shortening
1 cup brown sugar
1 cup molasses
1 egg
4 cups flour
1 teaspoon cinnamon
1 teaspoon cloves
1/2 teaspoon nutmeg
1 teaspoon baking soda
Blend shortening, sugar and molasses. Add beaten egg. Sift dry ingredients and combine. Mix well, roll out thin and cut in traditional circle shapes, or fancy shapes with a cookie cutter.
Bake at 350°F for 10 minutes and cool on a wire rack. When cool decorate with boiled icing.

German Almond Macaroons
1 cup almond paste
3/4 cup sugar
3 egg whites
Pinch of salt
Rub paste until smooth, gradually work in the sugar until well mixed. Add a pinch of salt and beat in one egg white at a time, mixing thoroughly. Let stand for 20 minutes.
Drop teaspoonfuls on lightly buttered baking sheet. Bake in slow oven (300°F) for 25 or 30 minutes until surface is dry. Keep in cool place overnight.

Traditional German Christmas Cookie Recipes
Mom's Recipe Scrapbooks (c. 1920s)

German Crescent Cookies with Almonds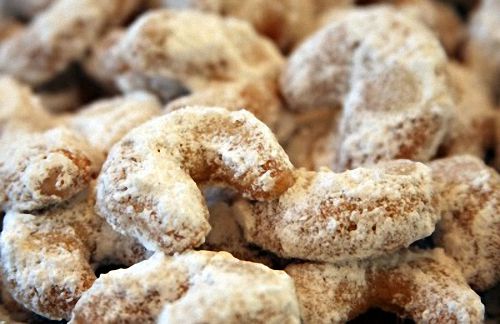 Enjoy German Crescent Cookies With Almonds
(Source: ©nicole-kuehl/123RF)
Mrs. Wheeler's traditional German Christmas cookie recipe makes traditional German crescent cookies that those of you who have traveled abroad to European countries will recognize as typical of German baking.
They are so easy to make with so few basic ingredients, and there's no trick in making them!
It's the good flavor of nice sweet butter, the dark brown sugar, and the chopped crunchy almonds that give these little cookies their character and tempt your sweet tooth.
Mom found, when we made them, that we would like the almond flavor to be just a tiny bit more decided, so she took the liberty of adding 1/4 teaspoon of almond extract to our second batch and found it an improvement.
These traditional German Christmas cookie recipes are wonderful, but never be afraid to adjust the ingredients and methods; that's how recipes become improved.

And we used cookie cutters to make various designs and different shapes for our baked cookies besides the crescent — for even squares, or diamonds cut with cookie cutters or a floured knife would taste just as good when made with this easy cookie recipe.
The use of an electric mixer and parchment paper will make things easier than it was for cooks in Grandma's day, and you might even have time for a refreshing cup of tea while waiting for the oven to heat.

Take 2-1/2 level cups all-purpose flour, 1 cup of butter, 1/2 cup dark brown sugar, 1/2 cup finely chopped or ground almonds.
Mix sugar and almonds together in a small bowl, and butter and flour together in a large bowl. Add sugar and almonds to the butter and flour. Knead to a cookie dough.
Shape in small crescents and bake in moderate oven (375°F) till a golden brown. While warm, roll warm cookies in powdered sugar. —Mrs. J. G. Wheeler, Ontario.

Classic German Lady Fingers
This is one of the easier traditional German Christmas cookie recipes to make, and it's one of several homemade ladyfingers recipes featured on this site.

5 egg yolks, 1/2 pound sugar, 1/2 pound blanched almonds, grated rind of 1 lemon, 1/2 pound of flour. Beat the egg yolks and sugar for 15 minutes. Add almonds cut fine and grated lemon zest.

Mix well, and add the flour gradually. Roll out and cut into strips the length and size of your forefinger. Bake in moderate oven (375°F).

Traditional German Christmas Cookie Recipe for Wafers

Bread and Biscuit Baker's and Sugar-Boiler's Assistant (1890)

Christmas Wafers

This traditional German Christmas cookie recipe calls for only four basic ingredients found in the kitchen:
8 ounces sugar
4 (8 ounces) eggs
4 ounces flour
1 ounce butter
Put the flour in a small bowl, rub in the butter, and add eggs and sugar; have the tins well greased, and drop the batter on them with a spoon in pieces a little larger than a "large penny." Bake in a cool oven (275°F).
When baked, form into the shape of a cone, dip each edge in egg whites, and then each end in colored or vanilla sugar. These simple cookies make a nice show for a Christmas dessert table.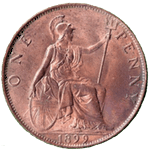 The British Large Penny had a diameter of 1.2 inches (30.8 mm), about the size of an American half dollar and a bit larger than the Canadian Loonie dollar coin.

Gingerbread Houses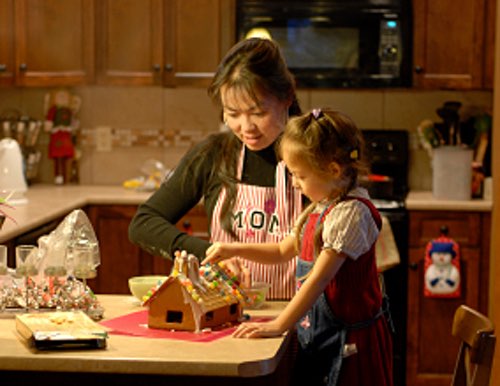 Make a Traditional Gingerbread House
(Source: ©iStock/RonTech2000)
Aside from the traditional German Christmas cookie recipes, you might also like to make an old fashioned Gingerbread House. The Christmas Season is the perfect time for Gingerbread Houses!
They are often seen in the German Christmas Markets along with Christmas trees and Advent calendars, and family members can have fun making them along with other Christmas decorations.