German Apple Pie Recipes

Choose one of the traditional German apple pie recipes from Grandma's collection and make a delicious homemade dessert pie that's perfect for serving on any occasion. The Gedeckter Apfelkuchen is loaded with apple and raisin flavor to tempt your taste buds!
It's a fact that everybody loves homemade apple pie, and once people taste the unique Old World flavor of these beauties, they'll beg you for second helpings. Guten Appetit!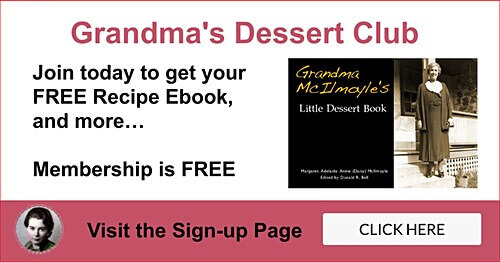 4 Traditional German Apple Pie Recipes
Homemade German Apple Pie Topped With Cake Crumbs
(Source: ©firn/Depositphotos.com)
Gedeckter Apfelkuchen with Crumb Topping
German Apple Pie With Cinnamon and Molasses

Westphalian Apple Tart
German Apple Tart With Candied Peel
What Kind of Apples Are Best?
Fresh apples picked in apple season are always the best choice for German apple pie recipes, and when it comes to tart apples for baking, you can't beat a Granny Smith apple. They have a delicious tart flavor.

That said, use Cortland, Honey Crisp, or whatever apples you have available, and you won't be disappointed. However, try to avoid Red Delicious, as they tend not to bake well.

How to Make Pie Shell

One of the easy German apple pie recipes below has instructions for making a European-style pie shell, or you can choose a pie crust recipe from Grandma's collection.

Tips for Baking Apple Pie
Decoratively crimp or flute edges of the pie for special occasions or simply smooth them for quick everyday serving.
Bake your pie in a 9-inch pie plate or springform pan. A piece of parchment paper cut to size and placed on the bottom of the pan will help prevent it from sticking. Set the pie plate on a baking sheet to catch any drippings and avoid spillage in the oven.
Allow hot pie to cool on a wire rack to room temperature to prevent it from crumbling when cutting. Display your homemade pie on a cake base for fancier serving.
Leftover pie can be wrapped in plastic wrap or tin foil to preserve freshness for up to two days. Reheat in 350° oven to warm.

How to Serve German Apple Pie
These apple pies taste wonderfully delicious on their own. However, they are also mouthwatering when served with vanilla ice cream or whipped cream. Myself, I enjoy a slice of warm apple pie with a little heavy cream drizzled over it.

Traditional German Apple Pie Recipe

365 Foreign Dishes (1908)

German Gedeckter Apfelkuchen With Cake Crumb Topping
(Source: ©firn/Depositphotos.com)
Gedeckter Apfelkuchen With Cake Crumb Topping or Egg Meringue

Line a deep pie dish with rich pie pastry and fill with quantities of chopped apples, raisins, and chopped nuts, sugar to taste, and a pinch of cinnamon and nutmeg.
Then cover gedeckter apfelkuchen with cake crumbs and let bake (375°F) until done. Also delicious when topped with a browned egg meringue.

Cake Crumbs
6 packed tablespoons brown sugar
1/2 teaspoon ground cinnamon
4 tablespoons butter, melted
2/3 cup all-purpose flour
Mix sugar and cinnamon in small bowl, add butter and stir in. Then add flour and stir until evenly combined and forming crumbs. You might need to add a little more flour until the dough gets crumbly.
Sprinkle crumbs over top of pie before placing in the oven. Makes enough for a 9-inch pie, or double recipe should you desire a thicker layer of crumbs.

Egg Meringue
Beat 3 whites of eggs with confectioners' sugar in a small bowl; flavor with lemon juice and spread meringue over the filling. Set in the preheated oven a few minutes to brown on top.
Traditional German Apple Pie Recipe

The White House Cook Book (1913)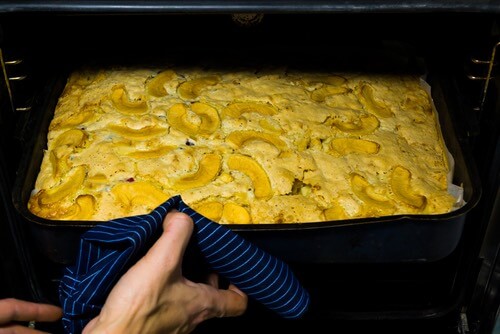 German Apple Pie With Cinnamon Baking In the Oven
(Source: ©Angurt/Depositphotos.com)
German Apple Pie With Cinnamon

To make the pie shell, sift together a heaping teaspoonful of baking powder and a pint of flour (2 cups) in a large bowl; add a piece of butter as large as a walnut (1 teaspoon butter), a pinch of salt, one beaten egg, and milk enough to make a soft pie dough.
Roll dough out half an inch thickness; butter a square biscuit baking tin or deep-dish pie plate and cover the bottom and sides with the dough; fill the pan with quartered juicy apples, sprinkle with 1/2 teaspoon cinnamon and molasses. A little leftover dough can be used to ornament the pie.
Bake in rather quick oven (425°F) until the pie crust and apples are cooked a very light brown.
Sprinkle a little sugar over the top of the pie five minutes before removing from the oven.

German Peach Pie Variation

Fancy a change? Ripe peaches are fine used in the same manner as the above recipe for apples.

Traditional German Apple Pie Recipe

With a Saucepan Over the Sea (1902)

Westphalian Apple Tart

Pare and chop 15 apples in small pieces, fry them in butter, add 4 spoonfuls of apricot jam, and beat until smooth.
Then add 1/4 pound of butter beaten to a cream, yolks of 4 eggs, and 1/4 pound of breadcrumbs, a spoonful of vanilla, and 6 ounces of powdered sugar.
Spread this over the top of the apples, laid in a shell of pie paste, and bake 15 minutes in a hot oven (425°F).

Traditional German Apple Pie Recipe

Cookery (1895)

German Apple Tart With Candied Peel

Ingredients: 1 pound apples, 1/4 pound brown sugar, 1 gill water (1/4 pint), 1 ounce candied peel.
To make this German apple pie recipe, first line a flat baking dish with pie pastry.
Put the sugar and water in a saucepan and boil until the sugar is dissolved. Peel and core the apples, slice them, and cook them in the syrup until tender. Beat them to a pulp.
Cut the candied peel into thin slices, and place them on the pastry, pour over the apple filling mixture, ornament with pasty, and bake in a moderate oven (375°F) half an hour baking time.

Historical German Pastry

When it comes to German apple pie recipes, you'll discover they are more common in North America than in Germany. However, open faced pies known as tarts were being made in Europe since before the Middle Ages, long before they were ever popular in North America.
Often, the dough used in German desserts like Kasekuchen (cheesecake) and an Apfelkuchen recipe (apple cake) resembled more of a shortbread than a flaky North American-style pastry crust.
Our German-Canadian friends eagerly await sampling their favorite tarts whenever they visit their family back in Germany and say that pies and tarts are now more popular in some regions of the country than others, as they tend to be a regional preference.
Want to try baking a historical German pastry for fun? Below is the English translation of a recipe for pastry dough from an early German cookbook, "Kochbunch der Sabina Welserine."
My wife Vicki commented after reading this historical pastry recipe that she's so glad there's a frozen homemade pie shell kept handy in our freezer!

Historical German Pastry Recipe

To make a pastry dough for all shaped pies - Take flour, the best that you can get, about two handfuls, depending on how large or small you would have the pie. Put it on the table and with a knife stir in two eggs and a little salt.
Put water in a small pan and a piece of fat the size of two good eggs, let it all dissolve together and boil. Afterwards pour it on the flour on the table and make a strong dough and work it well, however you feel is right.
If it is summer, one must take meat broth instead of water and in the place of the fat the skimmings from the broth.
When the dough is kneaded, then make of it a round ball and draw it out well on the sides with the fingers or with a rolling pin, so that in the middle a raised area remains, then let it chill in the cold. Afterwards shape the dough as I have pointed out to you.
Also reserve dough for the cover and roll it out into a cover and take water and spread it over the top of the cover and the top of the formed pastry shell and join it together well with the fingers. Leave a small hole. And see that it is pressed together well, so that it does not come open. Blow in the small hole which you have left, then the cover will lift itself up. Then quickly press the hole closed.
Afterwards put it in the oven. Sprinkle a little flour in the dish beforehand. Take care that the oven is properly heated, then it will be a pretty pastry. The dough for all shaped pastries is made in this manner. —Kochbunch der Sabina Welserine, 1553

About German Apple Pie Recipes

Whether it's the German no upper crust, crumb topped apple pie or the traditional apple tarts, these delicious Old World treats are certain to please the most discriminating palate.
You'll love serving these tasty German-style desserts to your family and guests anytime. Select one of the easy German apple pie recipes and make yourself a delicious dessert tonight.