Traditional German Cake Recipes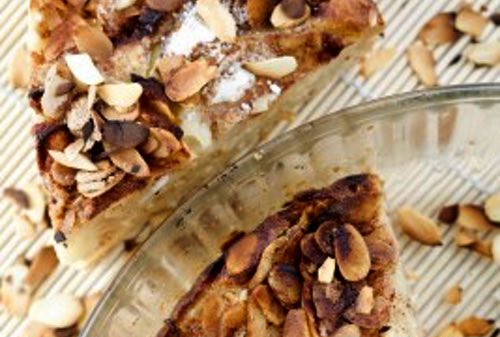 German Apple Cake Recipe with Almonds
(Source: ©marcin-aukaszewicz/123RF)
These traditional German cake recipes were used by Grandma to make delicious dessert cakes for her large family. Her nine kids ate lots of cake, especially when it was this good, so she often doubled the recipes! Why not try one of these German dessert cakes today? They're easily made and so delicious.


Favorite German Cake Recipes

Mom's Recipe Scrapbooks (c. 1920s)


German Marble Pound Cake

Ingredients:

1 cup sweet butter (do NOT substitute margarine)
1-1/2 cups granulated sugar
3/4 teaspoon almond extract
1 teaspoon vanilla extract
4 eggs
1 cup milk
3-1/4 cups flour
1 tablespoon baking powder
Pinch of salt or 1/8 teaspoon
1/4 cup unsweetened cocoa powder
3 tablespoons oil

Method:

Preheat oven to 350°F. Grease and flour a 10-inch tube pan and set aside. Beat the butter with sugar and extracts until light and fluffy. Beat in the eggs first and then add the milk.

In a bowl, with a wire whisk stir together the flour, baking powder, and salt. Beat the dry mixture into the creamed mixture until combined.

Remove half of the batter to a bowl and stir in the cocoa and oil into the batter in the mixer bowl.

Alternate large globs of the white and chocolate batter around the tube pan, then gently swirl the two batters with a spatula.

Bake in moderate oven for about 50 to 60 minutes (maybe more, depending on your oven) or until it pulls away slightly from the sides of pan and a wire tester inserted in the center comes out clean.

Transfer cake to a wire rack and cool completely before serving. Take some melted bittersweet chocolate and drizzle it over the top to decorate.


Recipe for German Buns

Yes, this IS a German bun recipe, but these buns with their sweet filling taste as good as cake and are excellent for serving at tea time as a dessert with homemade preserves.

4 cups sifted flour, 1 small teaspoon salt, 1 cup white sugar, 1/2 cup butter, 1/2 cup lard, 1 egg (well beaten). Mix up with milk and water, half each. Add 1 teaspoon soda, 2 teaspoons cream of tartar. Filling: 1 egg, 1 cup brown sugar, 1/2 cup flour; mix.

Roll out your buns and spread on the filling. Then roll up and cut off in slices. Bake. Do not put the buns too close together, as they spread.


German Apple Cake Recipe (Torte)

The Book of Household Management (1861)


Ingredients: 10 or 12 apples, sugar to taste, the rind of 1 small lemon, 3 eggs, 1/4 pint of cream or milk, 1/4 lb of butter, 3/4 lb of good short crust, 3 oz of sweet almonds.

Mode: Pare, core, and cut the apples into small pieces; put sufficient moist sugar to sweeten them into a basin; add the lemon peel, which should be finely minced, and the cream; stir these ingredients well, whisk the eggs, and melt the butter; mix altogether, add the sliced apple, and let these be well stirred into the mixture.

Line a large round plate with the paste, place a narrow rim of the same round the outer edge, and lay the apples thickly in the middle.

Blanch the almonds, cut them into long shreds, and strew over the top of the apples, and bake from 1/2 to 3/4 hour, taking care that the almonds do not get burnt: when done, strew some sifted sugar over the top, and serve.

This torte may be eaten either hot or cold and is sufficient to fill 2 large-sized plates. Sufficient for 2 large-sized tortes.


Traditional German Rum Cake Recipe

Practical Cooking and Dinner Getting (1876)


Ingredients: One pound of flour, three-quarters of a pound of butter, six ounces of sugar, one egg, half a cupful of rum.

Mix and bake in a pie pan, pressing the cake until it is about one-quarter of an inch high. Before baking, sprinkle sugar and ground cinnamon on top; after it is baked, cut it into squares while it is yet warm.


German Cake Recipe for Pound Cake

Cookery (1895)


8 oz butter, 10 oz flour, 1 oz sugar, 4 oz candied peel, rind and juice of 1 small lemon, 8 oz sultana raisins, 5 eggs. Beat butter and sugar to a cream, add yolks of eggs, then flour and whites alternately, lastly, the fruit. Pour into buttered and papered cake tins, and bake two hours in moderate oven.


German Puff Cakes Recipe

Miss Parloa's New Cook Book (1882)


The yolks of six eggs, five tablespoonfuls of flour, one of melted butter, one pint of milk, half a teaspoonful of salt. Beat the yolks of the eggs light, add the milk to them, and pour part of this mixture on the flour. Beat light and smooth; then add the remainder of the eggs and milk, and the salt and butter. Butter muffin pans, and half fill them with the cake batter.

The quantities given will make twelve puffs. Bake twenty minutes in a quick oven. Serve on a hot platter with the dessert sauce (see below) poured over them.


German Dessert Sauce with Natural Orange

The whites of six eggs, one cupful of powdered sugar, the juice of two oranges or of one lemon. After beating the whites to a stiff froth, gradually beat in the sugar, and then the juice of the fruit. (Nowadays, it's best to use pasteurized egg whites.)


About the German Cake Recipes

The rich, all-natural ingredients called for in these German cake recipes and the unsurpassed Old World taste of these cakes is what make them perfect for serving on any occasion, especially to have on hand when company comes.

Whether it's the German rum cake, the delicious apple torte strewed with almonds, or the simple, basic pound cake, your friends and family will love them.

I don't know about you, but I can enjoy eating a slice of homemade cake anytime. Homemade always tastes better than store-bought! These Old World cakes make perfect treats on their own or for serving after any meal.


You May Also Like

Traditional German Dessert Recipes


Enjoy a

Laugh

to Brighten Your Day!


Listen to Bud Abbott and Lou Costello's "Who's On First?" skit from the World War 2 Special Services Division V-Disk.


(5: 54 min.)


As an Amazon Associate I earn from qualifying purchases.