Traditional German Cookie Recipes
You'll love these traditional German cookie recipes. Germany's cooks have a long history of making rich-tasting cookies that people cannot get enough of.
All-natural, everyday ingredients combine to make treats that are truly delectable with an Old World texture and taste that cannot be compared. Enjoy these easy-to-make cookies today!

Traditional German Cookie Recipes
Mom's Recipe Scrapbooks (c. 1920s)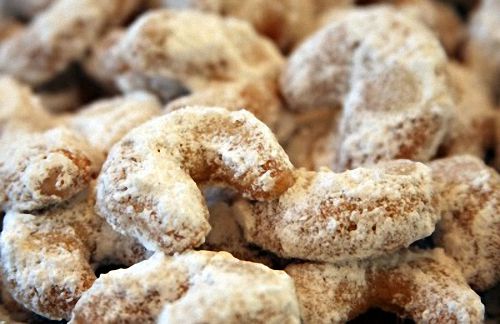 Enjoy German Crescent Cookies with Almonds
(Source: ©nicole-kuehl/123RF)
German Crescent Cookies with Almonds
Mrs. Wheeler's traditional recipe for German crescent cookies makes one of those delicious little European cookies that those of you who have traveled abroad will recognize as typical; yet they are so easy to make — so few ingredients and no trick in their blending!
It is the good flavor of nice sweet butter, the brown sugar, and the almonds that give these little cookies their character.
We found, when we made them, that we would like the almond flavor to be just a tiny bit more decided, so we took the liberty of adding 1/4 teaspoon almond extract to our second batch and found it an improvement.
And we used all sorts of shapes for our cookies besides the crescent — for even squares or diamonds cut with a floured knife would taste just as good when made with this recipe.
Take 2-1/2 level cups flour, 1 cup of butter, 1/2 cup brown sugar, 1/2 cup finely chopped almonds. Mix sugar and almonds together and butter and flour together. Add sugar and almonds to butter and flour. Knead to a dough.
Shape in small crescents and bake in moderate oven (375°F) till a golden brown. While warm roll in powdered sugar. —Mrs. J. G. Wheeler, Ontario.
German Lady Fingers
This is an easy ladyfingers recipe to make. It's one of several ladyfingers recipes featured on this site.

5 eggs (yolks), 1/2 pound sugar, 1/2 pound blanched almonds, grated rind of 1 lemon, 1/2 pound of flour. Beat the yolks and sugar for 15 minutes. Add almonds cut fine and grated lemon rind.
Mix well, and add the flour gradually. Roll out and cut into strips the length and size of your forefinger. Bake in moderate oven (375°F).

Fannie Farmer's German Chocolate Cookies

The Boston Cooking-School Cook Book (1916)


Dark Chocolate Cookies
Fannie Farmer's chocolate cookie recipe is simple and easy to make, yet these cookies taste totally rich and delicious.
2 eggs, 1 cup brown sugar, 2 bars German chocolate, 1/4 teaspoon cinnamon, 1/2 teaspoon salt, grated rind 1/2 lemon, 1-1/3 cups almonds (blanched and chopped), 1 cup flour, 1 teaspoon baking powder.
Beat eggs until light, add sugar, gradually, and continue the beating; then add chocolate, grated, and remaining ingredients. Drop from tip of spoon on a buttered sheet, and bake in a moderate oven (375°F).

Traditional German Cookie Recipe

The Bread and Biscuit Baker's and Sugar-Boiler's Assistant (1890)


Little German Wafers

8 ounces sugar, 4 (8 ounces) eggs, 4 ounces flour, 1 ounce butter.
Put the flour in a small basin, rub in the butter, and add eggs and sugar; have the tins well greased, and drop the batter on them with a spoon in pieces a little larger than a large penny. Bake in a cool oven (275°F).
When baked form into the shape of a cone, dip each edge in white of egg, and then each end in colored sugar. They make a nice show for a display window or dessert table.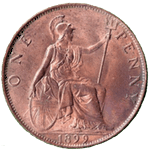 The British Large Penny has a diameter of 1.2 inches (30.8 mm), about the size of an American half dollar and a bit larger than the Canadian Loonie dollar coin.

Traditional German Cookie Recipe

Second Edition of the Neighborhood Cook Book (1914)


Egg Yolk Cookies / Eier Kringel

Ammonia Powder

If ammonium carbonate is unavailable, substitute baking powder in a 1-to-1 ratio.

Yolks of one dozen hard-boiled eggs, one and one-half pounds butter, one-half pound granulated sugar. Enough flour to make a nice soft dough, two teaspoons of ammonia powder (mix with flour), one teaspoon lemon extract.
Cream the butter and sugar; then add the grated yolks of the eggs; then two raw eggs, and lastly, flour, and flavoring. Roll out quite thin. Cut into different forms, and bake in moderate oven (375°F) until golden brown.

Old Fashioned German Crisps Recipe

Dr. Chase's Third, Last and Complete Receipt Book (1891)


German Crisps

Sugar, 2 cups; butter, 1 cup; 3 eggs, and the rind and juice of 1 lemon; flour. Directions: Mix thoroughly with hand or spoon, adding sufficient flour to roll out.
Roll out very thin. Cut in small cakes. Place in the pan and rub the tops with egg and sprinkle on white sugar. Two eggs are enough for the tops. They will bake in a few minutes. —Harper's Magazine

About the Traditional German Cookie Recipes

German Crescent Cookie
I can recall Mom making a batch of the crescent cookies. She didn't have any almonds in her cupboard, so she substituted chopped walnuts instead. Absolutely delicious!
Whether it's the old fashioned wafers or the lady fingers, the resulting cookies are absolutely perfect. And the traditional German chocolate cookies are scrumptious.
Your friends and family will rave about them and beg you for more. So why not make some today?

Related Pages You Might Like