Southern Butter Roll Recipe
Southern Butter Roll Recipe

Enjoy an old fashioned Southern Butter Roll recipe from the Old South. Sweet butter roll is a delicious comfort food beloved by generations of Southerners.
It's thought to have originated as a way to use up scraps of sweet biscuit dough. Treat yourself to a family favorite tonight.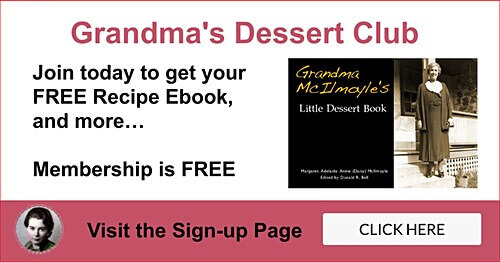 Momma's Southern Butter Roll Recipe

Recipe by Audrey E. Henderson Submitted by Suzi Cooper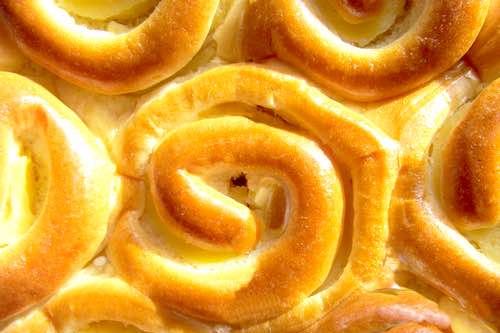 Old Fashioned Southern Butter Roll Dessert
(Source: ©Tanjah/Depositphotos.com)
Momma's Sweet Butter Roll

Suzi Cooper has kindly shared her mother's old fashioned Southern Butter Roll recipe.
This sweet butter roll pudding-like dessert served hot was often made by her mother, Audrey E. Henderson of Sopchoppy, Florida, as a treat for her eleven children.
Southern Butter Roll quickly became the family's favorite comfort food. Pull your chair closer as Suzi explains in her own words how easily it's made.

My Momma often made an old fashioned Southern Butter Roll recipe. She would make a pan of biscuits, then mix up a mixture of a can of milk with water, sugar, and vanilla to pour over the biscuits.
She would then cut a stick of butter over the entire pan making sure there was enough to cover the biscuits, and put it back in the oven to get hot. The biscuits would absorb the liquid, so she would add more milk if needed. It's so Good!
Use Evaporated Milk
Homemade Self-rising Flour
Whisk together 8 cups Unbleached Pastry Flour (not all-purpose), 4 tablespoons baking powder, 2 teaspoons salt, and store at room temperature in an airtight container until ready to use.
1. How to Make the Biscuits:
Everyone makes biscuits differently. We make biscuits using self-rising flour, evaporated milk, bacon grease, or whatever oil you have at hand.
For a big pan of biscuits, I'd use 5 cups flour, add 1/2 cup oil, then add milk to the consistency where you can spoon the dough onto a floured surface and form biscuits.
First, bake the biscuits until they are brown on bottom and top.
After you bake them, while they are still hot, get a pan or oven dish deep enough to cover the biscuits entirely with the milk mixture. Place the biscuits in the pan making sure you have greased the pan good.
2. How to Make the Milk Mixture:
The milk mixture is 1 can (12 ounce/370 ml) Evaporated Milk (DO NOT use sweetened condensed milk, there's a difference), then once you've added the milk, fill that can with water and add it, then add vanilla to taste, and sugar to your sweetness. I make it a little sweet, because the biscuits will take some of the sweetness.
Remember to TASTE the milk mixture to make sure it's very sweet and has plenty of vanilla flavor in it.
I usually double or triple the milk mixture as most often you will need it. The biscuits will take a lot of milk. (If you have any of the milk mixture left over, it can be used later.)
3. How to Prepare the Butter Roll Dessert:
Make sure to cover the biscuits entirely with the milk mixture, let it soak in, then add more mixture to cover. Then cut a stick of butter over them.
Place the pan in the hot oven (about 375°F) until the milk gets really hot and the butter is all melted — and enjoy.
Oh, I can see and smell it already!
Note: If you have any milk mixture left over, don't worry, put it in the freezer until lightly frozen, then into the blender for a milkshake, or add what you want for a tasty treat with fruit.

Audrey Henderson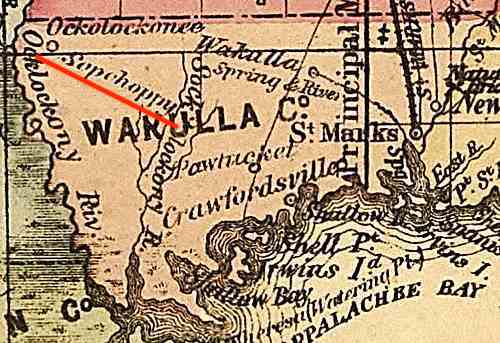 Sopchoppy, Wakulla Country, Florida in 1874
(Source: FCIT at USF)
Published in Memory of Audrey Henderson (1932-1996) of Sopchoppy, Florida.
Suzi, thank you for so generously sharing your Momma's sweet, Southern Butter Roll recipe with dessert lovers the world over. I feel honored to have it on my Old Fashioned Desserts site —Don

Ollie Mae's Southern Butter Roll Recipe

Submitted by a Visitor

You Will LOVE Momma's Baked Butter Roll Dessert
(Source: ©Marjorie A Bull/Depositphotos.com)
This is the old fashioned Southern recipe for Sweet Butter Rolls my Grammy used, and I'm so glad to share it with you. She passed away two years ago, so help her live on by enjoying her butter rolls! —Reader

Grandma's Tip

Butter roll can also be sliced, and the rolled slices placed in rows in a greased pan.

Biscuit dough:
4 handfuls self-rising flour (White Lily)
2 handfuls sugar added to flour
1 fistful of lard rubbed into flour
Enough buttermilk to make a dough stiff enough to roll out
Roll out dough about 1/4 inch thick in a big rectangle, spread with soft butter, and sprinkle with nutmeg and sugar. Roll like a jelly roll and pinch edges to seal, then place in a greased pan.
Custard:
1 quart sweet milk
1 cup sugar
1 stick butter
As much nutmeg as you like
Combine everything in a saucepan and slowly bring to a boil to melt the butter and dissolve the sugar. Sprinkle a little nutmeg over all and bake at 350°F for about 45 minutes, or until nicely brown.
Enjoy!

My great-grandmother used to make Southern Butter Roll. Yum! Sounds just like the recipes mentioned. Somehow the recipe never got passed down.
I asked around for years, and people thought I was crazy! No one believed me that this was a real dessert! Thank you! — Anon.

When our kids were young, my husband worked in a small East Texas town and we ate at this awesome restaurant called Joe's and at lunchtime they had "Butter Rolls" that was a dessert.
No cinnamon or nutmeg, and they were made of yeast rolls with a buttery-sweet almost custard-like sauce cooked in. —Roxann

Old Fashioned Southern Butter Roll Recipe

Submitted by Cory

Grandma's Hint

You can also use crescent rolls instead of pie crust dough for this recipe.

Butter Roll Sauce:
Melt in a warm pan over warm heat...
2-1/2 cups milk
1-1/2 cups sugar
Some cinnamon and nutmeg, however much you like
1/2 stick of butter
Butter Rolls:
1 to 2 packages of pie crust from the supermarket refrigerator section (the ones that are in the form of a roll, not the flat ones in the pie plate shape)

Baking paper
1 stick butter
Some cinnamon and nutmeg, however much you like
1 cup of sugar
Instructions:
Roll pie crust dough 1/4 inch thick in a rectangle. Take the pie crust and place it on the nonstick baking paper flat and spread a stick of butter for each crust you use, then sprinkle sugar, nutmeg, and cinnamon over the butter.
Then roll the pie crust slowly until it is completely rolled, then pinch the ends.
Remove the roll from the baking paper and place it in a glass baking dish. Preheat the oven to 375°F and bake the roll for 15 to 20 minutes, or until golden brown and risen.
Pour the sauce mixture over the roll and bake for another 15 to 20 minutes. If sauce is completely absorbed, add a bit more milk (1/2 cup) and let sit in oven with the oven off for 5 more minutes.

My Grandma used to make this old fashioned Southern Butter Roll recipe too! I always knew how to make it, but just cook by sight when it comes to measurements.
Thanks for posting b/c the measurements and description in your recipe sound similar to how my Grandmother and I make Butter Roll years ago. — Elaine

This dessert recipe was close to my Granny's, except she cut her pie rolls like cinnamon rolls and lay them in a glass dish and proceeded as the rest of this recipe is listed. Try it next time. — Sissy

Mom's Old Fashioned Butter Roll Recipe

Submitted by Sherial

I am very thankful that my mother is still around to help me with all of her Old South recipes. This old fashioned Southern Butter Roll recipe is definitely one of my favorite recipes. I love it and it's so funny that I made this dessert today of all days. —Sherial

Evaporated Milk

To substitute 1 cup evaporated milk, use 1 cup heavy cream, or gently simmer 2-1/4 cups whole milk in a saucepan until reduced to 1 cup.

Dough Strips:
1 Cup all-purpose flour
1/2 teaspoon baking powder
1 tablespoon vegetable oil
Pinch of salt
Pinch of sugar
1/4 Cup milk
Mixture Ingredients:
Butter (about 1/2 tablespoon)
Sugar (about 3 tablespoons)
Nutmeg (about 1/2 teaspoon)
1 can evaporated milk
Preheat oven to 350° Fahrenheit.
Sift all dry ingredients together in a bowl. Make a hole in the bottom of the bowl ingredients so that the flour is around the sides. Add the vegetable oil and milk. Gradually go around the bowl adding the flour a little at a time until the dough comes together and is no longer wet.
Take the ball of dough and separate it into 3 parts. Roll each dough ball out and add a slice of butter, sugar, and nutmeg to each rolled out strip of dough.
Close the strips of dough and pinch the sides. Place them in a glass cooking bowl and pour a can of evaporated milk over the mixture.
Bake uncovered for about an hour or until the top of the strips of dough are browned.
Enjoy my Mom's old fashioned Southern Butter Roll Recipe!

I have been looking for a recipe for Southern Butter Rolls dessert like my grandma used to make. I am a Georgia born-and-bred man, and Old Southern recipes are hard to come by.
I haven't tried yours YET, but it sounds as if you hit the nail right on, the head. Thanks, Sherial. — Ron D.

Thanks for the old fashioned Southern Butter Roll recipe. I have been trying to figure out the ingredients since my Granny passed away. I made Butter Rolls last night, and it tasted almost like Granny's. — Miz Jackson