Homemade Cherry Desserts

You'll love Mom's favorite homemade cherry desserts. The Cherry Delight and Cherry Junk desserts featured below are beloved comfort foods that will bring back those fond memories of Mom's kitchen and childhood.
Old Fashioned desserts such as these will always be popular because they are simple to prepare and look and taste so darn delicious.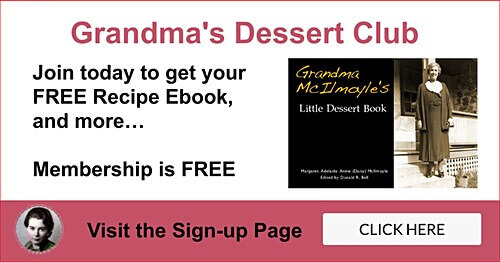 Mom's Homemade Cherry Desserts

Mom's Recipe Scrapbooks (c. 1920s)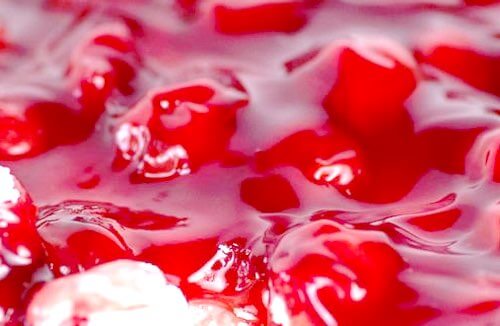 There's Nothing Like a Retro Cherry Dessert for Comfort
(Source: Don Bell)
No Bake Cherry Delight

Could Cherry Delight also be called Cherry Junk? Whatever it's called, here's a great recipe for Cherry Delight:
1/2 pound graham crackers
1/4 cup butter melted, or more if needed
Crush the graham crackers fine, mix with butter, and place in a 9x13 inch pan. (optional) Bake for 5 to 7 minutes at 350°F to set crust. Must cool completely.
The filling is made as follows:
8 ounces cream cheese, at room temp
2 cups powdered sugar
2 packages Dream Whip®, or similar dessert topping
Prepare Dream Whip as directed on package. Add powdered sugar and cream cheese and mix well. Pour over graham crust and top with cherry pie filling. Chill well.
This dessert recipe has been in our family at least 40 plus years. It's a family favorite.

Simple Cherry Delight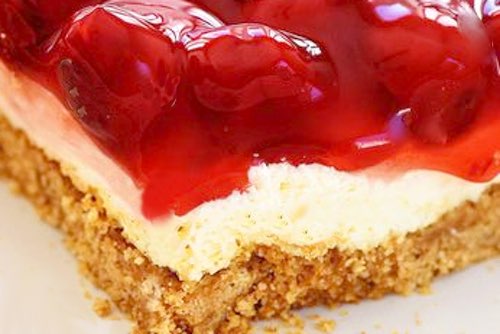 Enjoy Making a Homemade Cherry Delight Dessert
(Source: Don Bell)
Here's a simple NO BAKE cherry delight recipe that my aunt Jessie used to make that doesn't call for the usual cream cheese:
2-1/4 cups of graham wafer crumbs
3/8 cup soft margarine or butter
1/4 cup granulated sugar
Blend above ingredients together and save some for garnish later. Press in bottom of 9x14 inch pan for the crust.
1/2 pint whipping cream
1 10-ounce package mini marshmallows
1 can cherry pie filling
Whip 1/2 pint whipping cream and fold in one 10-ounce package of mini marshmallows; spread on graham wafer base, then spread with 1 can cherry pie filling.
Garnish with remaining graham wafer crumbs and put in refrigerator 4 to 5 hours or overnight to chill. Enjoy.

No Bake Cherry Jubilee

Here's a NO BAKE Cherry Jubilee recipe from a newspaper clipping I found in Mom's old recipe box.
It's a take on the famous Cherries Jubilee that's very easy to make, and you could simply double the recipe for serving 8 to 10 people.
1 can sweetened condensed milk
8 ounces Cool Whip® topping
1 can cherries, drained
Pecans, optional
Graham crumb crust, optional
Mix milk and Cool Whip, then add cherries and stir. Pecans may be added, if preferred. May be placed in a graham crumb crust or not. Chill overnight before serving.

Cherry Cobbler

2 cans of cherries, drained
1 tablespoon flour
1/2 cup white sugar
1/4 teaspoon salt
3/4 cup cherry juice
Place drained cherries in a greased 8x8-inch baking dish. Sprinkle 1 tablespoon flour over them. Combine sugar, salt, and juice. Pour over cherries.
Cobbler Dough:
1 cup sifted flour
1-1/2 teaspoons baking powder
1/4 teaspoon salt
1/4 cup shortening
1/3 cup milk
2 tablespoons granulated sugar
Sift flour, baking powder, and salt. Cut in shortening. Add milk.
Drop dough on cherries and sprinkle with sugar. Bake in 425°F oven for 25 minutes. Very delicious! —Phyllis Bishop
Variations:
You can use other fruits such as peaches, strawberries, pineapple, or applesauce in this old fashioned dessert recipe.
Sprinkle cinnamon, or nutmeg, or cloves over sweet applesauce to add additional flavor for your old fashioned cobbler.

No Bake Cherry Cha Cha

Here's another homemade cherry dessert recipe that makes a great tasting dish, and the instructions for making the graham crumb crust could also apply to the Cherry Jubilee dessert above.
1-1/2 cups graham cracker crumbs
1/3 cup melted butter or margarine
1 can cherry pie filling
4 cups miniature marshmallows (white)
1/2 pint whipping cream
Mix together the graham cracker crumbs and melted butter. Pack 3/4 of that mixture into a 9x9-inch pan (line the bottom of the pan with foil).
Whip the cream and add marshmallows. Put half of this mixture on top of graham crust. Cover that with cherry pie filling. Put remaining cream mixture on top. Sprinkle top with rest of graham crumbs. Cover with foil and put in fridge overnight to chill.

Homemade Cherry Dessert Recipe

Submitted by a Reader

No Bake Cherry Junk
My grandma's recipe for Cherry Junk is as follows:
Line the bottom of a 9-inch pie plate with vanilla wafers. Combine one 8-ounce package cream cheese, 1 cup miniature marshmallows, and 1 cup powdered sugar. Beat till well mixed.
Spread the cream cheese mixture over wafers and cover with 1 can cherry pie filling, then chill well.
My mom has been asking my grandma for her recipe for years, and Grandma finally found it! You could always replace the vanilla wafers with graham crackers if preferred.

Homemade Cherry Dessert Recipe

The White House Cook Book (1913)

Cherry Pudding Boiled or Steamed

Two eggs well beaten, one cupful of sweet milk, sifted flour enough to make a stiff batter, two large teaspoonfuls of baking powder, a pinch of salt, and as many cherries as can be stirred in.
Boil one hour or steam and serve with liquid sauce.
Cranberries, currants, peaches, cherries, or any tart fruit is nice when used with this homemade cherry dessert. Serve with a sweet dessert sauce.