Old Fashioned Trifle Recipe
Old Fashioned Trifle Recipe

These old fashioned trifle recipes are so easy to make, yet your finished dessert will look elaborate and taste as though you have spent hours in the kitchen.
You must simply make an English trifle for your next party or family get-together. A dessert that has proved this popular for centuries has to be good.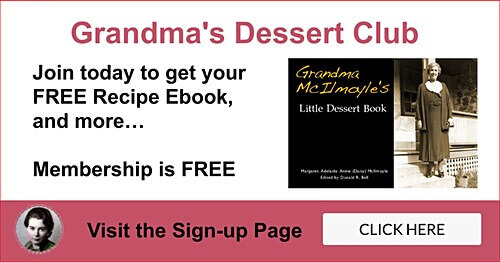 Grandma's Old Fashioned Trifle Recipes

Mom's Recipe Scrapbooks (c. 1920s)

Enjoy a Traditional English Trifle Topped with Fruit
(Source: ©starstock/Depositphotos.com)
A fella goes to the doctor, and he's got a jelly in one ear and a custard in the other, and the doctor said, "What's the matter with you?" And he said, "I'm a TRIFLE deaf." —Tommy Cooper, British Comedian

Traditional English Trifle

Fill a glass bowl with a layer of sliced sponge cake. Cover with red currant jelly or raspberry jam, then add more cake slices. Sprinkle over this a handful of shredded coconut and 1/2 cup chopped nuts of choice.
Pour over all a CUSTARD made of 1 pint milk, 2 eggs, 2 tablespoonfuls sugar. Boil custard until it thickens, and add a pinch of salt and vanilla to taste. When cold serve with whipped cream. —N. Hampson, Mount Forest, Ont.

Trifle Dessert

This is a retro trifle dessert from the 1950s.

1 raspberry or jelly roll
3 tablespoons sherry (optional)
1 tin fruit (whatever is available)
1 package Jello® (your flavor preference)
1 pint custard
Whipped Cream
Arrange 1/2-inch slices of sponge roll in bottom of dish, and drizzle sherry over them.
Open tin of fruit, reserving syrup. Arrange fruit evenly over sponge slices, then make Jello, using syrup as part of liquid called for. Pour Jello mixture gently over fruit and allow to cool.
Make custard (see custard instructions in above recipe) and while warm, spread on Jello. Top with whipped cream and decorate with fresh fruit slices.

Old Fashioned Trifle Recipe

The Complete Confectioner, Pastry Cook, and Baker (1864)

Delicious English Trifle with Whipped Cream
(Source: ©vannphotography/Depositphotos.com)
Traditional English Trifle
Place several alternate layers of Savoy Biscuit and bitter almond Macaroons in a handsome glass bowl, or dish, and saturate them with the best Madeira wine; cover the surface of the top layer with any kind of jelly, jam, or marmalade (red currant jelly is generally preferred);
Then take the whites of four eggs, half a pound of pulverized loaf sugar, the juice of one sound lemon, a little rose water, and one pint of cream; whisk all to a froth, and put lightly into the bowl, in the shape of a cone; and ornament according to fancy, with colored sugars.

Old Fashioned Trifle Recipe

The Great Western Cook Book (1857)

Easy Trifle

Take a deep, glass dish, lay the bottom closely with slices of cold pound cake, or sponge cake, either will do, then pour on a quart of wine, fill the top with rich whipped cream; ornament with preserves, cut in delicate bits.

Delmonico's Old Fashioned Trifle Recipe

Second Edition of the Neighborhood Cook Book (1914)

Delmonico's Macaroon Trifle
Two heaping teaspoons gelatin, dissolved in one-half cup cold water for one-half hour; mix this with two cups milk and a pinch of baking soda, to keep from curdling; let boil a few minutes and remove from fire; stir in yolks of four eggs, one cup sugar; boil again, stirring constantly until thick. When cool, add the beaten egg whites and one-half wineglass sherry.
Line mold with crystallized fruits and macaroons; put on one-half quantity, then add more fruit, and then the macaroons. Set away till formed.

Old Fashioned Trifle Recipe

My Pet Recipes Tried and True (1900)

Simple English Trifle
One pint of cream well beaten, sugar and flavoring to taste. One quarter of a pound of macaroons which have soaked in sherry for a few minutes.
Put in a deep dish alternate layers of macaroons and cream. Preserved cherries and almonds (whole) are a great improvement. —Miss Ruth Scott

About the Old Fashioned Trifle Recipes
Trifle is a most popular pudding-like dessert consisting of layers of sponge cake or macaroons soaked in wine and placed in a large bowl, then covered with a rich egg custard and often topped off with freshly whipped cream.
Old fashioned trifle recipes first appeared in Britain around 1596, and they've seen very little change since the 1700s. Sometimes layers of fresh or preserved fruits are added for color and flavor, and a fruit juice can be substituted for the wine, if preferred.