Old Time Television Shows
Old Time Television Shows

Those of us who are older can never forget the old time television shows. Not only did those early TV programs entertain us, but they created fond memories that last a lifetime.
Who can forget the time spent watching a favorite TV show with their family or friends? And now when you watch many old series on YouTube, those wonderful memories come flooding back.

Remembering the Old Time Television Shows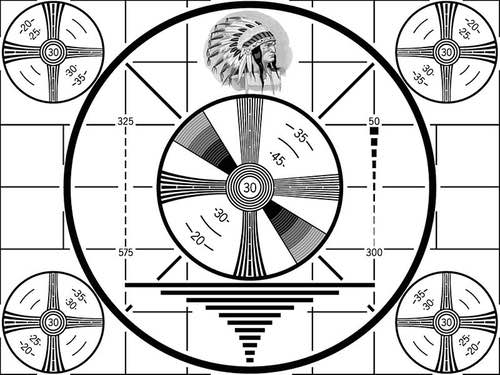 RCA Indian Head Test Pattern, c. 1939
(PD Source: Wikipedia.com)
Many of the early TV shows had been carried over to television from their corresponding old time radio programs. People Are Funny, Our Miss Brooks, Amos 'n Andy, Fibber McGee and Molly, Gunsmoke, and The Lone Ranger to just name just a few.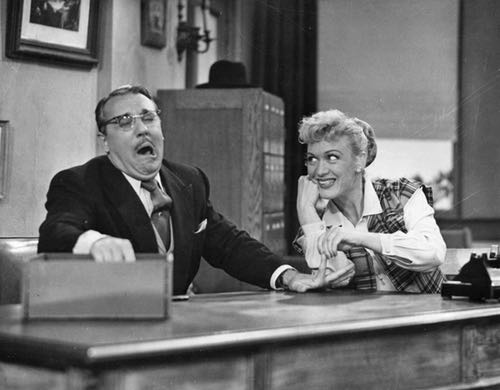 Gale Gordon & Eve Arden Star in 1950s Our Miss Brooks
(PD Source: Our Miss Brooks CBS TV Series)
It was such a thrill to finally get to see the actual characters, sets, and locations on that tiny screen. Some shows and stars were as we imagined, but after all the anticipation, others were sometimes disappointing. It was truly a unique time in home entertainment.

The Golden Age of Television

As a young boy, I loved to rush home from school to watch Sea Hunt starring Lloyd Bridges, The Roy Roger's Show starring Roy Rogers and Dale Evans, and The Cisco Kid starring Duncan Renaldo with Leo Carrillo as Pancho.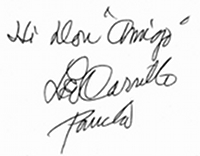 Leo Carrillo Autograph
(Source: ©Don Bell)
Getting Pancho's (Leo Carrillo) autograph at the 1960 Peterborough Exhibition was one of my biggest boyhood thrills. He was such a kind and gentle man.
And in the evenings who could ever forget watching those wonderful situation comedies? The I Love Lucy show starring the incomparable Lucille Ball was one of the all-time favorites.
Relive one of TV's classic comedy moments as you watch Lucy in the short YouTube video below.

And, of course, there was the popular family sitcom Leave It to Beaver with Wally and the Beaver.

Leave It to Beaver's Jerry Mathers and Tony Dow
(PD Source: Publicity Photo)
If you're a fan of the Golden Age of Television, you'll have LOTS of fun reminiscing here. Relive those glorious days of television and join in by sharing your comments.
Be sure to see the article about the World of Giants. It was an unusual old time television show for its time, and its drama kept you on the edge of your seat.
Watch the short YouTube video below as secret agent Mel Hunter battles an unfriendly house cat as he attempts to use a desk telephone.

And if you're a Western fan, you'll love watching this 5-minute YouTube clip of the Bob Hope comedy film "Alias Jesse James," and its roundup of popular TV Western stars from the 1950s.

Welcome to Nostalgia TV
Click on the links below to read articles about old time television shows, and comments received from visitors to this site.


TV Show With 6-Inch Tall Secret Agent

Born in 1954, as a small child I watched a television series that had a team of federal agent partners. The unusual thing was one of the agents was only …

TV Western Star Leo Carrillo

I found the autographed picture shown above while digging through some old photo albums, and it got me reminiscing about some of the old TV shows I loved …
1950s Television Westerns

A number of the popular radio Westerns made the successful transition to television, and I can remember how exciting it was to finally get to see what …
Check Out My FREE Recipe Ebook and Newsletter. It's My Gift to You!