Uplifting Kitchen Poems
Kitchen poems can help to brighten your day. While looking through my mother's old recipe scrapbooks and handwritten recipe books, I was struck by all the newspaper clippings of poetry that she had placed between the pages of her recipes many years ago.
Mom proved that poetry and cooking can work together to lift one's spirit. Let the thoughtful little poems below lighten your busy day and lift your spirit.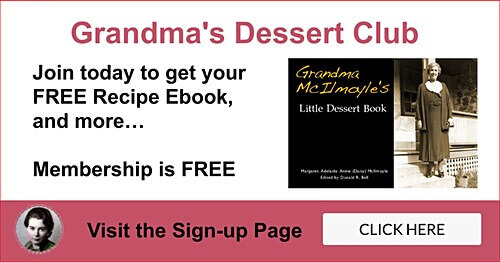 Mom's Favorite Kitchen Poems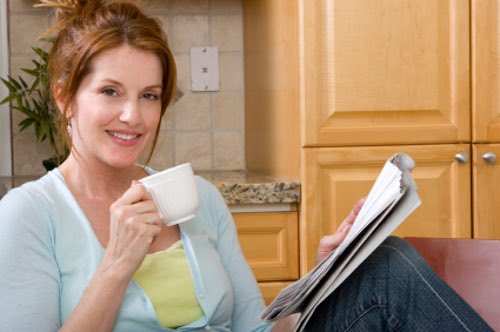 Reading the Kitchen Poems to Brighten the Day
(Source: ©digitalskillet/123RF.com)
This little poem clipped from a vintage newspaper was given to Mom by my Grannie Bell who being Scottish, took great delight from it.
Grannie called it "a cheery wee poem." Maybe it reminded her of her own grandpa when she was a bonnie wee lass in Uphall, West Lothian, Scotland.

He's Scotch as He Can Be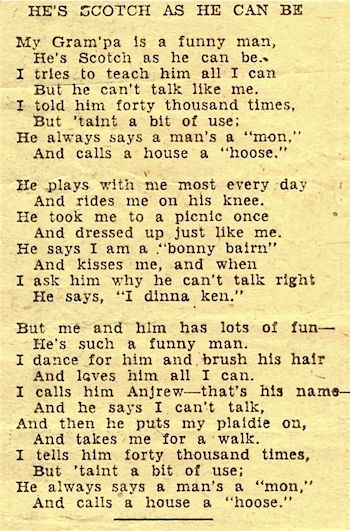 He's Scotch as He Can Be
Gordon's Creed
The following poetry must have given Mom strength when days were difficult and things didn't turn out quite as expected.
Question not, but live and labor,
Till your goal be won;
Helping every feeble neighbor,
Seeking help from none.
Life is mostly froth and bubble:
Two things stand like stone—
Kindness in another's trouble,
Courage in your own.
—Adam Lindsay Gordon (1833-1870)

On the Dallas Road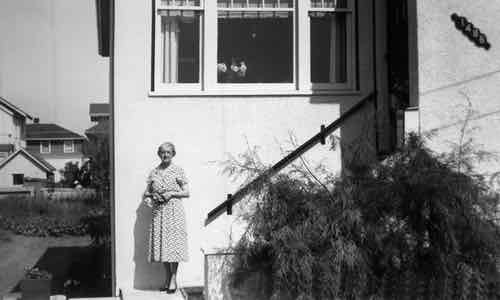 Mrs. Margaret Wallace Reid (1885-1973)
(Source: ©Don Bell)
My Great Aunt Peggy was a remarkable lady and Scottish through and through. She was known for her fancy gelatine desserts and homemade candy, and she loved to write poetry that reflected her bright and optimistic view of life.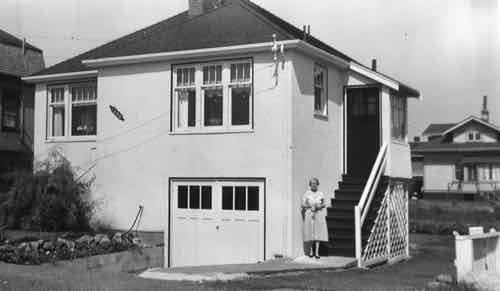 Auntie Peggy at Her Dallas Road Home in Victoria, BC
(Source: ©Don Bell)
In her latter years, Auntie Peggy lived in her little white house by the sea at 1486 Dallas Road, Victoria, BC. She enjoyed watching the ships and seagulls and on blustery days, she cheerfully wiped the salt spay from her windows and wrote a wee poem.
The clipping of Auntie Peggy's poem was always kept carefully tucked in Mom's old recipe book and fondly kept as a cheery kitchen poem. It was published in the Victoria Times newspaper in the late 1950s.
It would've saddened her to know that her beloved little house has since been torn down and replaced by a modern duplex structure, but her endearing poetry lives on.
On the Dallas Road by Margaret Wallace Reid
(Source: ©Don Bell)
Cars run past my neat front door,
I gave up trying to keep the score.
Ships salute as they pass me by
And the lighthouse winks a merry eye.
Puppies are walking their owners out,
Slimming those who are much too stout.
The waves rise high with a wild outcry
Then gently they're lapping their own lullaby.
The gulls aloft are tilting their wings,
Playing they're jets and planes and things.
Lonely I? How could I be?
When there is so much for a lass to see!
—Margaret Wallace Reid (1885-1973)

May Your Dreams Come True
And every cook who has ever borrowed a recipe can smile at this one.
She found it in that corner—
The recipe, so rare.
She made it to perfection,
And asked us out to share.
We had chicken, rolls and salad
And things we couldn't make.
But oh! the most delectable
Was Annie's fresh Dream Cake.
Now we're going out to Annie's,
Just when the day is fair;
For when we tried to make that cake
The Dream was one nightmare.
—Anonymous

A Kitchen Cabinet
The little kitchen poem that follows likely reminded Mom of her own wooden baking cabinet that stood against a wall in our farm kitchen.
The white metal shelf that pulled out for rolling dough was decorated with blue squares in a sort of checkerboard pattern that I improvised to play games on as a youngster.
I have a kitchen cabinet,
Painted green like grass that's wet,
And when I want a flower vase
I use the sugar jar of glaze,
And marking squares off, more or less,
I use the baking board for chess!
—Margaret Clarke Russell, author of Housework Poems, 1923

What Every Wise Child Should Know
If I want to be happy
And quick on my toes,
I must eat my food slowly
And breath through my nose.
I must press back my shoulders
And hold up my head,
And not close my window
On going to bed.

I must soap my bath flannel
And scrub all I know;
I must then take a towel
And rub till I glow.
I must love what is noble
And do what is kind;
I must strengthen my body,
And tidy my mind.
Yes, if I would be healthy
And free from all cares;
I must do as I've told you,
And mean all my prayers.
—Harold Begbie

The Kitchen Clock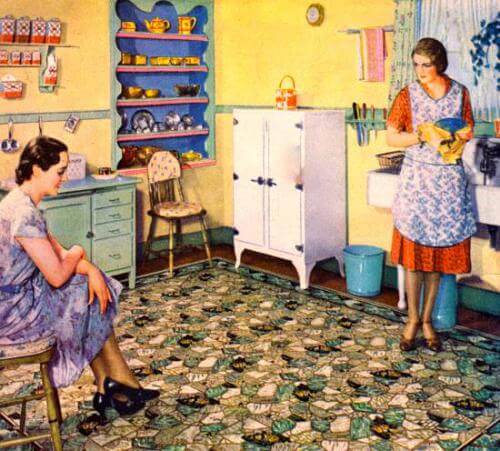 There's Always Time for Friendship
(PD Source: Don Bell)
This little kitchen poem is a thoughtful reminder that our time is so precious and not to be taken for granted.
I am the Kitchen Clock.
A friend, not a slave-driver to be feared.
The guide to leisure, not a whip.
I measure the minutes that make up life.
I tick serene and steady in joy or catastrophe.
Often I had best be forgotten, for watching
me too closely means time lost, not gained.
I am not your mentor.
There is but One.
He does not recognize me,
For I cannot measure the infinite.
When is the tomorrow that you fear?
Do today the thing's that are today's.
Let me work happily with you.
Let me play with you.
Forget me—and win a race with time.
—Anonymous

All Goes if Courage Goes

It isn't life that matters —
It's the courage you bring to it.
—Hugh Walpole, in Fortitude

Life
A crust of bread and a corner to sleep in,
A minute to smile and an hour to weep in,
A pint of joy to a peck of trouble,
And never a laugh but the moans come double;
And that is life!
A crust and a corner that love makes precious,
With a smile to warm and the tears to refresh us;
And the joys seem sweeter when care comes after,
And the moan is the finest of foils for laughter!
And that is life!
—Paul Lawrence Dunbar

My Home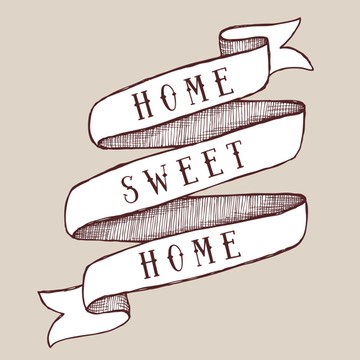 My Home
(Source: ©kali13/Depositphotos.com)
A world of love shut in;
A world of strife shut out.
—Anonymous

Poetic Table Graces
We thank Thee, Father, for this food
For all Thy gifts, so wise and good;
Help us to show our thanks today
In everything we do and say. Amen —Anon
God is great,
God is good;
And we thank Him
For our food. Amen —Anon
To God who gives us daily bread,
Our thankful hearts we raise;
And pray that He who sends us food
Will fill our hearts with praise. Amen —Mary Rumsey

Hollyhocks
My Mother loved them long ago;
Beside the fence they used to grow,
And though the garden changed each year
And certain blooms would disappear
To give their places in the ground
To something new that Mother found,
Some pretty bloom or rosebush rare—
The hollyhocks were always there. —Anon.
Let Kitchen Poems Brighten Your Day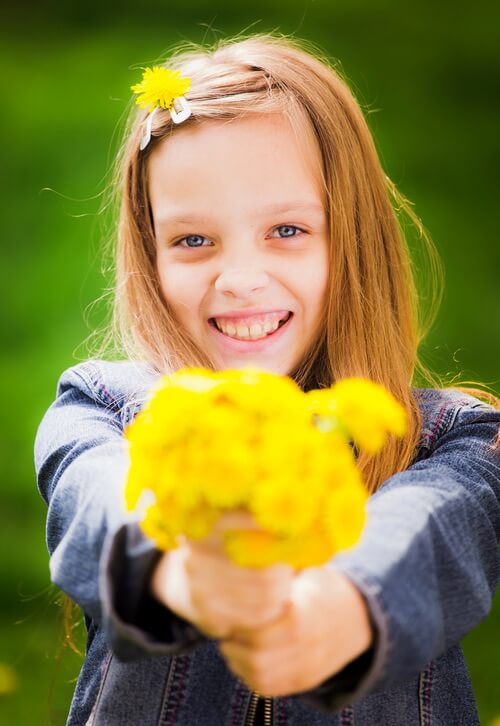 Poems Can Brighten a Day Like a Bouquet of Flowers
(Source: ©AndrOleksiienko/Depositphotos.com)
Mom always believed in combining pleasure with her work, and by sandwiching poetry between the pages of her recipe books, she had only to turn a page or two to find some helpful thought or word of encouragement or a smile to help her through a busy day.
Her favorite cooking poetry was always present whenever the days got too stressful or busy, and she needed a boost. Sometimes reading a special kitchen poem can brighten one's day like receiving a fresh bouquet of yellow flowers.

Do you have favorite little poems you've clipped from magazines and newspapers? Try randomly inserting them one by one into your recipe books so they'll be found whenever you need a little dose of happiness.
Let kitchen poems and cooking be a part of your day!