Grandma's Easy Pie Recipes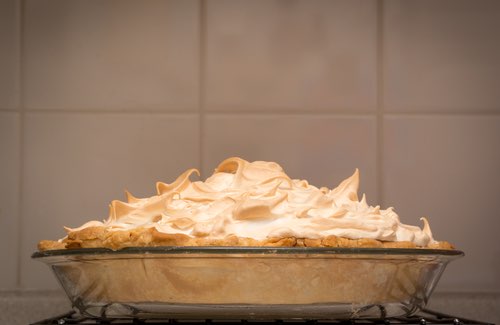 Butterscotch Pie with a Meringue Topping
(Source: ©bradcalkins/Depositphotos.com)
Give these easy pie recipes a try. Several of these old fashioned pies are unique and almost unknown today, but they are quite simple to make, and they taste so delicious.
So, if you're looking for a dessert pie that's different and conversational, try one of these nostalgic favorites.


Old Fashioned, Easy Pie Recipes

Mom's Recipe Scrapbooks (c. 1920s)


The old time Shoo-Fly Pie, Canadian Backwoods Pie, Buttermilk Pie, and Bachelor's Fruit Pies are classic pies commonly made in farm kitchens a century ago, and they make perfect desserts for serving your family today.
Try these easy pie recipes and enjoy the delicious old fashioned flavors of days gone by.


Bachelor's Fruit Pie
Grandma's Tip

When making fruit pies, put a pinch of baking soda in sour fruit and your pies will require less sugar.

One and one-half cups flour, 1 large tablespoon baking powder, pinch of spice to suit your taste, pinch of salt, 2 tablespoons brown sugar, 1/2 cup raisins or currants, milk enough to make the biscuit dough.
Take a small deep pot or kettle, in which melt 2 tablespoons lard, or butter. Put in the dough so that it will cover the bottom, then melt 1 tablespoon lard, or butter, and pour over top.
Bake about 15 minutes in quick oven.


Pineapple Pumpkin Pie
Mix 1 cup sugar, 1 teaspoon cinnamon, 1/2 teaspoon nutmeg, 1/2 teaspoon salt, add 1 cup crushed pineapple, 1 cup cooked stained pumpkin, 2 beaten eggs, 1 cup milk; pour into pastry lined pie plate and bake in hot oven for 10 minutes; reduce heat and bake till firm in center. —Mrs. J. McCurdy


Vanilla Cream Pie
One pint milk, 1 cup granulated sugar, 3 eggs (yolks), 4 tablespoons flour, 1 teaspoon butter, 1 teaspoon vanilla extract, 1/4 teaspoon salt.
Put milk in double boiler; mix flour, sugar, and beaten yolks all together, beat well; add to boiling milk, add butter and vanilla.
Cool, then turn into a baked shell. Beat whites of eggs until stiff and sweeten with 2 tablespoons sugar to form a meringue.
Spread on pie and brown in oven.


Cranberry Pie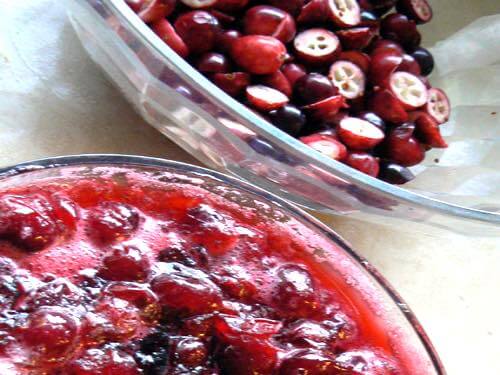 Boiled Cranberries Ready for Pie
(Source: DIYplr)
1-1/2 cups cranberries
1 cup granulated sugar
2 tablespoons flour
1 cup cold water
1 teaspoon vanilla
1/2 teaspoon almond flavoring
Cut cranberries in half and combine with sugar and flour in a saucepan. Add cold water and bring cranberry mixture to a boil, then simmer until it thickens slightly. Remove from heat and stir in vanilla and almond flavorings.
Pour into unbaked 8-inch pie shell and cover with top crust. Bake at 425°F for 10 minutes, then reduce heat to 350°F and bake until top is nicely browned.


Butterscotch Pie
One cup brown sugar, 2 tablespoons butter, 2 tablespoons flour, 2 egg yolks, 1/4 teaspoon salt, 1 teaspoon vanilla, 1 cup milk, 1/2 cup water, 2 egg whites beaten stiff, 4 tablespoons granulated sugar, and baked pastry shell.
Beat together the brown sugar, flour, egg yolks, and salt; add the milk diluted with the water and cook in a double boiler until thick; add the vanilla, cool slightly and pour into the pastry shell.
Cover with a fluffy meringue made with the egg whites and the granulated sugar; brown lightly in a very low oven. —Mrs. Geo. Hetherington


Ice Cream Pie

Make a pastry shell and bake, then allow it to cool. Thoroughly chill 1 cup of well-drained crushed pineapple.
Make a meringue of 4 egg whites beaten stiff and dry, adding 2 tablespoons sugar for each white.
Fill the cooled pastry shell with (favorite) ice cream, cover with chilled pineapple, lightly top with the meringue.
Set pie in the oven at 350°F just until the meringue is delicately browned, no longer. Serve at once.


9-Inch Raisin Chiffon Pie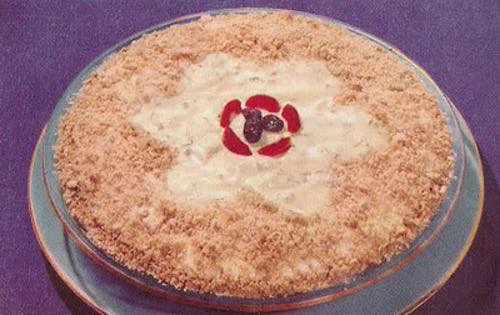 Make an Easy Raisin Chiffon Pie
(Source: Mary Lee Taylor Recipes)
Evaporated Milk

To substitute 1 cup evaporated milk, gently simmer 2-1/4 cups whole milk in a saucepan until reduced to 1 cup.

To make a 9-inch Raisin Chiffon Pie using this easy pie recipe:
1. Chill until icy cold 1/2 cup PET Evaporated Milk.
2. Cut fine 1 cup seedless raisins.
3. Stir into raisins, then let stand 3/4 teaspoon grated lemon rind and 3 tablespoons lemon juice.
4. Mix together 1 cup graham cracker crumbs and 2 tablespoons melted butter.
5. Take out 1/4 cup crumbs for use later; press larger amount of crumbs on bottom and sides of greased 9-inch pie pan.
6. Soften 1 tablespoon unflavored gelatin in 1/4 cup cold water and set aside.
7. Mix together in separate bowl 2 slightly beaten eggs, 1/3 cup sugar, 1/4 teaspoon salt, 1/2 cup PET Evaporated Milk and 1/2 cup water.
8. Cook and stir over boiling water until slightly thickened. Stir in gelatin.
9. Remove from heat; stir in raisin mixture. Chill until syrupy. Whip chilled milk until stiff. Fold into raisin mixture.
Put into prepared pie pan. Top with remaining crumbs. Chill until firm. —Mary Lee Taylor


Buttermilk Pie
Two cups buttermilk, 2 tablespoons flour, 2 tablespoons butter, 2 eggs, 1 cup sugar. Bake with an under-crust only. This easy pie recipe makes enough for two pies.


Canadian Backwoods Pie
One cup brown sugar, 1 cup syrup (maple syrup, if convenient), 1/2 cup sweet milk, butter size of an egg, yolks of 3 eggs, nutmeg to taste.
Beat all together, lastly add the egg whites well beaten. Bake this easy pie recipe with one crust in moderate oven till done.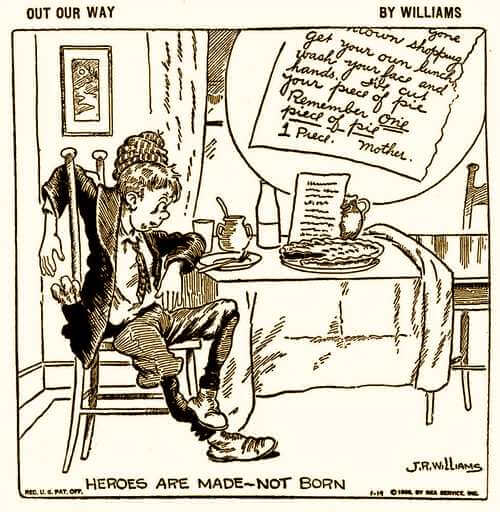 It's Hard to Resist Mother's Homemade Pie
(Source: Out Our Way ca. 1923)
You May Also Like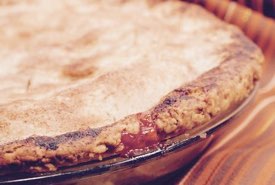 Old Fashioned Pies & Tarts

As an Amazon Associate I earn from qualifying purchases.