Old Fashioned Apple Pie Recipes
Old Fashioned Apple Pie Recipes
Grandma's old fashioned apple pie recipes make the best homemade pies for serving on any occasion. The delicious baked-apple aroma and taste cannot be matched by anything store-bought. These pies are bursting with freshly baked apple flavor!
Enjoy the same dessert pies that your great-grandparents loved to eat. They are so easy to make, and there are several kinds, so you'll want to try them all. Go ahead and bake an apple pie tonight.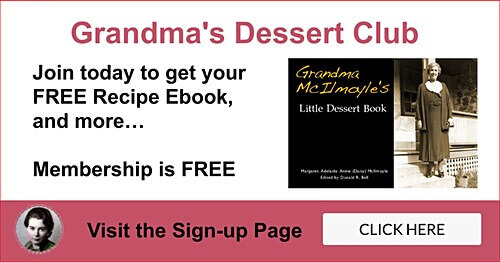 Old Fashioned Apple Pie Recipes
Mom's Recipe Scrapbooks (c. 1920s)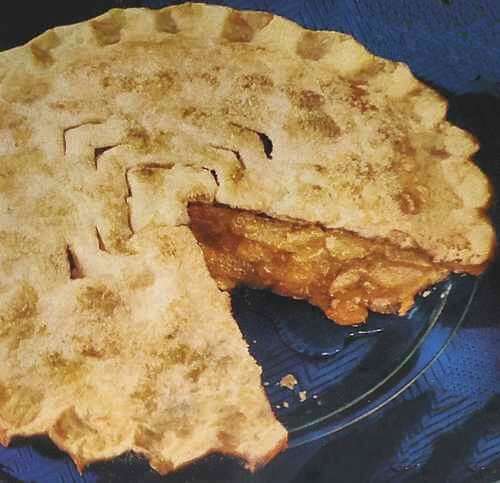 Make an Old Fashioned Apple Pie Today
(Source: ©Don Bell)
A Man's Apple Pie
Plain Pie Crust:
1-1/2 cups flour, 1 teaspoon baking powder, 1 teaspoon salt, 1/2 cup shortening, 1/4 cup ice water.
Method: Sift together dry ingredients. Cut in shortening and lastly add the ice water, a little at a time, until all ingredients cling together.
Apple Pie Filling:
6 apples, 1/2 cup sugar, 1/4 teaspoon salt, 1/4 teaspoon mace, 1 tablespoon butter, 1/2 cup grated cheddar cheese.
Method: Wash apples and cut fine. Sift sugar, spice, and salt, and mix thoroughly with the apples. Turn into pie pan lined with pastry. Spread over with grated cheese. Put on top crust, pushing it towards the center and pressing off edges.
Bake in hot oven (450°F) for 10 minutes. Reduce heat to 350°F and continue baking about 40 minutes. Absolutely delicious!

Genuine English Deep-Dish Apple Pie
I can recall my Grannie Bell making this old fashioned apple pie recipe. She used a teacup with its handle broken off as called for in the recipe. Somehow, after all those years, I still remember that cup without its handle. —Don

This is the genuine English Apple Pie recipe — the English people would call ours an apple tart. It is traditionally made in oval baking dishes of thick yellow ware, about two and one-half, or three inches deep, and with flat rims an inch in width.
The first thing to do is to invert a teacup — preferably one without a handle — in the bottom of the dish, then core and pare sour, juicy apples — any number, from six to a dozen, depending on the size of the family and the dish — and divide them in eighths.
Arrange these in alternate layers with sugar in the dish, with a generous sprinkling of whole cloves over each layer, and pile, layer on layer, until not another bit of apple can go in anywhere without toppling out. The apples are piled up as high again as the depth of the dish, or higher.
Now, lay over all, a very rich biscuit dough, lightly rolled out to one-fourth inch in thickness. Decorate this on top with leaves, or other cutout designs, and arrange them over the covering and moisten the under sides with water, to make them adhere during the baking.
Place long strips of the dough over the brim of the pie dish, and press with the bowl of a spoon in concentric designs.
Bake in a moderate oven (350°F) for an hour, or until done.
Pieces of the crust are cut off for serving, and spoonfuls of the apple pulp are served with them on the plate, then, as soon as convenient, the inverted cup is removed, and the rich liquid collected under it is spooned over each serving of crust and apples. Delicious!

Old Fashioned Crabapple Pie Recipe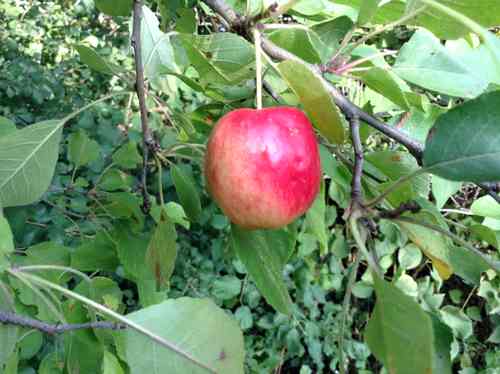 Wild Crabapple Ripe and Ready for Pie
(Source: ©Don Bell)
Three cups crabapples, 1 cup sugar, 1/4 teaspoon salt, 1 tablespoon flour, 1/3 cup raisins, 1 teaspoon vanilla, 2 tablespoons butter, pastry.
Cut crabapples into small pieces without paring. Put into unbaked pie crust. Mix sugar, salt, flour, and raisins and add to apples. Sprinkle vanilla over top and dot with butter.
Cover with top crust and bake in hot oven (450°F) for ten minutes; then reduce heat to moderate (350°F) for fifty minutes, or until done. This makes six delicious servings.

Apple Crumble Pie

This crumble pie is a good substitute for the old fashioned apple pie recipes that call for a standard pastry crust, and it makes a pleasant change.
Slice apples into a buttered pie plate or shallow pudding dish. Mix together as you would for pie crust, 1 cup flour and 1/3 cup butter and work in 1/4 cup brown sugar to make a crumbly mixture.
Sprinkle the apples with granulated sugar and nutmeg. Spread the flour mixture over the top and bake (375°F) until the apples are cooked and the top well browned. Serve warm with rich cream on the side to spoon onto it.

Apple Pie Recipe for 14 Pies
16 pounds of tart apples, 2 tablespoons cinnamon, 7 pounds sugar, 1 cup flour, 1/2 cup butter.
Pare and core the apples and cut into thin slices. Line pie pans with pastry (below) and fill with apple mixture, dot with butter. Cover top with paste, trim, and press edges together. Prick top well.
Bake in quick oven (425°F) for 10 minutes, reduce heat to 350°F and continue baking for 20 to 30 minutes, or just until done. Note: 14 average-sized pies cut in eighths will serve 100 people.

Homemade Pie Crust Recipe for 14 Pies
6 pounds of flour, 4 tablespoons salt, 3 pounds of shortening, water enough.
Mix and sift flour and salt. Cut or rub in the shortening. Moisten with just enough cold water to hold the mixture together. Chill thoroughly. Roll dough out on a slightly floured pastry board.

Old Fashioned Apple Pie Recipes
Buckeye Cookery And Practical Housekeeping (1877)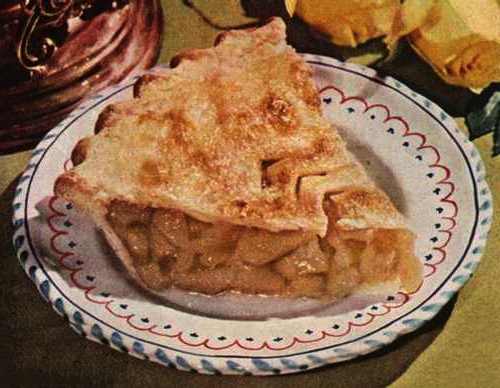 Enjoy a Slice of Old Fashioned Apple Pie
(Source: ©Don Bell)
Open Crust Apple Pie With Variations

Line pan with crust; pare and quarter three or four nice tart apples and spread on crust, sprinkle with two tablespoons sugar and small bits of butter; mix one tablespoon flour, one teaspoon essence of lemon, two tablespoons sugar, and three or four of water together, pour over the apples and bake (350°F) till they are thoroughly cooked; serve warm with sweetened milk or cream.
Or, half a teaspoon cinnamon, nutmeg, or allspice, may be used in place of essence of lemon, sprinkling it on just before baking.
Or, after putting in apples, pour over them a custard made of two eggs and a pint of milk, sweetened to taste. —Miss. S. A. Melching

Versatile Apple Meringue Pie
Grandma's Tip

In their season, you can substitute peaches for apples.

Pare, slice, stew and sweeten ripe, tart and juicy apples, mash and season with nutmeg, or stew lemon peel with them for flavor, fill crust and bake 350°F, till done.
Spread over the apple a thick meringue topping made by whipping to froth the whites of three eggs for each pie, sweetening with three tablespoons powdered sugar; flavor with vanilla, beat until it will stand alone, and cover pie three-quarters of an inch thick; if too thin add a little cornstarch. Set back in a quick oven (400°F), till well "set," and eat cold.

Old Fashioned Apple Pie Recipes
The White House Cook Book (1913)

Juicy Green Apple Pie
Peel, core, and slice tart apples enough for a pie; sprinkle over about three tablespoonfuls of sugar, a teaspoonful of cinnamon, a small level tablespoonful of sifted flour, two tablespoonfuls of water, a few bits of butter, stir all together with a spoon; put it into a pie tin lined with pie paste.
Cover with a top crust and bake about forty minutes (350°F), or until done. The result of this old fashioned apple pie recipe will be a delicious, juicy pie.

Apple Custard Pie
Three cupfuls of milk, four eggs and one cupful of sugar, two cupfuls of thick stewed apples, strained through a colander.
Beat the whites and yolks of the eggs lightly and mix the yolks well with the apples, flavoring with nutmeg. Then beat into this the milk and, lastly, the whites.
Let the crust partly bake (350°F) before turning in this filling. To be baked with only the one crust until done, like all custard pies.

Dr. Chase's Old Fashioned Apple Pie Recipe
Dr. Chase's Receipt Book (1891)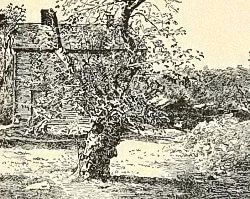 Rhode Island Greening Tree (1900)
Greenings are an heirloom English apple variety, dull green with brown speckles, firm in texture, somewhat tart in taste though possessing a rich sweetness when cooked, and great for pies as slices tend to keep their shape when baked.
The Rhode Island Greening was one of the most popular American cooking apples throughout the 1800s, and it's still America's definitive apple for pie making.

Image source: Cyclopedia of American Horticulture by L. H. Bailey, Vol. R-Z, Published by The Macmillan Company, New York 1902, pg. 1516 (PD)

Grandmother's Apple Pie
Grandma's Tip
You can substitute the Granny Smith variety of apple if you're unable to obtain the Rhode Island Greening.
Line a deep pie plate with plain paste. Pare sour apples — "Greenings" are best — and cut in very thin slices.
Allow 1 cup of sugar and a quarter of a grated nutmeg mixed with it. Fill the pie dish heaping full of the sliced apple, sprinkling the sugar between the layers. It will require not less than six good-sized apples.
Wet the edges of the pie crust with cold water; lay on the cover and press down securely that no juice may escape.
Bake (350°F) three-quarters of an hour, or even less if the apples become tender. It is important that the apples should be well done, but not overdone.
NO pie in which the apples are stewed beforehand can be compared with this homemade pie in flavor!

Granny's Old Fashioned Apple Pie Recipe
Submitted by Veronica, Staten Island, NY

Ingredients for Pie:
2 Granny Smith Apples, brown sugar to taste (white works too), 4 cups flour, 2 eggs, 1/2 pound of butter, hot water, a spoon, warmed stove, mixing bowl, knife, whisk, foil pan, and cinnamon.
Directions:
Mix 2 eggs, 4 cups of flour, and warm/hot water in the mixing bowl. Beat with whisk until doughy. Put on the warmed stove and wait 2-3 hours for it to rise.
While dough is rising, cut up 1 and a half Granny Smith apples into fine bits and mix with brown sugar in a bowl. Take the other half and cut it into slices. (Peel the skin off the apples first).
Do not put sugar on these slices. While the dough is still rising, put slices of butter over it.
When dough has risen, put out on the table and shape into crust, but leave a portion of dough on the side for the top. Fill the crust with the sweetened apples that should have browned by now.
Carefully, layer a top for your pie using the remaining dough. Over the created top, smear raw eggs and layer the apple slices. Preheat oven to 360°F and cook pie until golden brown. Sprinkle cinnamon on it while still hot, and enjoy.
This pie is a family favorite at our house! —Veronica

Restaurant-Style Old Fashioned Apple Pie Recipe

The Hotel St Francis Cookbook (1919)

This old fashioned apple pie recipe is by former Chef Victor Hirtzler of the renowned Hotel St. Francis in San Francisco. So, you know it's the BEST!

Apple Pie a la St Francis
For two pies, line the plates with pie paste (recipe below) rolled very thin. Slice six good sized apples, add one-quarter of a pound of sugar and a teaspoonful of powdered cinnamon, mix and fill the plates.
Wet the edges of the dough and cover with paste also rolled thin. Wash over with egg, make a few cuts in the center so the steam may escape while baking, and put in a moderate 360°F oven.
When done dust with powdered sugar, and serve hot or cold as desired. If the apples are coarse, it will be well to boil them a little in water with a piece of cinnamon and a very little sugar before adding them to the pie.

St Francis Pie Paste
One and one-half pounds of flour, one-half pound of lard, one-half pound of butter, and a pinch of salt. Mix all together and add enough water (about one cup) to make a rather stiff dough. Keep in cool place or icebox.

About the Old Fashioned Apple Pie Recipes


3D Anaglyph Image of Green Cooking Apple
(Source: ©vlad_star/Depositphotos.com)
Homemade apple pies are especially good when sliced and served warm from the oven with a generous scoop of vanilla ice cream, but I enjoy mine in the British tradition with a slice of cheddar cheese on top.
There's an Old Country saying, an apple pie without the cheese is like a kiss without the squeeze!
Enjoy making these old fashioned apple pie recipes. There's nothing like the sweet aroma of a freshly baked apple pie in the kitchen. It's one of the fond memories of my childhood spent growing up on the family farm.