Old Fashioned Cranberry Pie
Old Fashioned Cranberry Pie Recipes

Grandma's old fashioned cranberry pie recipes will make delicious homemade pies for celebrating your Christmas or Thanksgiving, but you'll want to eat these homemade dessert pies anytime. They are SO good tasting!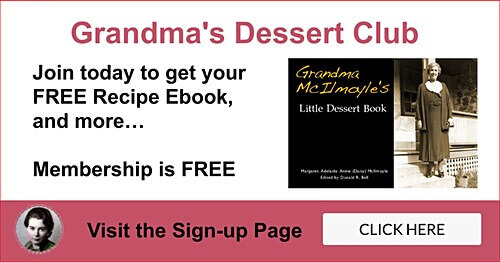 Mom's Favorite Old Fashioned Cranberry Pie Recipe
Mom's Recipe Scrapbooks (1920s)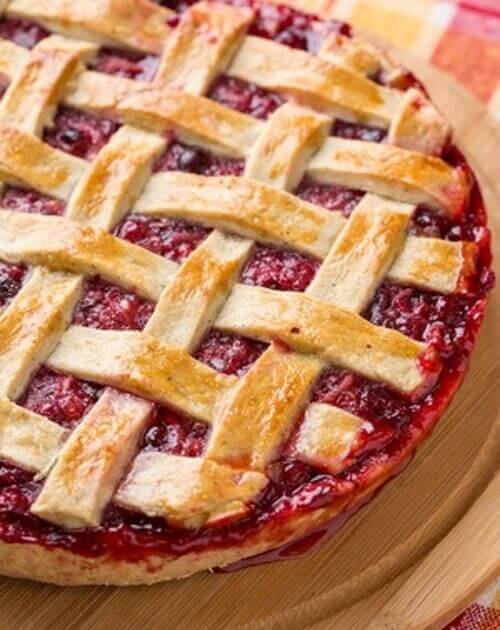 Homemade Cranberry Ruby Pie with Lattice Top
(Source: ©pgstudija/123RF Stock Photo)
Homemade Cranberry Pie
1-1/2 cups cranberries
1 cup granulated sugar
2 tablespoons flour
1 cup cold water
1 teaspoon vanilla
1/2 teaspoon almond flavoring
Cut cranberries in half and combine with sugar and flour in a saucepan. Add cold water and bring cranberry mixture to a boil, then simmer until it thickens slightly. Remove from heat and stir in vanilla and almond flavorings.
Pour into unbaked 8-inch pie shell and cover with top crust. Bake at 425°F for 10 minutes, then reduce heat to 350°F and bake until top is nicely browned.

Deep Dish Ruby Pie
Blend Cranberries and Bananas for a Deep Dish Ruby Pie
(Source: Magazine Clipping, c. 1920s)
Want the perfect old fashioned cranberry pie recipe? Here's a deep dish pie absolutely brimming with cranberries and banana slices.
Yes, banana! This pie is so delicious, and it's perfect for the Christmas Holidays or for eating anytime.
The only downside is that it'll cost you more than 24 cents to make it today compared to 1920's prices.

2-1/2 cups cranberries, 1-3/4 cups sugar, 3 sliced bananas, 1/2 cup hot water. Stem and wash cranberries. Add sugar and water. Cook in covered saucepan until berries stop popping (5 minutes).
Put one-third of berries in deep pie plate well rubbed with shortening. Add layer of bananas. Make alternate layers of cranberries and banana, then cover with a flaky pastry. Fit on pastry tightly, and slash top. Or, fit a lattice top, if preferred. Bake in hot oven 450ºF for 15 minutes.
Flaky Pastry for Pie

Sift 1-1/2 cups flour with 1/2 teaspoon salt. Cut in 1/2 cup shortening for pie crusts. Add 4 to 6 tablespoons cold water (only enough to hold mixture together). Roll out on lightly floured board.
Old Fashioned Cranberry Pie Recipes
The White House Cook Book (1913)

True Cranberry Pie
Take fine, sound, ripe cranberries and with a sharp knife split each one until you have a heaping coffee cupful; put them in a vegetable dish or basin; put over them one cupful of white sugar, half a cup of water, a tablespoon full of sifted flour; stir it all together and put into your crust.
Cover with an upper crust and bake slowly in a moderate oven (375°F) until done. You will find this the true way of making a cranberry pie. —Newport Style

Cranberry Tart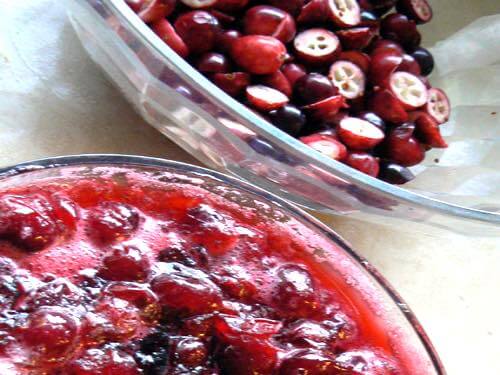 Boiled Cranberries Ready for Pie
(Source: DIYplr)
After having washed and picked over the berries, stew them well in a little water, just enough to cover them; when they burst open and become soft, sweeten them with plenty of sugar, mash them smooth (some prefer them not mashed).
Line your pie plates with thin puff paste, fill them and lay strips of paste across the top. Bake in a moderate oven (375°F). Or you may rub them through a colander to free them from the skins.

Alternative Gooseberry Pie
You'll also love making Grandma's old fashioned Gooseberry Pies when gooseberries are in season.

Can be made the same as Cranberry Tart Pie (above), or an upper crust can be put on before baking. Serve with boiled custard or a pitcher of good sweet cream.