Braided Easter Bread Recipe
Braided Easter Bread Recipe With Braiding Instructions

Braided Easter Bread recipes are prized in home kitchens the world over at Easter time. A stellar loaf of sweet homemade bread offers a traditional way to celebrate the family occasion.
Below you'll find two of the best recipes for making traditional Easter Bread from countries famous for their sweet breads, Italy and Russia. Also included are step-by-step instructions on how to braid bread with three strands (3 ropes) that you'll be proud to serve to your family and friends.
These braided sweet breads are also popular at Christmas time, Thanksgiving, and for times when you want to serve a loaf that's really special.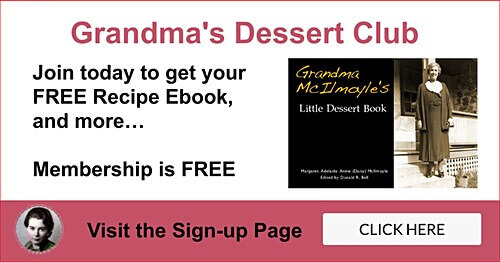 Old Fashioned Braided Easter Bread Recipes

Mom's Recipe Scrapbooks (c. 1920s)

Slice of Braided Easter Bread with Strawberry Jam
(Source: ©tobi/123RF)
Hand mixing the bread dough was the norm in Grandma's day, but you can use your modern stand mixer set on low speed for thorough mixing. A dough hook attachment in the bowl of a stand mixer makes the job of mixing so easy.

Braided Easter Bread Recipe From Italy

Easter has been a popular Christian celebration in Italy for over 2,000 years. Celebrate Easter by making a traditional Italian Easter bread.
This old fashioned braided Easter bread recipe makes the perfect Pannetone for an Easter brunch and for your Christmas celebration too!

Ingredients:
4 eggs
5-1/2 cups all-purpose flour
1/4 cup warm water
1/2 cup sugar
1/2 cup milk
1/2 cup butter
1 teaspoon salt
1/2 cup seedless raisins
2 tablespoons pine nuts, or almond chips
1 tablespoon anise seeds
1/2 cup chopped citron
2 packages active dry yeast
1/2 teaspoon almond extract (optional)
Method:
Prepare the yeast by adding the powder to 1/4 cup of water warmed to about 110°F (43°C). Add a pinch of sugar and allow the yeast to stand until it bubbles, which will take about 5 minutes.
Beat three of the eggs, then add milk, 1/2 cup flour, blending for about two minutes. Blend in rest of the flour and sugar, milk, butter, salt, and optional almond flavoring. Slowly add yeast mixture. Stir in the raisins, citron, pine nuts, and anise seeds.
Knead the sweet yeast dough on a floured wooden board or work surface for several minutes, then let it rest at room temperature, covered with a moist cloth, to rise for about an hour.
Punch down the soft dough and then divide into three ropes of 9 to 12 inches in length. Braid and pinch at the ends.
Grease a large baking sheet, transfer the braided bread dough onto it and allow to rise for another hour. Then brush on the remaining egg, and bake in preheated oven at 350°F (175°C) for about 35 minutes baking time. Watch while baking to ensure it's golden brown, but not singed on the ends.
Once baking is complete, remove baked bread and allow loaf to cool on a wire rack. Sprinkle lightly with icing sugar or add a sweet glaze, if desired.
This Italian Pannetone recipe makes 1 loaf of homemade sweet braided bread to adorn your Easter table. Buona Pasquetta!

Braided Easter Bread Recipe From Russia

The Russian people are well known for their tasty, beautifully braided breads, and this sweet celebration bread is no exception.
This old fashioned braided Easter bread recipe makes a sweet bread that's perfect for both Easter holiday and Christmas, or any special occasion for that matter.

Grandma's Tip
You can easily substitute a pinch of ground turmeric for saffron threads.

Ingredients:
4 large eggs
1 cup whole milk
6 cups all-purpose flour
1/2 cup sugar
3/4 cup butter
Pinch of saffron threads
2 teaspoons salt
2-1/2 teaspoons active dry yeast
1/4 cup lukewarm water
Method:
To prepare the dough, stir the yeast slowly into water that has been warmed to about 110°F (43°C). Add a pinch of sugar and allow yeast to stand until it bubbles, which will take about five minutes.
Pour the 6 cups of flour into a large bowl and make an indentation with a large spoon or soup ladle. Beat three of the raw eggs in another small bowl and pour them gently into the flour indentation. Add the milk, remaining sugar, butter, saffron, and salt, then slowly pour on the yeast mixture.
Slowly stir the concoction, forming a soft dough. Allow it to rest for a few minutes at room temperature, then move it to a floured surface and knead until it's completely smooth.
Lightly coat a large bowl with a little bit of shortening or Canola oil (or Olive oil) and move the dough around in the greased bowl until coated. Cover with a moist clean kitchen towel and let the dough rise for about three hours. Press the dough down, then allow to rise again a second time for another hour.
Once it's ready, divide the dough into two separate souffle dishes or loaf pans smeared with butter on the inside. Divide off about 1/3 of each dish of dough and roll into long, thin ropes.
Cut each long rope into three equal pieces and braid the rope pieces onto the surface of the dough mound in the dishes to create a braided design on the tops of the loaves.
Preheat oven to 350°F (175°C). Lightly brush each loaf with remaining egg and add a pinch of salt. Bake about one hour or until golden brown. Remove and allow to cool on a wire rack.
This traditional Easter bread recipe from Russia makes 2 homemade loaves of sweet Easter bread with decorative braided surfaces.

How to Braid Bread in 3 Strands

Bread braiding is EASY when you know its SECRET. The following YouTube video offers clear, step-by-step instructions for braiding three strands of bread.
In under three minutes, you will learn the baker's secret to braiding bread that looks as though it was done by a master bread maker.

The simple bread braiding method demonstrated will work for the braided Easter bread recipes given on this page.
Would you like more bread braiding instructions? The step-by-step images that follow should help you.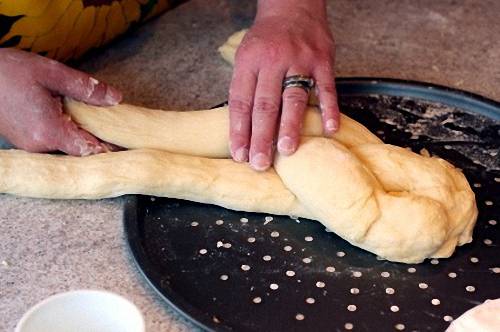 Begin by Folding the Right Strand Over the Middle
(Source: ©iStock/ron-bailey)
After making all strands (ropes) the same size, line up the three strands and identify the middle strand.
Grasp the right strand and fold it over the middle strand, where it now becomes the new middle strand.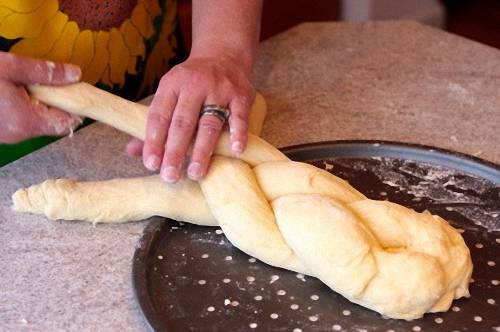 Continue by Folding the Left Strand Over the Right
(Source: ©iStock/ron-bailey)
Then fold the left strand over the new middle strand, making it the new middle. Continue by folding the right strand over the middle, then the left strand over the middle, and so on until you reach the end.
If you began braiding at the middle of the strands, flip the dough over now and continue braiding the other half of the loaf by identifying the middle strand and folding the outer strands over it as described earlier when braiding the first half.
The benefit to beginning at the middle is that it's sometimes easier to make each half of the braided loaf equal in size.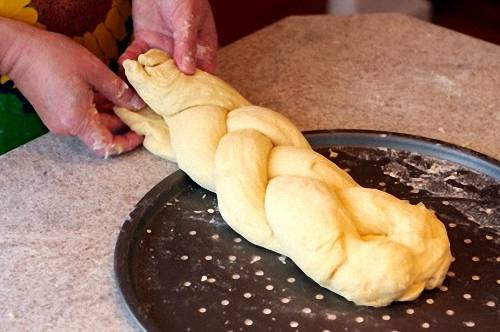 Braid by Pinching the 3 Strands Together
(Source: ©iStock/ron-bailey)
Pinch and shape the three strands together at the ends to prevent them separating during baking.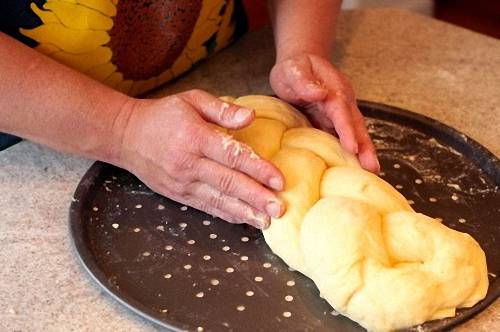 Finally, Shape Braided Bread Into a Perfect Loaf
(Source: ©iStock/ron-bailey)
Finally, after making sure the ends of the strands are pinched securely together, lightly pat the loaf along its sides and top to shape it into a perfectly braided loaf.
Choose an old fashioned braided Easter bread recipe and practice making braided holiday loaves today. They'll look so amazing your loved ones will wonder how you made them, yet only you will know the baker's secret.
How to Serve Your Braided Breads
Bread is an ancient food that symbolizes the Bread of Life. It's the perfect complement to the Christian celebration, and a slice of freshly made homemade egg bread served warm from the oven cannot be compared.
Just top it with your choices of homemade preserves, yogurt, cream cheese, lemon zest, or almond flakes, and you have a simple, perfect treat. Myself, I love it when it's generously spread with butter.
Store your delicious sweet bread in an airtight container to help prevent it from drying out or wrap the loaf in parchment paper or plastic wrap until ready to serve.
Leftover Easter bread is perfect for making an old fashioned bread pudding for dessert on the next day.
Fine braided bread is the traditional symbol for Easter time. With the help of these braided Easter bread recipes, you'll be able make international style breads that you'll be proud to serve.