Vintage Easter Bunny Cake Recipe
Here's a vintage Easter Bunny cake recipe that you will want to make. Try to imagine marshmallow bunnies dancing in their patch of green grass on a chocolate stage beneath a pink umbrella! What could be more Spring-like?
These little marshmallow rabbits with their pink noses and eyes are simply irresistible. Kids of all ages love them. You could even use them to decorate kid's birthday cakes. And the best part is that you get to eat them!

Vintage Easter Bunny Cake Recipe

Mom's Recipe Scrapbooks (c. 1920s)

Enjoy an Old Fashioned Easter Bunny Cake
(PD Source: Don Bell)
Isn't this vintage Easter Bunny Cake recipe perfect for Easter? And the 3-layer vanilla cake is absolutely delicious and easy to make, so no cake mix is needed!
When you place this masterpiece on your dessert table, there's sure to be a gasp of appreciation from your young guests!
Ingredients:
3/4 cup shortening
1-1/2 cups sugar
1 teaspoon salt
1 teaspoon vanilla extract
3 eggs at room temperature
3 cups sifted all-purpose flour
4 teaspoons baking powder
1/2 cup water
1/2 cup pineapple juice, or milk
Red (pink) food coloring, as desired
Directions:
Cream shortening by beating in a large mixing bowl. Add sugar, salt, vanilla. Cream till fluffy. Add eggs one by one, beating well each time. Sift together cake flour, baking powder into another large bowl. Add flour mixture alternately with liquids to batter. Blend thoroughly.
Line three round 8-inch cake pans with waxed paper or parchment paper.
To create marbled coloring, measure half of batter into the round pans. Stir in drops of red food coloring in remaining cake batter to obtain desired color. Add this. Cut batter with a dull knife to marbleize.
Bake 8-inch cakes at 350°F (moderate oven) about 23 minutes, or until done when tested with a wire cake tester. Remove from oven and let cool on wire racks.

Seven Minute Frosting

2 unbeaten egg whites
1/4 teaspoon salt
1-1/2 cups granulated sugar
2 teaspoons white corn syrup
1/3 cup pineapple juice (instead of the usual water)
Place above ingredients over rapidly boiling water. Beat slowly for 1 minute to mix, then whip till mixture will hold a peak about 4 minutes longer.
Remove from heat and add 1 teaspoon vanilla flavoring. Continue beating until desired spreading consistency is reached.
Grandma's homemade vanilla buttercream frosting is also delicious on this fun cake.

How to Decorate Your Easter Bunny Cake
Grandma's Tip

To tint coconut flakes or shredded coconut green, add it to water mixed with a few drops of green food coloring, then spread on clean paper towels to dry. Tint coconut pink in the same manner.

After assembling the cake layers and frosting the outside of the cake with the seven-minute frosting, melt one square unsweetened chocolate, dribble melted chocolate back and forth on frosting on top of the cake. Draw toothpick other way for a crisscross effect.
Finish decorating sides of the cake with green tinted coconut as illustrated. Position marshmallow bunnies on a small patch of green coconut.
Sprinkle mini Easter eggs or colored jelly beans around the cake for an added wow effect. And don't forget the umbrella, a colorful cupcake liner supported by a toothpick.
How to Make Marshmallow Bunny Cake Topper
These edible cake toppers are not only perfect for cake decorating at Easter time, but you can use them on pies, puddings, and cupcakes too. Making them is so much fun!
What's more, you can even use them as place settings to prettify your Easter dinner table.


Bunny
Make these marshmallow cake toppers before starting the vintage Easter Bunny Cake recipe so you'll have them handy when decorating.
To make a marshmallow Easter Bunny, simply follow the step-by-step instructions. You will need a clean work surface, and a pair of sharp scissors, as they cut more easily than a serrated knife.
You'll also need a large white marshmallow that is dry and firm for each bunny. Large marshmallows are just the right size for the entire bunny.
Use scissors to make cuts in the marshmallow as shown on the diagram below, following the direction of the blue-colored arrows.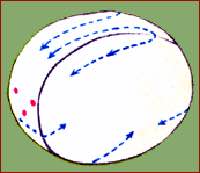 Make Cuts as Shown
You'll need to make the following cuts:

To fashion the bunny ears, snip the long top edges of the marshmallow as shown.
For the bunny's head, cut up in a V-shape at the short end of the marshmallow.
For the tail, cut a downward V-shape at the opposite end of the marshmallow.
At the marshmallow's bottom, make two little cuts for feet along the front edges.

Next, sculpt and shape the body of the bunny by pinching the marshmallow with your fingers. Gently press down between the ears and in at the sides. Pinch the nose and the tail so they stand out from the body, also the feet.
Now paint the bunny eyes and face with a toothpick dipped in pink or red food coloring.
Try not to be discouraged if your first white bunny isn't perfectly shaped. Just eat him, and make another! It will take a little practice, but you will soon be making the cutest marshmallow bunnies you ever saw.
And they taste every bit as good as they look too!

About the Vintage Easter Bunny Cake Recipe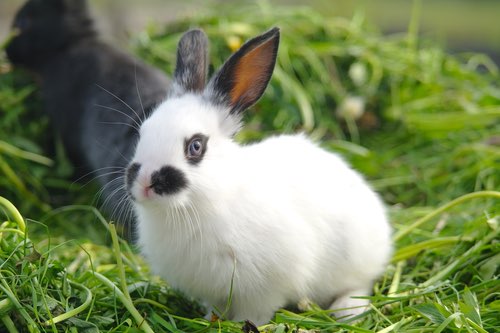 Everybody Loves Bunnies at Easter Time
Source: ©e_kulik/Depositphotos.com)
Everybody loves a cute little bunny rabbit, especially at Easter time. And nobody can resist these edible marshmallow bunnies cavorting on top of an Easter cake.
I can recall Mom first making this vintage Easter Bunny cake recipe, and the little marshmallow rabbits to decorate it, but once she also made them for my birthday.
Instead of the usual birthday cake, she used this original recipe to prepare a special cupcake for each guest.
Imagine a cute little rabbit holding a small birthday candle between its paws sat on a tuft of green coconut icing on top of each cupcake. Naturally, they were a huge hit with the kids.
Believe me, the "little long-ears" in your family will love this theme cake. Truly, this easy Easter cake will delight everyone who sees it displayed on the Easter table. And you cannot begin to imagine how good it tastes!
Keep this vintage Easter Bunny cake recipe handy. This is one homemade dessert cake that you'll have fun making and even more fun serving at your Easter celebration.
Take a peek at Grandma's traditional Easter Cake recipes if you would like to make a Giant Easter Egg Cake or another cake that would brighten your Easter table.