Old Fashioned Banana Bread Recipes

You'll love Grandma's old fashioned banana bread recipes. There's nothing more delicious than the taste of homemade banana bread. Especially when you eat a thick slice warm from the oven and spread with rich creamery butter.
Mom always called it banana loaf, but its name isn't important. Yes, there are variations, but it's the moistness and exotic banana flavor that make this dessert bread so unique. She often served it to company as an alternative to cake.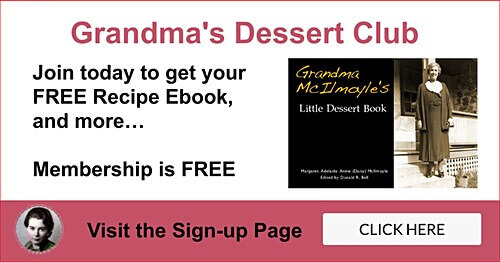 Grandma's Old Fashioned Banana Bread Recipe

Grandma McIlmoyle's Recipe Books (c. 1912)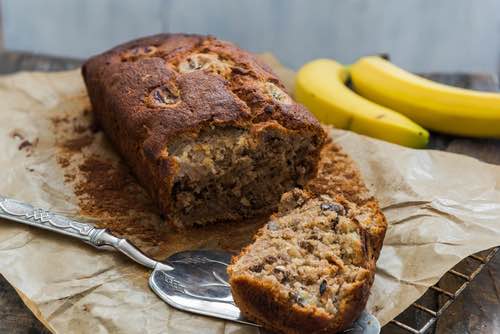 Make One of Grandma's Homemade Banana Breads Today
(Source: ©RubinowaDama/Depositphotos.com)
Old Time Banana Fruit & Nut Bread

Ingredients: 1-3/4 cups sifted all-purpose flour, 2-1/4 teaspoons double-action baking powder, 1/2 teaspoon salt, 1/2 cup chopped nuts, 1/3 cup shortening, 2/3 cup sugar, 2 slightly beaten eggs, 1 cup mashed bananas (3 to 4 fully ripe bananas — yellow peel flecked with brown), 1 cup mixed candied fruits and peels, 1/4 cup raisins.
Method:
Sift together flour, baking powder, and salt. Add nuts and blend. Beat shortening until creamy — 300 strokes. Gradually add sugar, beating until fluffy after each addition. Add eggs and beat until thick. Add flour mixture and bananas alternately, blending thoroughly after each addition. Fold in fruits and raisins.
Grease bottom only (not sides) of 4-1/2 x 8-1/2 x 3 inch loaf pan. Turn batter into pan. Bake in a moderate oven (350°F) 60 to 70 minutes.

Favorite Homemade Banana Bread Recipes

Mom's Recipe Scrapbooks (c. 1920s)

Mom often made these moist dessert loafs when she knew company was coming or to take on family outings. They always turned out delicious, especially when sliced and spread with butter and her homemade jam or jelly.

Banana Bran Bread with Nuts

2-1/2 cups flour, 3 teaspoons baking powder, 3/4 teaspoon baking soda, 3/4 teaspoon salt, 6 tablespoons oil or shortening, 3/4 cup sugar, 2 eggs, 2 cups mashed bananas (4 bananas), 1-1/2 cups whole bran cereal, 1-1/2 teaspoons vanilla, 3/4 cup chopped nuts.
Sift flour, baking powder, baking soda, and salt together. Cream shortening and sugar; add eggs, and beat well. Stir in banana, bran cereal, and vanilla. Add dry ingredients and nuts. Mix only till combined.
Bake 50 to 60 minutes at 300°F in greased and floured 9-cup mold or pan. Wholesome and delicious!

Banana Walnut Loaf Recipe

1-1/3 cups flour, 2 teaspoon baking powder, 1/2 teaspoon salt, 1/2 cup walnut meats, 1/3 cup shortening, 2/3 cup white sugar, 2 eggs, 3 cups mashed bananas. Combine and mix the ingredients as for banana nut bread (above). Bake about 1 hour in 300°F oven.
About the Old Fashioned Banana Bread Recipes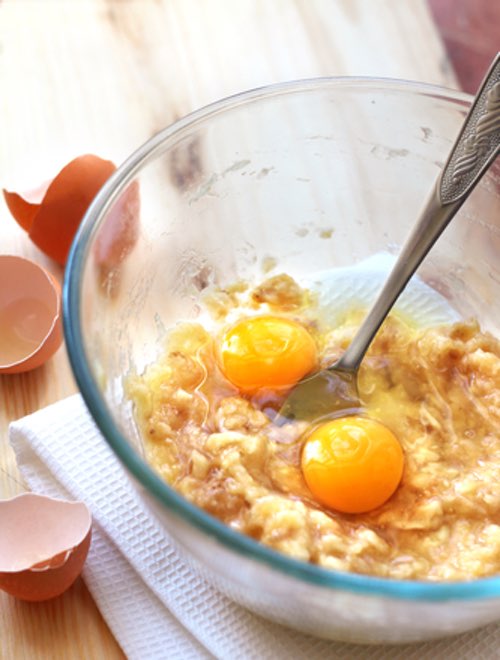 Making Banana Bread with Bananas, Flour, and Eggs
(Source: ©Taiftin/Depositphotos.com)
Homemade banana breads and banana cakes came into popularity during the early 1930s when enterprising grocers often provided their customers with free baking recipes in an attempt to sell overstocked or overripe bananas.
Banana bread (or loaf) makes a comforting treat to eat with a cup of tea or coffee. It's perfect for serving on any occasion. It also makes a most-welcome edible gift for someone special.
And believe me, these are the nicest banana breads you'll ever find. Our family has enjoyed eating them for generations!
Thick slices of homemade banana bread are delicious when spread with jam. Or, they can be buttered or simply left plain. Myself, I love them GENEROUSLY buttered.
So indulge yourself. Try an old fashioned banana bread recipe and enjoy the taste of something that's truly special.