Chocolate Easter Egg Recipe

Thanks to Grandma's chocolate Easter egg recipe ideas, you can make your own chocolate fudge eggs that are so good tasting they'll simply melt in your mouth.
These candy eggs are perfect for use as place settings, edible gift giving, and traditional Easter egg hunts. And because they're homemade, they'll be thought of as very special and much appreciated.

Chocolate Easter Egg Recipe Ideas
Mom's Recipe Scrapbooks (c. 1920s)

Homemade Chocolate Easter Eggs Decorated with Icing
(Source: ©phillyo77/Depositphotos.com)
Your homemade chocolate eggs mightn't turn out as perfect as the store-bought variety on your first try, but what they lack in appearance, they will more than make up in delicious taste.
Plus, your friends and family will truly appreciate the thought and love you crafted into them!

Coconut Rolled Chocolate Easter Eggs

Homemade Chocolate Easter Eggs Rolled in Coconut
(Source: ©andrey-starostin/123RF)
2 egg whites (pasteurized)
22 marshmallows, cut fine (or 2 cups miniature marshmallows)
2 ounces unsweetened chocolate, melted
1/3 teaspoon cream of tartar
1 cup sifted confectioners' sugar
1 cup shredded coconut
Beat egg whites until they are stiff and stand up in peaks. Add marshmallows, melted chocolate, cream of tartar, and sugar, and mix together well.
Shape chocolate mixture into small egg shapes. Roll in shredded coconut. Chill in refrigerator until firm before serving. Makes about 2 dozen small eggs, depending on the size you make them.

Chocolate Fudge Easter Eggs
This old fashioned chocolate Easter egg recipe is so delicious, and so easy to make! Perfect for gifts.

Evaporated Milk

To substitute 1 cup evaporated milk, gently simmer 2-1/4 cups whole milk in a saucepan until reduced to 1 cup.

2/3 cup undiluted Evaporated Milk
1-2/3 cups granulated sugar
1/2 teaspoon salt
1-1/2 cups diced marshmallows (16 medium sized)
1-1/2 cups chocolate chips (about 9 oz)
1 teaspoon vanilla
1/2 cup chopped nuts
Mix Evaporated Milk, sugar, and salt in saucepan over medium heat. Stir until boiling, then cook 5 minutes, stirring constantly. Remove from heat. Add other ingredients. Stir 1 to 2 minutes, or until marshmallows melt.
Let stand until cold; then form into egg shapes about 2 inches long x 1 inch wide.
If desired, roll in coconut tinted with food coloring or decorate with icing. Makes about 30 chocolate fudge Easter Eggs. Wrap in colored cellophane for Easter gift giving.

Chocolate Dipped Peanut Butter Eggs

2 cups (1 pound) butter
3 cups peanut butter
2-1/2 pounds confectioner's sugar
Dipping Chocolate
Melt butter. Mix in peanut butter and confectioner's sugar. Roll into egg shapes and put on waxed paper to firm for a while. Melt dipping chocolate in saucepan while eggs are firming, then dip eggs in melted chocolate. Place on waxed paper to allow chocolate coating to harden.

Chocolate Dipped Cream Cheese Eggs
This old fashioned chocolate Easter egg recipe idea calls for cream cheese, so you know the finished candy eggs will taste smooth and creamy delicious.
1/4 pound butter
8 ounces cream cheese
1/2 teaspoon salt
1-1/2 teaspoons vanilla flavoring
1-1/2 cups peanut butter or coconut
4 cups confectioner's sugar
Dipping chocolate
Soften and mix together butter and cream cheese. Add and mix in salt, vanilla, peanut butter (or coconut), and confectioner's sugar. Place in refrigerator to chill. Form into egg or ball shapes. Dip in melted chocolate coating.

Chocolate Vanilla Easter Eggs

1 stick butter
2 packages (4-serving size) cook & serve vanilla pudding
1/2 cup milk
1 pound confectioner's sugar
1 teaspoon vanilla
1/2 cup peanut butter OR shredded coconut OR chopped nuts
Dipping chocolate
For this old fashioned chocolate Easter egg recipe, melt butter in medium saucepan. Add pudding and milk to the melted butter. Bring to a boil, and boil for 2 minutes. Add remaining ingredients. Cool. Roll into egg shapes. Dip in melted dipping chocolate.

Giant Chocolate Easter Egg Cake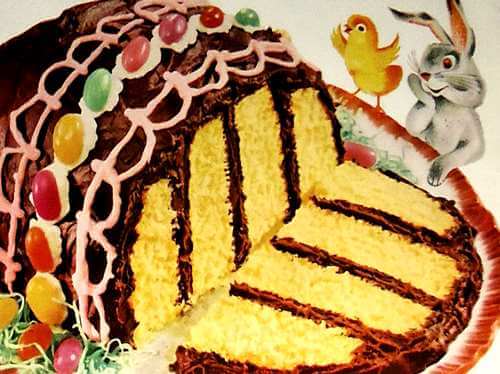 Make a Colorful Giant Chocolate Easter Egg Cake
(PD Source: Adapted from Illustration)
Easy Easter Egg Cake
How's this for a fun chocolate Easter egg recipe idea?

Use this easy Chocolate Easter Egg Cake recipe to make a wonderful chocolate surprise for your Easter table. The festive layer cake that's illustrated above tastes every bit as delicious as it looks!
You can easily make this unique egg-shaped dessert cake without a cake mold. The secret is all in the cutting, and it's all explained and illustrated below.

Step 1. Bake your favorite white or chocolate cake in two round 8-inch cake layer pans.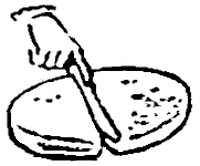 Step 2
Step 2. Cut each cake layer in two, about 1 inch off-center. This will create two large and two smaller pieces.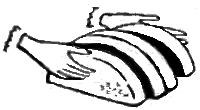 Step 3
Step 3. Position the four pieces together with chocolate icing between them, the smaller pieces on the outside, standing upright, their cut sides facing down on a cake plate.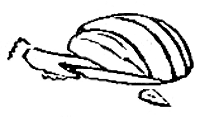 Steps 4 & 5
Step 4. Use a sharp knife to trim the outside pieces at the top outer edges to round off sides of cake for an egg shape.
Step 5. Trim lower ends of outside pieces, slicing diagonally, to give the cake an oval egg-like shape at the base.
Step 6. Generously cover the shaped cake with remaining chocolate icing, filling in areas to make an egg shape.
Decorate with bands of white and tinted icing and colorful jellybeans. Make a nest of green-tinted coconut around the egg.
To serve, cut across the vintage Easter egg cake, making four-layer slices of cake as illustrated in the color illustration.

White House Easter Eggs

Easter Eggs on Easter Morning in the White House, c. 1904
(Source: Library of Congress Prints and Photographs Division Washington, D.C., LC-USZ62-116138)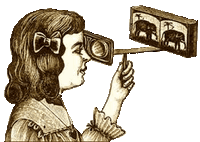 How to View Vintage 3D Photos: The double image is an old time stereoscopic photograph. It can be viewed by leaning close and staring through the images while slightly crossing the eyes until the two images converge to form one 3D picture in the center. Some people find this method easier to do than others, but it is always fun to try.

Related Pages You Might Like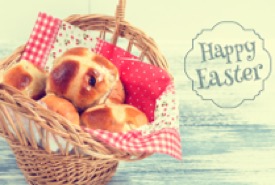 Traditional Easter Desserts