Traditional Easter Cake Recipes
Thanks to Grandma's traditional Easter Cake recipes, you can make beautiful theme cakes for Easter that will delight your entire family. We all know that homemade cakes taste much better than the store-bought variety, and these fancy dessert cakes offer absolute proof.
Want Easter cake ideas? How about the Giant Easter Egg Cake, the Easter Glory Cake, the versatile White Easter Cake, or the yummy Angel Custard Cake? You will love serving these dessert cakes with their deliciously old fashioned homemade taste.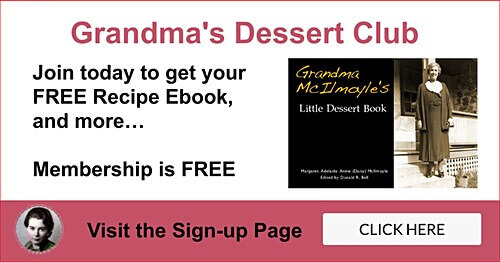 Grandma's Traditional Easter Cake Recipes

Mom's Recipe Scrapbooks (c. 1920s)

Giant Chocolate Easter Egg Cake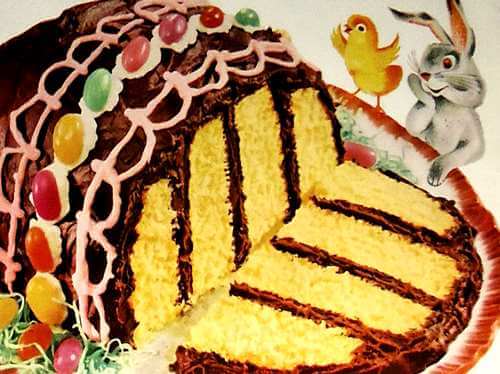 Make a Colorful Giant Chocolate Easter Egg Cake
(PD Source: Adapted from Illustration)
How's this for a traditional Easter Cake recipe that's fun to make?
Make a wonderful chocolate surprise for your Easter table! The festive layer cake that's illustrated above tastes every bit as delicious as it looks!
Use one of Grandma's homemade cake recipes to make your cake from scratch, use the recipe for Easter Glory Cake below, or use a box cake mix, if preferred.
This unique egg-shaped dessert cake can be easily made without a cake mold. The secret is all in the cutting, and it's all explained and illustrated below.
A long serrated knife makes the cutting easy, but a bread knife can also serve the purpose.
Step 1. Bake your favorite white or chocolate cake in two round 8-inch cake layer pans.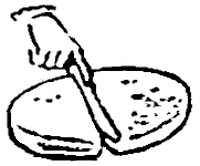 Step 2
Step 2. Cut each cake layer in two, about 1 inch off-center. This will create two large and two smaller pieces.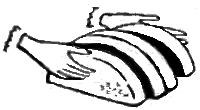 Step 3
Step 3. Position the four pieces together with chocolate icing between them, the smaller pieces on the outside, standing upright, their cut sides facing down on a suitable cake plate.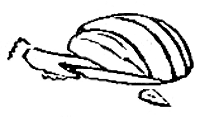 Steps 4 & 5
Step 4. Use a sharp knife to trim the outside pieces at the top outer edges to round off sides of cake for an egg shape.
Step 5. Trim lower ends of outside pieces, slicing diagonally, to give the cake an egg-like oval shape at the base.
Step 6. Generously cover the shaped cake with remaining chocolate icing, filling in areas to make an egg shape.
Now for the fun part. Decorate your Easter egg with bands of white and tinted buttercream frosting, colorful jellybeans, and unsweetened chocolate chips. Make a nest of green-tinted coconut around the egg adorned with mini candy eggs.
This traditional Easter cake recipe calls for chocolate and tinted buttercream frosting, and when it comes to icing recipes, you can't beat Grandma's.
To serve, cut across the Easter egg cake, making four-layer slices of cake as illustrated in the color illustration. See below for more serving suggestions.

Easter Glory Cake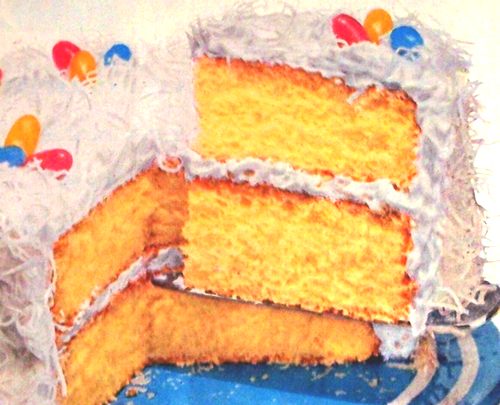 Enjoy a Colorful Easter Glory Cake This Easter
(PD Source: Don Bell)
Grandma's Tip
Butter, margarine, or lard may be substituted for the shortening, but use 1 cup minus 2 tablespoons milk.
Ingredients:
2-1/2 cups cake flour, sifted
3 teaspoons baking powder
1 teaspoon salt
1-1/2 cups white sugar
1/2 cup shortening (softened to room temperature)
1 cup milk
1 teaspoon vanilla extract
 2 eggs, unbeaten
Directions:
For this traditional Easter cake recipe, combine sifted flour, baking powder, salt, and sugar in flour sifter. Stir shortening to soften in mixing bowl, sift in dry ingredients, add 3/4 cup of the milk, and the vanilla.
Mix until all flour is dampened. Then beat mixture 2 minutes with electric mixer at low or medium speed, or 300 strokes by hand.
Add whole eggs and remaining milk and beat 1 minute longer. (Beat vigorously by hand or at low speed of an electric beater. Count only actual beating time.) Scrape bowl often while beating to thoroughly mix ingredients.
Pour cake batter into two round 9-inch layer cake pans lined on their bottoms with brown paper or parchment paper.
Bake in moderate oven (375°F) for 25 minutes bake time, or until done. Cool cakes in pans 5 minutes in a cool place, then loosen edges and turn out on a wire rack, remove paper, and turn layers right-side up to cool before frosting layers (see special frosting recipe below).
(Note: This 2-layer traditional Easter cake recipe could be used to make the Giant Easter Egg Cake above.)

Easter Glory Frosting
2 egg whites
1-1/2 cups white sugar
Dash of salt
1/3 cup water
2 teaspoons light corn syrup
1 teaspoon vanilla extract
1-1/2 cups shredded white coconut (optional)
Assorted Jellybeans for decoration
Combine egg whites, sugar, salt, water, and light corn syrup in medium bowl. Beat until thoroughly mixed. Cook over rapidly boiling water, beating with electric beater 7 minutes, or to stiff peaks. Remove from heat, add vanilla, and beat 1 minute longer.
Spread frosting between layers and over sides of the cake and top of the cake so the entire cake is covered. Then sprinkle with shredded coconut. Decorate with colorful jellybeans or mini eggs for the Easter dessert table.

White Easter Cake With Variations
Classic Easter White Cake With Vanilla Frosting
(Source: ©mrsiraphol/Depositphotos.com)
This traditional Easter Cake recipe offers three (count them — 3) variations and all three single-layer cakes are delicious.
If a 2 layer cake is desired, similar to the cake pictured above, simply double the recipe.

1/2 cup butter
1-1/3 cups sugar
1 cup milk
3 cups pastry flour
Few grains of salt
3 teaspoons baking powder
1-1/4 teaspoons vanilla extract
4 egg whites
For the basic version of this traditional Easter cake recipe, cream the butter, add sugar and cream until light and fluffy. Sift flour, salt, and baking powder three times and add alternately with the milk to which the vanilla has been added. Beat egg whites stiff and fold them in gently.
Bake about three-quarters of an hour in a moderate oven (360°F) till done. Turn out on a cooling rack. Decorate with the easy vanilla frosting recipe below.

Coconut White Cake

Add 1 cup shredded coconut to the above white cake recipe, either white or toasted coconut, and top with a wreath of freshly whipped cream.

Nut White Cake
Add 1 cup of coarsely chopped nut meats — any kind except peanuts.

Fruit White Cake

Add 3/4 cup of halved raisins and 1/4 cup chopped citron peel, stirring the fruit into the flour after it has been sifted.

Easy Vanilla Frosting Recipe
3 tablespoons butter
3 tablespoons milk
2 cups sifted icing sugar
1 teaspoon vanilla
Cream butter until light and fluffy; add sifted icing sugar and milk alternately, beating well until the icing is light, and of a nice consistency to spread. Add vanilla. Food coloring can be used if you desire pastel colors suitable for Easter.

Angel Custard Cake
1 pre-baked 10-inch Angel Food Cake
6 egg yolks
1-1/2 cups sugar
1 envelope (1 tablespoon) gelatin
1/4 cup lemon juice
3/4 cup orange juice
Grated rind of 1 lemon
6 egg whites
1 cup well-drained crushed pineapple
12 maraschino cherries, cut up
For this tasty dessert cake, tear an angel food cake into pieces in large bowl. Beat egg yolks in top of double-boiler; combine 3/4 cup of sugar and gelatin in a separate small bowl, and stir into egg yolks; add lemon juice, orange juice, and lemon rind.
Cook over hot water stirring constantly until custard mixture coats silver spoon. Let cool.
Beat egg whites until frothy, then beat 3/4 cup of sugar in gradually, beating well after each addition, then continuing to beat until stiff and glossy.
Then fold whites into cooled custard mixture along with crushed pineapple and chopped maraschino cherries. Finally, pour custard mixture over angel food cake pieces before serving.

Serving the Giant Easter Egg Cake

Once you've made the Giant Chocolate Easter Egg Cake, you'll want to serve your novel dessert cake to its best advantage on Easter Sunday.
Surround it with old fashioned chocolate Easter eggs for a memorable display and afterwards your guests can take the candy eggs home as an edible gift.
If you've invited enough hungry guests for your Easter celebration, you can also make a vintage Easter Bunny Cake to display alongside it or bake another of the traditional Easter Cake recipes above.