Traditional Hot Cross Buns Recipe

Use Grandma's traditional hot cross buns recipes to make delicious sweet buns for your Easter time celebrations. The fact that they're easily made and homemade makes them extra special.
These flavorful buns are traditionally served on the Christian holiday of Good Friday and during the Holy Season of Lent.
They are smallish, slightly sweet buns containing spices and raisins, or currants, and they sometimes contain chopped candied fruit. Their tops are marked with a distinctive white cross made of glazed sugar or lightly cooked dough to symbolize the Crucifixion of Jesus.
These spicy, festive buns are best served warm from the oven with a butter spread. They taste so good you'll want to eat them the year-round. Our family loves to eat them toasted and buttered, sometimes spread with thick-cut orange marmalade.

Traditional Hot Cross Buns Recipe

Mom's Recipe Scrapbooks (c. 1920s)


Celebrate Easter with Homemade Hot Cross Buns
(Source: ©andrew-neilan/123RF)
Traditional Hot Cross Buns
This old fashioned Easter buns recipe calls for bread yeast and is adapted from two vintage newspaper clippings in Mom's scrapbook.
These homemade Good Friday buns are easy to make, and they taste extra delicious when served warm from the oven with lots of butter.
Ingredients: 1 tablespoon yeast, 6 cups flour, 3/4 teaspoon cinnamon, 3/4 cup raisins, 1/2 cup mixed candied fruit, 1-1/2 teaspoons salt, 1 cup confectioners' sugar, 1 teaspoon sugar, 2 cups milk, 1/2 cup sugar, 1 egg, 1/3 cup melted butter.
Method: Add yeast and 1 teaspoon sugar to 1/2 cup warm water. Let sugar and yeast mixture sit 10 minutes. Warm milk, add 1/2 cup confectioners' sugar, salt, egg, and butter. Pour mixture into bowl, add yeast mixture, and stir. Add 5 cups flour, cinnamon, raisins, and candied fruit. Mix well.
If dough is very sticky, add up to 1 additional cup of flour. Knead as for bread dough until smooth. Cover dough, let rise until doubled, then punch down, knead briefly, and cut into buns. Makes about 2 dozen festive buns for baking (see baking instructions below).

How to Decorate Hot Cross Buns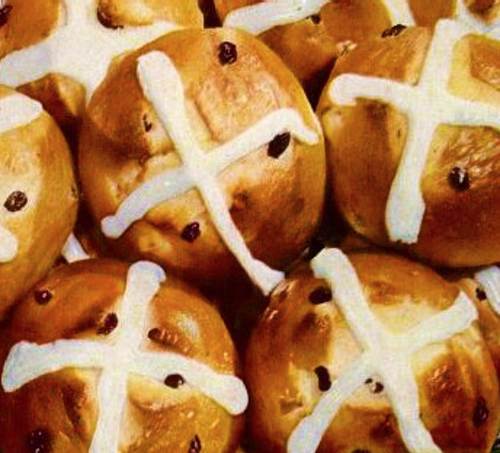 Hot Cross Buns Decorated with a Traditional Icing Cross
(PD Source: Don Bell)
Follow the traditional hot cross buns recipe, and place your cut buns on cookie sheet. Cut a cross in the top of each, then let rise till almost doubled in size. Bake at 325°F for 25 minutes, or until golden in color.
Remove buns from oven and let cool. After buns have cooled, blend remaining confectioners' sugar with enough milk to form a paste and put icing in each cross.

Alternate Ways to Decorate Hot Cross Buns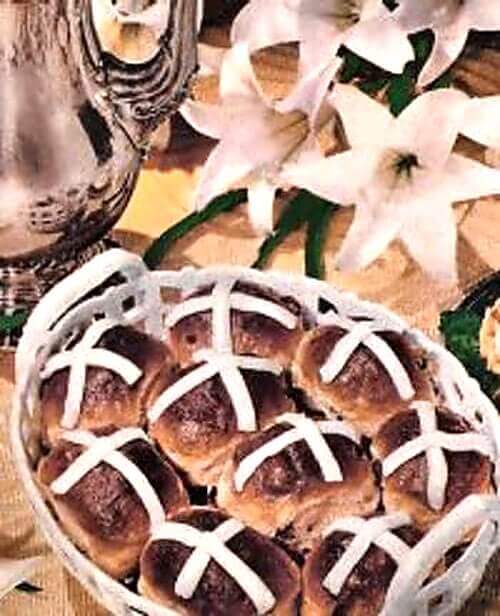 Homemade Hot Cross Buns With a Dough Cross
(Source: Don Bell)
Follow the traditional hot cross buns recipe to prepare buns for the oven, then put a cross on top of each using a little bit of rolled dough and brush on butter and sugar, then bake as usual.
Or, with a sharp knife, slit top at right angles or press a cross indentation onto the top of each bun with a long pencil.
When NEARLY baked, glaze, and dredge the cross thus produced with granulated sugar; repeat glazing and dredging until cross is filled with sugar. Complete baking.
Cinnamon may be mixed with the glazing sugar, or you can add a small amount of lemon extract for a slightly tangy flavor.

Homemade Hot Cross BISCUITS Recipe

Mary Lee Taylor Recipe (c. 1940)


Homemade Hot Cross Biscuits for a Change of Pace
(Source: Mary Lee Taylor)
Evaporated Milk

To substitute 1 cup evaporated milk, gently simmer 2-1/4 cups whole milk in a saucepan until reduced to 1 cup.

This vintage biscuit recipe is for anyone seeking an alternative to the traditional hot cross buns recipe.
1. Turn on oven; set at very hot (450°F).
2. Grease a cake pan measuring 9 inches across.
3. Sift together 2 cups sifted all-purpose flour, 3 teaspoons baking powder, and 1 teaspoon salt.
4. Work into flour mixture with a fork 1/4 cup shortening.
5. Stir in with fork a mixture of 6 tablespoons SEGO Evaporated Milk and 6 tablespoons water.
6. Turn out on lightly floured board. Knead a few seconds, or until smooth. Roll to 1/2-inch thickness. Cut into rounds with floured 2-1/2-inch cutter. With back of knife press a cross about halfway through each round.
7. Fill crosses with equal parts of 4-1/2 tablespoons jelly or thick jam.
8. Place close together in pan. Bake on oven shelf slightly above center for 15 minutes, or until brown. Serve at once. Makes 1/2 dozen Hot Cross BISCUITS. Now, that's different!

The History of Hot Cross Buns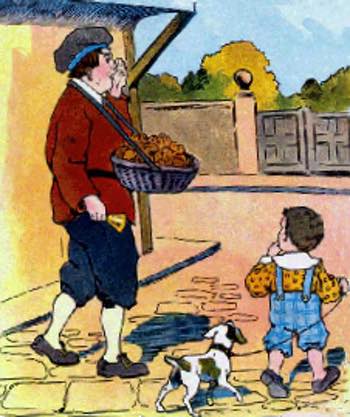 Hot Cross Buns Nursery Rhyme
Many people in the United Kingdom, Canada, and elsewhere in the Commonwealth of Nations can recall reciting the following nursery rhyme as a child:
Hot cross buns! Hot cross buns!
One a penny two a penny — Hot cross buns!
If you have no daughters, give them to your sons,
One a penny two a penny — Hot cross buns!
The old rhyme originated back in the 1800s when English street vendors sold the popular buns to the loud cry of "Hot cross buns!"
The origin of hot cross buns is unclear, and there are numerous theories offered. Some say their history dates from the small consecrated loaves once given to the poor as alms by priests after the Mass.
It's also claimed that in 1361, a Father Rocliff of St. Albans Abby in southern Hertfordshire handed out sweet, spiced buns marked with a cross to the poor after the Good Friday Mass. Good Friday is also known as the Day of the Cross.
The little buns must have been a hit with the parishioners, as their association with Good Friday remains today. Making the traditional hot cross buns recipe is now an Easter tradition in many kitchens across the land.

Related Pages You Might Like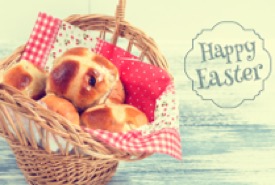 Traditional Easter Desserts