Old Fashioned Easter Bunny Cookies Recipe
Grandma's Old Fashioned Easter Bunny Cookies recipe makes colorful rabbit shaped cookies for your holiday table. Imagine setting a tray of delicious Easter treats before your guests, cookies shaped like Easter Bunnies, and some like yellow Bonnets decorated in spring colors with green leaves and delicate pink flowers.
These are also the best Easter cookies for serving with homemade ice creams. I can still recall Mom making them at Easter time when I was little. They made our holiday time extra special, and the easy recipes are perfect for kids. They'll have great fun making the little bunnies and decorating the Easter bonnets.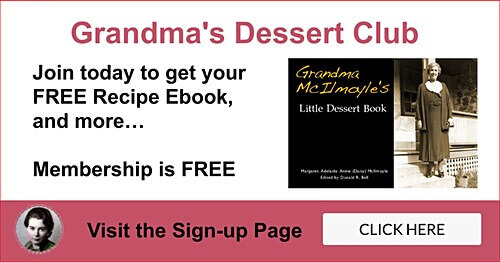 Wholesome Old Fashioned Easter Bunny Cookies Recipe

Mom's Recipe Scrapbooks (c. 1920s)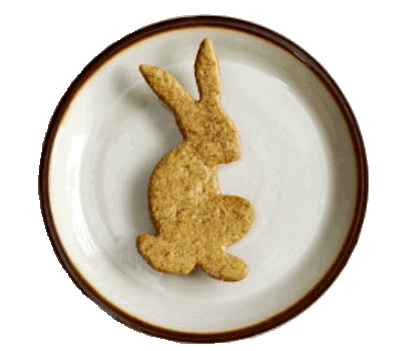 Homemade Easter Bunny Cookie
(Source: ©iva-dubova/123RF)
Easter Bunny Cookies
Not only do these homemade Easter cookies look great, but this cute cookie with its all-natural ingredients tastes especially good too. Everybody loves their wholesome spicy taste, and they're a big hit with the kids.
Believe me, you'll love these attractive homemade cookies. They make a pleasant change from the common sugar cookies, and the wholesome spicy dough is tastier and better for you than typical sugar cookie dough.

Grandma's Tip

If you don't have a bunny cookie cutter handy for this Old Fashioned Easter Bunny Cookies recipe, just trace the rabbit's outline using a sharp knife, as it will look fine after baking.

List of Ingredients:
1 egg
3 cups all-purpose flour
1/2 cup molasses
1/2 cup sugar
1-1/2 teaspoons ground ginger
1/2 teaspoon ground cinnamon
1/2 teaspoon ground cloves
1-1/2 teaspoons cider vinegar
1/2 cup vegetable shortening
2 teaspoons baking soda
1/4 teaspoon salt
Method:
Sift the flour, baking soda, ginger, cinnamon, cloves, and salt onto a large piece of waxed paper. Blend the egg with sugar and shortening in a large bowl until fluffy.
Beat in the vinegar and molasses, then carefully roll up the wax paper and stir in the flour mixture until it's smooth.
Knead the resulting dough into a ball, then wrap and chill for a few hours. Once the dough has cooled long enough, you can preheat the oven to 375°F (190°C).
Roll out the dough onto a floured wooden surface with a rolling pin until it's about 1/8 inch thick. Then use a bunny-shaped cookie cutter to shape cookies before they go into the oven.
Bake cookies on baking tray for about 5 minutes and remove from the oven. Allow to cool completely on a wire cooling rack before serving.
This Old Fashioned Easter Bunny Cookies recipe makes an adorable Easter treat for adults when left plain, but they can also be decorated with your favorite homemade cookie icing and some mini marshmallows for the bunny tails.

No Bake Chocolate Caprices
Grandma's Tip

You can substitute shredded coconut for the chopped nuts, if preferred.

1 package dark chocolate chips (6 ounces)
3/4 cup sweetened condensed milk
1 cup finely crushed graham wafers
1/2 cup raisins
1/4 cup chopped nuts
1/2 teaspoon vanilla extract
For this No Bake chocolate Easter treat recipe, first heat dark chocolate chips in a pot over hot water until partly melted. Remove melted chocolate from heat and stir rapidly until entirely melted. Add remaining ingredients.
Mix thoroughly. Drop from teaspoon on waxed paper or piece of parchment paper. Cool until firm. Makes about 3 dozen caprices for Easter. Store on serving dish covered with plastic wrap or in an airtight container until ready to serve.

Old Fashioned Easter Bonnet Cookies
List of Ingredients:
1-1/3 cups soft butter
1/2 cup lightly packed brown sugar
2-1/2 cups sifted all-purpose flour
3 cups sifted confectioners' sugar
3 tablespoons milk
1/2 teaspoon vanilla or almond extract
1 or 2 drops yellow food coloring
18 large marshmallows halved
Food coloring: yellow, green, and red
For this Old Fashioned Easter Bonnet Cookie recipe, beat 1 cup butter until it is creamy, slowly add brown sugar, beating all the time; add flour gradually, turn dough onto floured board.
Knead dough until it begins to crack, then roll dough to 1/4 inch thick and cut in 2-1/2 inch rounds; place 1 inch apart on ungreased cookie sheet.
Bake cookies at 325°F about 20 minutes; remove and cool on wire rack. Makes about 3 dozen cookies.
Beat remaining 1/3 cup soft butter until creamy, blend in confectioners' sugar with milk, add vanilla, and mix for frosting.
Divide frosting in 2 equal parts; tint one part with 1 or 2 drops yellow and divide remaining portion in 2 parts.
Ice each cookie with yellow, place a marshmallow half, cut side down, atop each iced cookie while the icing is still wet, arrange to resemble crown of bonnet, and ice marshmallow with yellow frosting.
Use 1 or 2 drops of green in one part of reserved icing; tint second part with 1 or 2 drops of red to make pink. Use green and pink frosting to decorate bonnets with flowers and leaves.
Bake along with the Old Fashioned Easter Bunny Cookies recipe, and you'll have the cutest Easter cookies for serving on Easter Sunday.