Renaissance Baking Supplies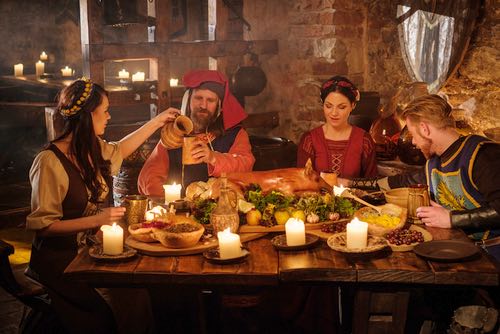 Medieval Banquet Reenactment with Typical Foods
(Source: ©nejron/Depositphotos.com)
Whether it's hard-to-find Renaissance baking supplies or Medieval cooking ingredients and decorations, you can easily purchase whatever you need online from Amazon and other sources. Make authentic Renaissance desserts and recreate the era itself by hosting your own memorable banquet or theme party.


Make Your Banquet Memorable

Edible silver leaf and 23kt edible Gold Leaf or Gold Flakes are used in gilding authentic Renaissance and Medieval-style sweetmeats. The thin metal sheets tend to be flavorless as they are meant to be decorative. They are also very fragile and somewhat fiddly to apply. Gold and silver MUST be labelled "edible" for safe use on foods.


Renaissance Baking Supplies

Edible 23K Gold Leaf
Edible Silver Leaf
Edible 23K
Gold Flakes
Gum Arabic
Gum Tragacanth
Rose Water
Flavoring
The historical ingredients called for in Renaissance baking are Gum Arabic, Gum Tragacanth (Gum Dragon), Gum Paste, Rose Water, and Colored Sugar Crystals. These products can occasionally be found in shops that specialize in cake decorating and cookery.

Most Renaissance baking supplies are rarely found in local stores, but they are readily available online from Amazon and other trusted sources.


Renaissance-Style Molds and Cutters

Autumn Shapes Pan
Card Shapes Cutters
You can find a good assortment of cookie cutters and candy molds in classic Renaissance-style shapes at local department stores or cake decorating shops. Cookie cutters are perfect for preparing marchpane (marzipan), sugar paste, leach, gingerbread, marmalet (marmalade), and other sweetmeats for presentation.

Popular shapes for sweetmeats in the Medieval and Renaissance Eras were heart, diamond, club, spade, crescent moon, walnut, acorn, egg, and various fruits.

The cut or molded sweetmeats were often colored with natural food dyes or decorated with colored sugars. They were sometimes gilded with edible 23kt gold or edible silver leaf for serving on royal occasions.


Renaissance Party Supplies

Medieval Table Cover
Medieval Pennant Banner
Few of us can boast of having a Renaissance banquet hall, but party decorations and historical costumes can help to lend ambience to your home dining room for the occasion. For example, a colorful pennant banner and a large Medieval-like tablecloth will display your Renaissance desserts and sweetmeats perfectly.


Renaissance Costumes
You May Also Like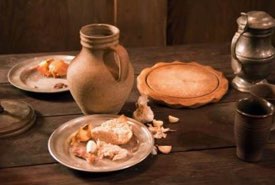 Renaissance Dessert Recipes
Enjoy a

Laugh

to Brighten Your Day!


Listen to Bud Abbott and Lou Costello's "Who's On First?" skit from the World War 2 Special Services Division V-Disk.


(5: 54 min.)