Traditional Italian Panettone Recipe
Traditional Italian Panettone Recipe

Save this traditional Italian Panettone recipe for Christmas or for any special occasion. Panettone is a delicious, sweet, cake-like bread that's loaded with bits of fruit, golden raisins, chopped almonds, and tasty orange and lemon zest.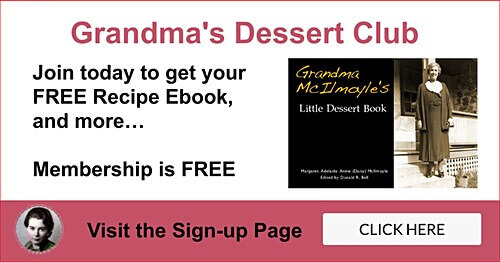 Traditional Italian Panettone Recipe

Mom's Recipe Scrapbook (1920s)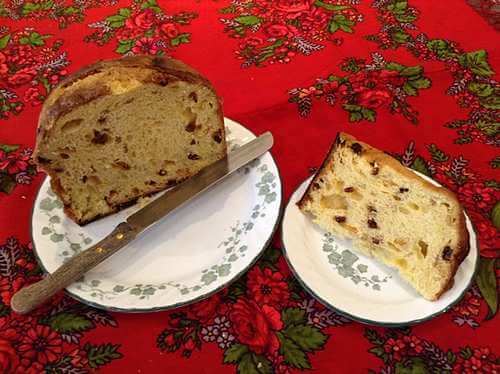 Enjoy an Italian Panettone Sweet Bread FruitCake
(Source: ©Don Bell)
The festive panettone cake is baked in a distinctive cylindrical mold making it a Christmas cake like none other. You'll enjoy trying this festive Italian fruitcake.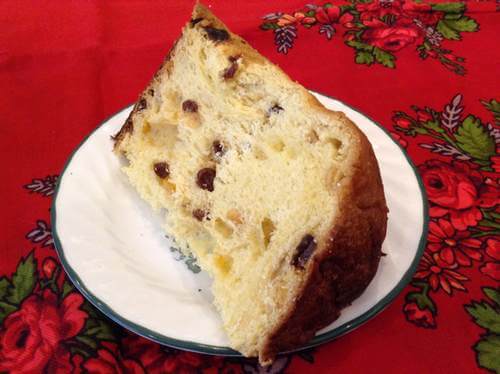 Enjoy a Delicious Slice of Homemade Panettone
(Source: ©Don Bell)
Italian Panettone
3 cups all-purpose flour, sifted
1 tablespoon baking powder
1 teaspoon ground cardamom spice
1/2 teaspoon salt
1/4 teaspoon ground ginger
2 large eggs
2 egg yolks
3/4 cup granulated sugar
1/2 cup plus 1 tablespoon butter (melted and cooled)
1 cup milk
1-1/4 cups golden raisins
1/2 cup coarsely chopped dried fruit (such as peaches, papaya, pineapple, or bananas)
1/4 cup (1 ounce) coarsely chopped blanched almonds
1-1/2 teaspoons grated orange peel
1/2 teaspoon grated lemon peel
Confectioners' sugar for dusting
Preheat oven to 325°F. Grease two 16-ounce empty coffee cans or two 6x4-inch panettone molds.
Mix together flour, baking powder, cardamom, salt, and ginger. Beat together eggs, egg yolks, and sugar until thick and pale yellow in color.
Beat melted butter into the egg mixture. Alternately add flour mixture and milk to egg mixture. Then, stir in raisins, dried fruit, nuts, orange peel, and lemon peel.
Spoon cake batter into prepared cans, dividing amount evenly. Place cans, batter-side up, on a baking sheet. Bake panettone at 370°F until top is golden brown and a wire cake tester inserted in the center comes out clean, about 1 hour or so.
If necessary, cover can tops with aluminum foil toward end of baking time to prevent over browning.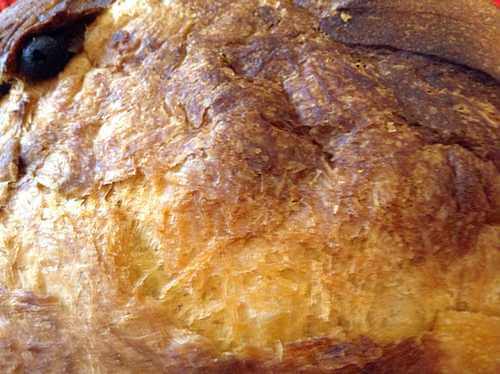 Golden Brown Top of a Baked Homemade Panettone
(Source: ©Don Bell)
Carefully slide the loaves from cans (tapping the can's bottom helps), transferring them to a baking sheet.
Return loaves to oven and bake panettone until crusty, about 5 to 10 minutes more. Then, transfer loaves to a wire rack to cool. Dust with confectioners' sugar.
Allow your panettone to cool completely before slicing. Can be safely stored in an airtight container for up to one week.
Be sure to keep this traditional Italian Panettone recipe handy for whenever you want to serve a special fruitcake on a special occasion.