Traditional Italian Gelato Recipe
Want a traditional Italian gelato recipe? Look no further. You won't find anything to compare with these authentic Italian ice cream recipes.
Gelato is one of the world's first frozen ices and now you can easily capture its creamy, decadent, uniquely European taste and enjoy a frozen treat whenever you want.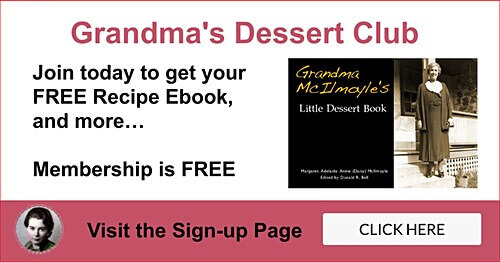 Traditional Italian Gelato Recipes

The Italian Cook Book (1919)

Enjoy the Traditional Italian Gelato Recipes
(Source: ©aluha123/Depositphotos.com)
Gelato di pistacchi — Pistachio

If you love pistachio nuts, you'll love this creamy, rich-tasting Italian ice cream recipe. It should work well with other nuts like almonds, hazelnuts, or walnuts too.
Milk, one quart; sugar, six ounces; pistachios, two ounces. Skin the pistachios in warm water and grind them very fine with a tablespoonful of the sugar, then put in a saucepan with 3 or 4 yolks, and the sugar, mixing everything together.
Add the milk and put the mixture on the fire stirring with the ladle, and when it is condensed like cream, let it cool and put in the freezer.

Gelato di Fragola — Strawberry Ice
Ripe strawberries, 3/4 pound; granulated sugar, 3/4 pound; water, one pint; a big lemon; an orange. Boil the sugar in the water for ten minutes in an uncovered kettle.
Rub thorough a sieve the strawberries and the juice of the lemon and the orange: add the syrup after straining, mix everything and pour the mixture in the freezer.

Pezzo in gelo — Biscuit

Make a cream with water, five ounces; sugar, two ounces; the yolks of four eggs; a taste of vanilla. Put it on the fire stirring continually and when it begins to stick to the ladle remove from the fire and whip to a stiff froth.
Then mix about five ounces of ordinary whipped cream, put in a mold, and pack in salt and ice. Keep in ice for about three hours. This dish will be sufficient for seven or eight persons.

Make a Traditional Gelato Italiano

Second Edition of the Neighborhood Cook Book (1914)

Vintage Italian Gelato Sandwich
Biscuit Tortoni
Biscuit Tortoni is a quick and easy frozen dessert recipe you can whip up in a few minutes, but your guests will rave about it for hours.
Serve this frozen treat well chilled and be sure to make enough for seconds. Everyone will beg you for more!
One pint whipped cream, sweeten and flavor; one-half pound macaroons, pounded and mixed with the yolk of one egg; mix lightly together. Pour into mold and pack in ice.

Homemade Italian Ice

Watch the short YouTube video below as 94-year-old Clara demonstrates how to make an authentic Italian Ice in your refrigerator freezer. The homemade ice dessert takes a while to freeze, but it's low-cost and so easy to make. Enjoy!

Isn't Clara amazing? The ingredients are mentioned in the video, but I will list them below in case you didn't get to write them down.

Clara's Italian Ice Recipe

2 cups water
1/2 cup sugar
Flavoring of Choice

Flavor Suggestions:

Vanilla to taste

Lemon Lime - juice of 1/4 lemon and 1/4 lime per serving

Lemon - juice of 1/2 lemon per serving

Fruit of choice

Just bring water and sugar to boil, then cool for 15 minutes. Place in freezer for 1 hour, stir, return to freezer and repeat stirring and freezing until mixture is semi-frozen.
Stir in flavoring and top with mint leaves (optional). Enjoy a cool and refreshing treat.

Clara's Other Recipes

Visit Amazon to purchase your copy of "Clara's Kitchen: Wisdom, Memories, and Recipes from the Great Depression" in either Hardcover or Kindle version. You'll love this cookbook that features warm family memories and simple Italian recipes that are easy and fun to make.

If you purchase a product through a link on this page, I receive a small commission at no extra cost to you. I recommend only products I have purchased or would purchase myself and which I believe would benefit you. See my FTC compliance policy for more information.

About the Traditional Italian Gelato Recipes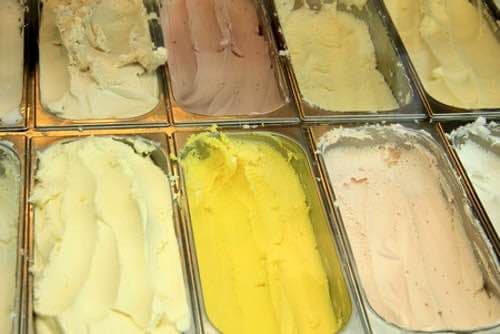 Gelateria Ice Cream Flavors
(Source: ©funlovingvolvo/Depositphotos.com)
Don't accept a modern imitation. If you want to make real gelato with the unique taste of Old Italy, then these traditional Italian gelato recipes from Grandma's collection are what you have been waiting for. They're the real thing!
Gelato di Crema the way it's meant to be!
Learn how to make ice cream in your home freezer. Enjoy your homemade gelato while listening to Perry Como, and you'll think you're at a cafe in sunny Naples.
Make a tub of frozen gelato tonight. And remember, nothing goes better with it than a plateful of homemade amaretti or biscotti biscuits.