Ice Cream Treats Recipes

These homemade ice cream treats recipes are so easy to make, and who doesn't love eating ice cream cones, frozen pies, and ice cream sandwiches?
And what about frozen treats consisting of swirls and layers of colorful ice cream flavors? You'll find them all below, so just pick one to make and enjoy!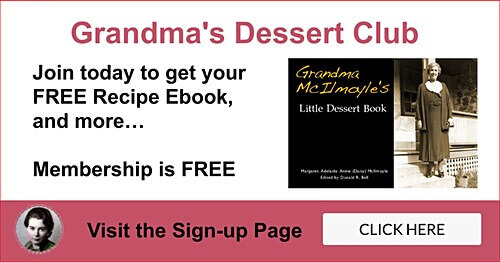 Homemade Ice Cream Treats Recipes
© 2004 by Don Bell

Enjoy a Homemade Ice Cream Sandwich Treat
(Source: ©bhofack2/Depositphotos.com)
Ice Cream Sandwiches
You can make an ice cream parlor sandwich by first making your favorite cookie recipe. Chocolate, gingerbread, and chocolate chip cookies are always favorites. Roll the dough out thin and then use a large, round cookie cutter to cut the cookies.
Bake them on a cookie sheet and after they have cooled in the refrigerator for a while, carefully spread a 1-inch layer of softened ice cream over a cookie; then place a second cookie on top of the ice cream to make a sandwich.
Roll the sides in chocolate chips, sprinkles, chopped nuts, or leave plain, and then wrap in freezer paper and freeze immediately.
You could also use crispy homemade wafers for the sandwich. Make them as cones, but instead of rolling them into a cornucopia shape, cut them in flat, 5-inch squares.

Ice Cream Pies
Here's an easy homemade ice cream treats recipe. Simply fill a precooked pie shell with your favorite softened, homemade ice cream and freeze. You may use a plain crust, or you can go all out and make a crust of crumbled cookie crumbs.
Artistically drizzle a colorful fountain syrup over the top before freezing, or freeze the pie plain and garnish it later with whipped cream and fresh fruit slices, or maraschino cherries before serving.

Copycat DOLE Whip®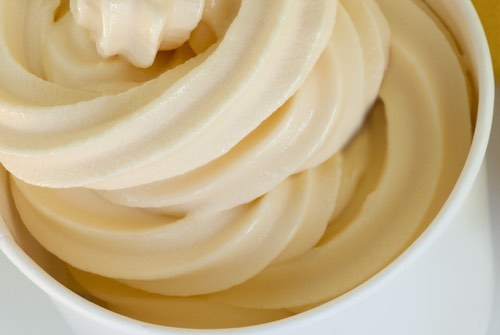 Frozen Homemade Soft-Serve Pineapple Whip Treat
(Source: ©urban_light/Depositphotos.com)
Disney Parks® have served their iconic soft-serve Pineapple DOLE Whip® treat since the mid 1980s. Now, they have released the homemade ice cream treats recipe, and you can experience the Magic Kingdom at home.
Begin with a generous scoop of your favorite vanilla ice cream, add 4 ounces of pineapple juice and 2 cups of frozen pineapple chunks. Blend until smooth and spoon into a small glass dish or wafer cone.
If you want the classic swirl effect, pour the frozen mixture into a sealable Ziploc® plastic bag, snip off one corner, and pipe your frozen treat into your dish or cone with a swirling motion.

Ice Cream Cones
Ice cream cones have been a favorite treat for all ages since the 1890s. To make this easy homemade ice cream treats recipe, simply press 1, 2, or even 3 round scoops of frozen ice cream into a crispy cone and enjoy.
Traditional ice cream toppings may be sprinkled over the ice cream such as coconut, chocolate, and colored sugar sprinkles.
Use store-bought cones if you're in a hurry, or you can make your own crispy wafer cones rolled into a cornucopia shape for an authentic taste treat. Original wafer cone recipes are available elsewhere on this site.
Bake the wafers about 3 minutes in a hot oven on a cookie sheet lined with waxed paper or aluminum foil; they are done when the edges are lightly golden. Roll them immediately; it takes some practice.
Drop a miniature marshmallow in the cone's bottom to prevent dripping. Round, electric waffle-cone makers or pizelle irons may be purchased locally or from sources on the Internet.
Cone-shaped rollers can either be purchased or handmade of stiff cardboard and covered with heavy aluminum foil.

Molded Ice Cream bars and Water Ices

Make Homemade Molded Ice Treats with Fruit Flavors
(Source: ©gonzalocallefotografia/Depositphotos.com)
Here's a great old fashioned ice cream treats recipe idea. Ice cream bars and fruit flavored water ices may be frozen in either Popsicle® molds or small plastic juice glasses.
Insert Popsicle® sticks — available at most food stores — when the mixture has frozen enough so it's slightly firm.
You may free the frozen ice cream bars and water ices from their molds by following the instructions below.
Ice cream bars may be held by their stick and dipped in melted chocolate or gently rolled in one of your favorite toppings such as chopped nuts, coconut, or chocolate sprinkles; then wrapped in freezer paper and refrozen before serving.

How to Free Molded Bars and Ices
Take your molded ice creams and water ices from the freezer and place them in the refrigerator for only a few minutes (5 to 10 minutes) until you can easily turn them out of the molds for serving.
Another simple method you can use to free frozen desserts from molds is to dip the bottom of the molds briefly in cold water, or you can simply place a towel dampened with warm water over the bottom of the mold for a few seconds.
Serving Molded Bars and Ices

Small molded ice cream bars and water ices were traditionally turned out onto a fancy paper doily or onto a round piece of white note paper instead of directly upon the serving dish itself.
The paper gives the dessert a fine appearance when serving and helps to insulate it and prevent it from melting too quickly. Sometimes the edge of the note paper was cut in a decorative scallop pattern by the ice cream parlor staff.
Vintage Ice Cream Molds

Molds have been commonly used in the preparation of ice creams and water ice desserts since the sixteenth century.
Ices were often shaped in a large mold and used as an attractive centerpiece from which the guests were served or allowed to help themselves. Smaller molds were also used to prepare individual servings.
The vintage ice cream molds came in a variety of shapes and sizes. Some were plain, some were fluted, some were quite artistic, and some even featured the noble family's coat of arms.
Antique collectors now seek after many of these old molds that often command high prices.

Combination Swirls and Layer Treats
Here's some old fashioned ice cream treats recipes you can try. The Victorians sometimes combined 2 or 3 softened ice creams to create a unique and colorful dessert.
For instance, you might like to swirl spoonfuls of Chocolate Ice Cream into a container of softened Cherry Ice Cream or maybe combine two or three of your favorite ice creams.
Begin by simply spreading a layer of softened ice cream in a freezer container and then spread another layer of a different softened ice cream on top.
Now, using a table knife, lightly swirl the upper layer into the bottom layer. Finally, level and refreeze the ice cream until firm. You can also swirl in jams, jellies, cookie crumbs or peanut butter the same way.
You can also combine layers of Vanilla, Chocolate, and Strawberry Ice Creams to create a classic Neapolitan dessert. It's easy. First, spread a level layer of softened Vanilla Ice Cream in a freezer container and refreeze it.
Next, spread a level layer of Strawberry Ice Cream on top of the Vanilla and refreeze it. Finally, spread a level layer of Chocolate Ice Cream on top of the Strawberry Ice Cream and refreeze it.
You can combine any flavor combinations this way or even create layers made of cake, wafers, grated coconut, cookie crumbs, cereals, jams, or thin sheets of bittersweet chocolate.
Sometimes the Victorians froze layers of two different ice creams in separate containers. Vanilla and Strawberry or Vanilla and Chocolate were traditional choices in their homemade ice cream treats recipes.
When frozen, the layers were cut lengthways in square strips and built into a solid block of ice cream placing the different ice creams next to each other. After the ice cream treat is refrozen, it makes a fancy checkerboard pattern when sliced.

Frozen Do-It-Yourself Summer Treats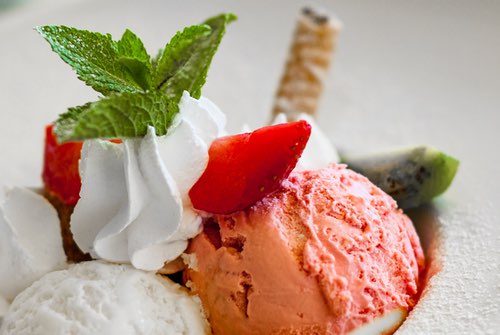 Enjoy a Deliciously Frozen DIY Summer Treat
(Source: ©semenovp/Depositphotos.com)
Set several containers of frozen ice cream into a large tub or a tray filled with crushed ice to prevent the ice cream from melting. There should be enough ice cream to satisfy everybody.
Offer standard ice cream flavors along with a couple of unusual flavors like Rhubarb Cream, Fig, and Brown Bread.
Go all out with the toppings, as toppings are the most fun. Get really creative and have containers of sauces, syrups, bits of homemade fudge, chocolates, crushed hard candies, candied fruit.
Say, how about finely chopped chili peppers for a hot and cold Mexican ice cream sensation?
Take advantage of the homemade ice cream treats recipes to give your guests as many eye-popping choices as possible.