Choose the Best Ice Cream Scoop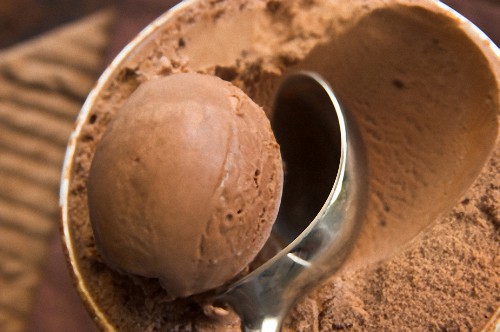 Get the Best Scoop for Your Old Fashioned Ice Creams
(Source: ©iStock/Elkeflorida)
When choosing the best ice cream scoop, be sure to look for a sturdy model that's ergonomically designed for ease of use and the effortless scooping and releasing of large, perfectly rounded scoops of frozen ice cream.


The Best Ice Cream Scoop for Scooping
Perfectly Scooped Ice Cream Waffle Cones
(Source: ©Daxiao_Productions/Depositphotos.com)
Today's manufactured scoops with their ergonomic shapes make filling a waffle cone or sundae dish an easy task. They are designed to make consistently round scoops from rock-hard frozen ices and many have insulated handles for comfortable serving without freezing your fingers.

But, poorly designed scoops aren't any better than using a common tablespoon. For years, I used one of those silvery metal, liquid-filled scoops thinking it was great. However, even when it was warmed under hot water, its blunt edge scarcely made a dent in some rock-hard ice creams.

You really had to twist and push down hard to get even a small amount of ice cream. Sometimes, when frustrated and in a hurry, I've had to place the frozen container in the microwave oven for a minute or so to help soften the ice cream. Then, it was often too soft. It was frustrating!

However, I finally threw it away and got a new one that's surprisingly similar to the old fashioned scoop that Grandma once used. What a difference a better product design can make!

You'll discover when making homemade ice cream that it tends to freeze harder than the store-bought variety, so having the proper serving tool makes all the difference. There's nothing more enticing than perfectly formed balls of ice cream in a homemade cone or on a dainty serving dish.

I discovered that a sturdy, no nonsense metal scoop is perfect for serving homemade frozen desserts. And, it's also great for scooping mashed potatoes, salads, and other foods suitable for scooping.


Just Watch One Scooping

Watch this brief YouTube video that demonstrates how effortlessly this popular model with its pointed tip can scoop perfect balls from frozen, rock-hard ice cream containers.


What Others Are Saying

The basic, old fashioned kind of scooper is the one most loved by consumers. Here are some comments found online:


"No mechanical gimmicks like a button or lever to push."


"The ice cream curls up with this product when you scoop it."


"This baby cuts through ice cream smoothly and effortlessly."


"Stainless means you can chuck it in the dishwasher."


"It's solid and very, very strong."


Finally

You should be able to find the best ice cream scoop for your homemade ice creams at stores in your area, or online from Amazon. Be sure to get one that's made of good quality stainless steel at an affordable price, and it should give you years of good use and effortless scooping.


The First Ice Cream Scoop
Here's The "Scoop" on Ice Cream Scoop History:

It was back in 1878 that William Clewell of Reading, Pennsylvania invented the first utensil to enable fountain operators to add a measured amount of ice cream to soda glasses more efficiently.

Untold numbers of soda jerks and ice cream lovers have since used metal scoops based on his classic, non-mechanical design to pry rock-hard ice cream from its container.
You May Also Like

Enjoy a

Laugh

to Brighten Your Day!


Listen to Bud Abbott and Lou Costello's "Who's On First?" skit from the World War 2 Special Services Division V-Disk.


(5: 54 min.)


As an Amazon Associate I earn from qualifying purchases.