Traditional Baked Alaska Recipe
Traditional Baked Alaska Recipe
Try a traditional baked Alaska recipe! This is truly one of the world's most extraordinary frozen desserts, yet it is quite easy and very economical to make at home.
Making a Baked Alaska simply calls for sponge cake, ice cream, and an egg meringue. But, there's a SECRET involved in making it, and it's all explained below.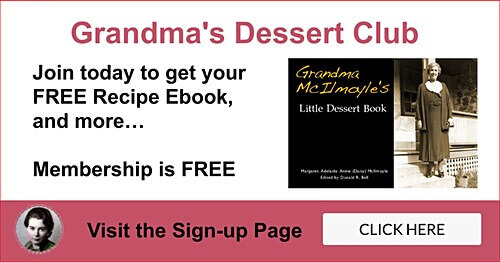 Traditional Baked Alaska Recipe

The Boston Cooking-School Cook Book (1896)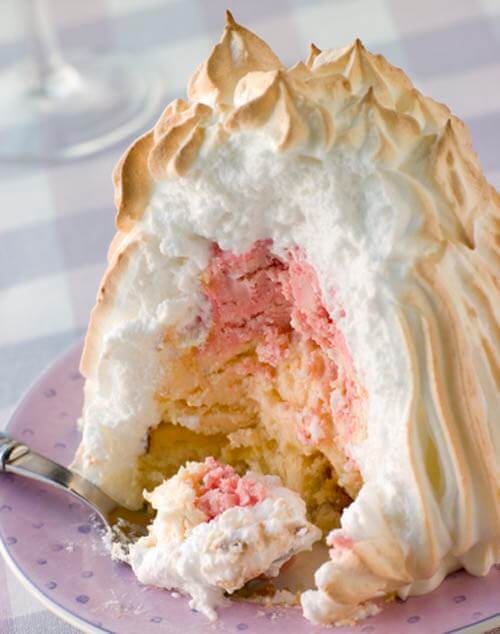 Make Homemade Baked Alaska Dessert Today
(Source: ©monkeybusiness/Depositphotos.com)
Traditional Baked Alaska

Fannie Farmer's is one of the first traditional Baked Alaska recipes to be featured in a celebrated cookbook!
2-quart brick of ice cream, thin sheet sponge cake. Make meringue of eggs and sugar as in Meringue, cover a board with white paper, lay on sponge cake, turn ice cream on cake (which should extend 1/2 inch beyond cream), cover with meringue, and spread smoothly.
Place on oven grate (oven rack) and brown quickly in hot oven. The board, paper, cake, and meringue are poor conductors of heat and prevent the cream from melting. Slip the paper onto ice cream platter.
To Make the Meringue
Whites 6 eggs, 6 tablespoons powdered sugar, 1-1/2 tablespoons lemon juice or 3/4 tablespoon vanilla. Beat whites until stiff, add sugar gradually and continue beating, then add flavoring.
Traditional Baked Alaska Recipe

Dainty Desserts for Dainty People (1915)

Baked Ice Cream

This old fashioned baked ice cream recipe is virtually identical to the traditional baked Alaska recipe.
Whites of six eggs, 6 tablespoons powdered sugar, 2 quarts vanilla Philadelphia brick ice cream, thin sheet sponge cake, 1/4 teaspoonful vanilla.
Meringue: beat whites of eggs until stiff and add sugar gradually while beating constantly, then add vanilla.
Cover a board with letter paper, lay on sponge cake, turn ice cream on cake, having cake extend one-fourth inch beyond cream. Cover with meringue and spread smoothly.
Place on grate and brown meringue quickly in hot oven; slip from paper to serving dish.

Chef Hirtzler's Traditional Baked Alaska Recipe

The Hotel St Francis Cook Book (1919)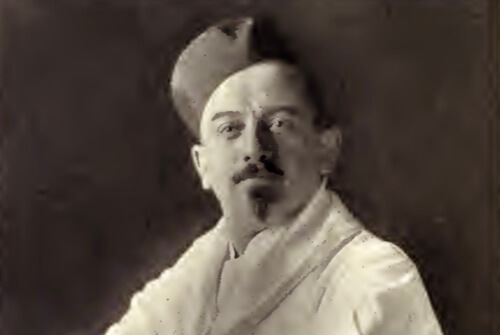 Former Hotel St Francis Head Chef Victor Hirtzler
(PD Source: The Hotel St. Francis Cook Book, 1919)
Hotel St Francis Baked Alaska

For individual servings, slice some sponge cake about one-half inch thick, and cut with a round cutter two inches in diameter.
Put the discs of cake on a silver platter, put a ball of vanilla ice cream in the center of each, and cover with meringue paste.
Make the meringue paste with the whites of four eggs, beaten well and mixed with one-half pound of powdered sugar.
Use a pastry bag with a fancy tube, and cover carefully; dust with powdered sugar, and bake in a very hot oven for a couple of minutes (to brown the meringue).
Put a French maraschino cherry on top of each before serving.

Baked Orange Souffle St Francis
Cut "lids" from the tops of four large oranges and remove the insides. Have the openings about an inch and one-half in diameter.
Fill about one-third full with some sliced fresh fruit, such as oranges, apples, bananas, pineapple, etc. Then add a few drops of maraschino, fill another third with vanilla ice cream.
Beat the whites of six eggs until stiff, mixed with one-half pound of sugar and the grated rind of an orange, and fill the final third of the orange.
Dust with powdered sugar, and brown meringue on top in a very hot oven. It will take but a second to brown, and the oranges should be served at once.

Non Traditional Baked Alaska Recipes

Mom's Recipe Scrapbooks (c. 1920s)

Miniature Baked Alaska Desserts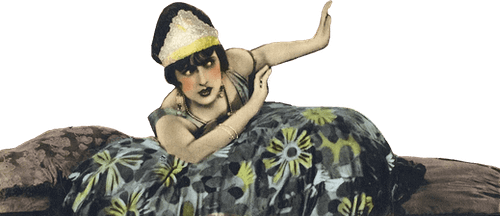 Carmel Myers (1899-1980)
(PD Source: Slave of Desire Lobby Card, 1923)
This ice cream dessert recipe is attributed to Carmel Myers (1899-1980) who was a leading lady in silent films from 1915 through the 1920s. She played opposite John Barrymore, Rudolph Valentine, and other notable actors.

Scoop out the centers of individual angel food cakes and fill the cavities with your favorite flavor of ice cream. Cover with egg meringue and broil in oven for about 3 minutes, or until lightly browned. Remove from oven and serve immediately.

Mock Baked Alaska With Marshmallows
This vintage NON traditional baked ice cream dessert is a delicious treat that's fun for kids to make with close adult supervision. Miniature marshmallows work well with this recipe and don't require cutting.
Place a slice of brick ice cream on an oven-safe dessert plate. Cover top and sides of ice cream with common marshmallows. They can be made to stick by trimming their sides flat and dipping them in cold water. Put plates on a board (both non-conductors of heat) and toast in the oven.

Traditional Baked Alaska Recipe With Frosting
The Dispenser's Formulary or Soda Water Guide (1915)

Frosted Baked Alaska
Place a thin sheet of sponge cake on a waxed paper, on a board, and then put on a brick of ice cream and frost it thickly over all the sides, topping off with a powdered sugar frosting.
Set the board in a hot oven long enough to brown the frosting. Sometimes the frosting is put on with a pastry bag to decorate. Serve at once.

Tips on How to Make Baked Alaska
You simply have to try one of the traditional Baked Alaska recipes. Otherwise, you'll always be wondering what the dessert tastes like. I'll give you a hint... It IS AMAZING!
Make one of these unique frozen treats tonight and surprise your family and friends. Homemade Baked Alaska is guaranteed to make any meal or party an occasion to be remembered.
Homemade ice cream is perfect for making a Baked Alaska, as it can be frozen harder than any store-bought variety. The harder the ice cream freezes the less it will melt during the baking process.
If homemade ice cream is unavailable, then use a store-bought ice cream with a high cream content, sometimes known as a cream-first ice cream.

Here are some more tips you'll find helpful:

Use any flavor of homemade ice cream for making baked Alaska; however, vanilla is the traditional flavor that's often used.

Instead of a wooden cutting board, a double or triple layer of heavy cardboard covered with aluminum foil may be used on the bottom.

After assembling the ice cream and cake, freeze it rock hard before covering it with meringue.

The meringue should thickly coat the ice cream. If you wish to follow tradition, reserve some meringue to pipe a decoration on the top. The thick meringue coating and the board beneath the cake serve to insulate the frozen ice cream from the heat of the oven.

Set your oven very hot for baked Alaska, to at least 450°F, to brown the meringue quickly. It takes only a few minutes.

Be ready to serve immediately after removal from the oven.

Adjust the traditional recipes to make smaller, individual desserts, if preferred.

History of Baked Alaska Dessert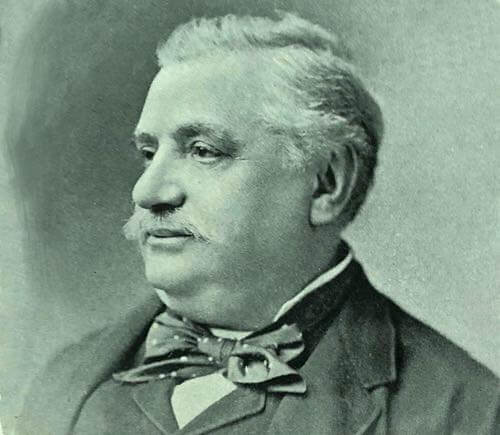 Chef Charles Ranhofer (1836-1899)
(PD Source: The Epicurean, 1836)
The history of Baked Alaska is sketchy at best. It is unknown when the dessert was first invented or by whom.
Some food historians credit the American physicist Benjamin Thompson, also known as Count Rumford, with its invention in 1804, but some say it first appeared in France in the mid 1800s. Others claim its origin lies much earlier with the Chinese.
It is known, however, that this unique dessert cake with its baked outer shell and frozen ice cream interior was served by French chef Charles Ranhofer to patrons at Delmonico's, the world-famous New York City restaurant, in 1867.
Chef Ranhofer created his version of baked ice cream to commemorate the United States of America's purchase of Alaska from Russia, and he eventually named it Baked Alaska.
Popularly mocked in the press at the time as "Icebergia," Alaskan territory was thought by many to be little more than a wasteland of ice and snow. The passage of time, however, has revealed quite the opposite.
Alaska is now one of the richest and most beautiful areas of the world, and Ranhofer's classy, spectacular dessert bearing its name is no longer associated with folly, but with gastronomic pride.
Celebrate the glorious State of Alaska by making a traditional Baked Alaska recipe.