Traditional French Pastry Recipes
Traditional French Pastry Recipes

Enjoy traditional French pastry recipes for making delicious pies, tarts, including the world famous pets de nonne donuts (check out its translation below).
And if you love the pleasing taste of a homemade apple pie as I do, then you'll love the French apple pie with a crumb top. Mom always loved making it, and I can guarantee there were never any slices left over!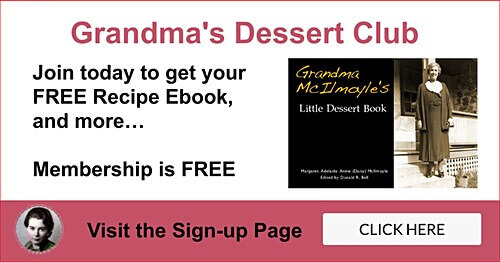 Traditional French Pastry Recipes
Mom's Recipe Scrapbooks (1920s)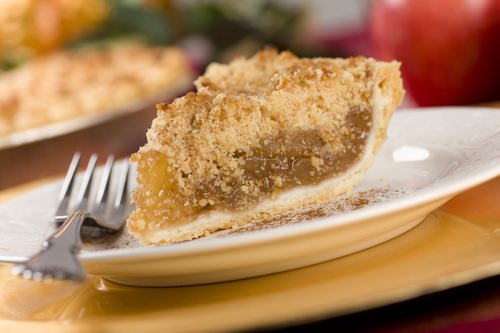 French Apple Pie with Golden Crumb Topping
(Source: ©Ferverpitch/Depositphotos.com)
French Apple Pie
Line a pie plate with your best sweet French pastry (see below); fill with 6 cups sliced apples and sprinkle with mixture of 3/4 cup sugar and 1/2 teaspoon each cinnamon and nutmeg.
Mix together 1/2 cup each butter and brown sugar, then work into it 1 cup sifted flour. Spread this over top evenly. Bake at 425°F for 40 to 50 minutes or until tender and crumb top is golden and slightly crisp.
This French apple pie is good when eaten with white cream cheese, but sweet cream and ice cream are good with it too. Serve warm. As far as pies go, it's an easy French pastry recipe to make.

French Raspberry Tarts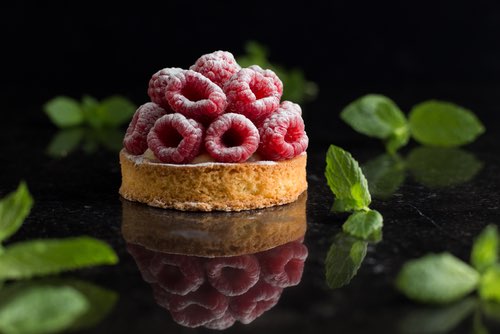 French Raspberry Tart Piled High with Fresh Fruit
(Source: ©sergly.molchenko/Depositphotos.com)
Fill pre-baked French pastry shells with custard or pudding, then generously top with fresh raspberries or other berries in season. This is an easy French dessert recipe to prepare, and believe me, it's a crowd pleaser!

Pâte Sucrée / Sweet Pastry for Pies

3 cups all-purpose flour
1/2 cup white sugar
1 teaspoon salt
1 cup butter, chilled and cut into pieces
2 egg yolks
1/4 cup ice water
Blend together flour, sugar, and salt in mixing bowl. Using fork, cut butter into flour mixture until it resembles pea-sized pieces. Slowly add egg yolks and blend until flour mixture resembles a fine meal.
Using fork, stir in ice water, 1 tablespoon at a time, just until dough is moistened enough to shape into a smooth ball.
(Pinch a small amount between thumb and finger: if it crumbles, add another tablespoon of ice water.)
Divide dough in half and flatten into 2 disc shapes. Wrap discs with plastic film and refrigerate at least 4 hours, or overnight.
Remove dough from refrigerator and let remain at room temperature for about 20 minutes.
Roll out dough on lightly floured surface, lifting and turning it as you work, and occasionally dusting with flour to prevent sticking.
Roll dough to fit tart pan or cut into small rounds sized for your tart molds.
Press dough firmly into pan or molds without stretching it, trimming off any excess. Cover with waxed paper and chill in refrigerator for 30 minutes before filling and baking.
To pre-bake empty tart shells, prick dough with fork, lightly cover with foil wrap, and bake at 375° (190°C) for about 15 minutes. Then, remove foil, and continue baking until edges are golden brown.
Makes dough equivalent to two 9-inch pastry shells.

Traditional French Pastry Recipe
Allied Cookery (1916)

Pets de Nonne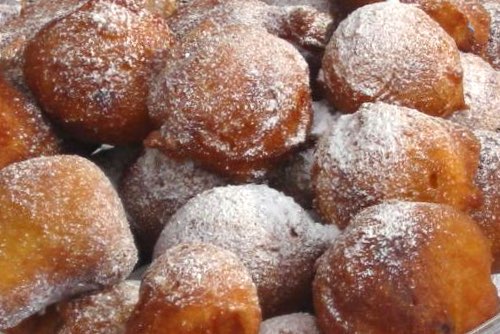 Homemade Pets de Nonne Donut-Like Puffs
(PDSource: Ziga, Adapted)
This traditional French pastry recipe hails from the Medieval Era, and its deep-fried lightness inspired its unusual name: pets-de-nonne that translates as — are you ready for it? Nun's Farts!
You'll love these donut-like pastries made from a light cream-puff-like batter that deep fries so puffy light and tasty their name says it all!

2-1/2 cups water, 3 ounces butter, 1-1/4 ounces sugar, a pinch salt, grated rind 1 lemon, 1/2 pound flour, 4 whole eggs.
Boil together the water, butter, sugar, and salt for two minutes. When the liquid is boiling, remove the stew-pan from fire and add the flour all at once, then the lemon peel. When half-cool add the eggs one by one.
Drop by spoonfuls in hot frying fat, which must not be too hot. When a golden brown remove from fire, drain, and roll in fine sugar.