Old Fashioned Fantasy Fudge Recipe

Here's an old fashioned Fantasy Fudge recipe complete with step-by-step photos and simple, easy instructions. You can even make your own Marshmallow Creme from an original recipe, if you prefer.
And, as a bonus for all you chocolate lovers, there's a vintage recipe for making the coveted Havana Fudge.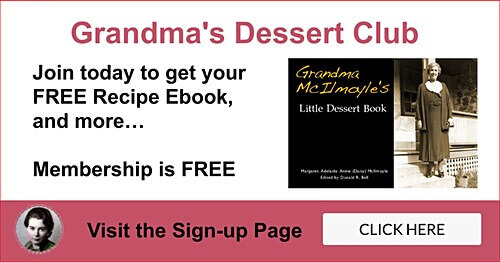 Old Fashioned Fantasy Fudge Recipe

Anonymous Recipe Submission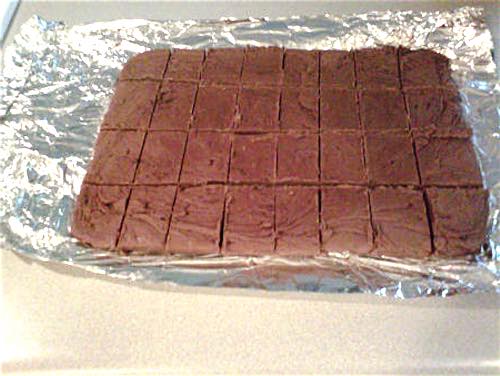 Enjoy Your Delicious Homemade Fantasy Fudge
(Source: DIYplr)
Melt In Your Mouth Fantasy Fudge

Evaporated Milk

To substitute 1 cup evaporated milk, use 1 cup heavy cream, or gently simmer 2-1/4 cups whole milk in a saucepan until reduced to 1 cup.

Ingredients Needed:
1 jar (7 ounces or about 2-1/4 cups) Marshmallow Creme
1 package (12 ounces) semi-sweet chocolate chips
1 teaspoon vanilla extract
3 cups sugar
3/4 cup (1-1/2 sticks) butter
1 can (5 ounces) Evaporated Milk
1 cup chopped nuts, optional
Kitchen Utensils Needed:
1 large bowl
1 large stirring spoon
1 non-stick saucepan
1 spatula
1 pan 13 x 9 inches
Aluminum foil
Cooking spray
Wax paper
Method:
The first step in the old fashioned fantasy fudge recipe is to line your pan (13 x 9 inches) with aluminum foil and lightly spray the foil with cooking spray. This makes cleanup easier and allows you to easily cut the fudge later.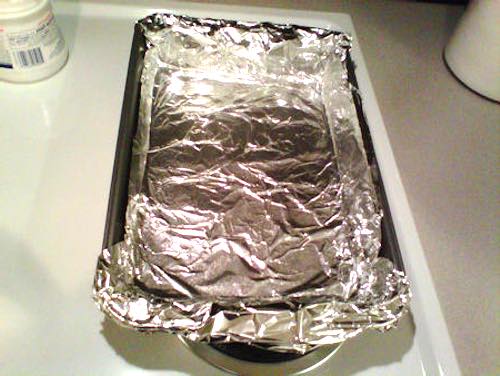 Aluminum Foil Lined Pan Prepared for Fudge
(Source: DIYplr)
In a large bowl, combine the Marshmallow Creme, chocolate chips, and vanilla. Also add chopped nutmeats, if desired.
Combining these ingredients now simplifies combining all the ingredients later on.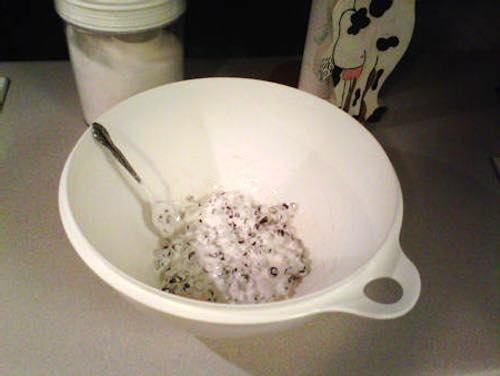 Marshmallow Creme, Chocolate, and Vanilla Combined
(Source: DIYplr)
In your nonstick saucepan, combine the butter and milk on Medium heat. After the butter and milk are well mixed, add the sugar and continue stirring, making sure to keep your spatula on the bottom of the pan as much as possible to prevent the sugar mixture from burning.

Stir the Chocolate and Marshmallow Creme Mixture
(Source: DIYplr)
Once all three ingredients are combined into a liquid, stir constantly. You can stir round and round or in a figure eight (8) motion, just keep the spatula on the pan's bottom at all times. Do around the sides as well, just to be sure.
Bring the mixture to a full rolling boil and boil the mixture for about 5 minutes, until a small amount of mixture dripped from the spatula into a cup of cold water forms a very soft ball.
Then, remove from heat. The more often you make this old fashioned Fantasy Fudge recipe, the easier you'll be able to tell when it's ready.

Boiling the Marshmallow Creme Mixture
(Source: DIYplr)
VERY carefully, pour your mixture into the large bowl with the remaining ingredients. Quickly yet carefully stir to combine all the ingredients together.

Stir to Combine the Fantasy Fudge Ingredients
(Source: DIYplr)
After you have finished stirring to combine all your ingredients, your finished fudge should look similar to the photo below. (Note: nuts were not added to the batch being made in the photo.)

Your Finished Fantasy Fudge Should Look Like This
(Source: DIYplr)
Pour your finished fudge into the pan you prepared earlier. Using your spoon, carefully push the fudge into the pan's corners. Cover the pan with foil and place in the refrigerator for safe keeping, and to ensure it hardens quickly.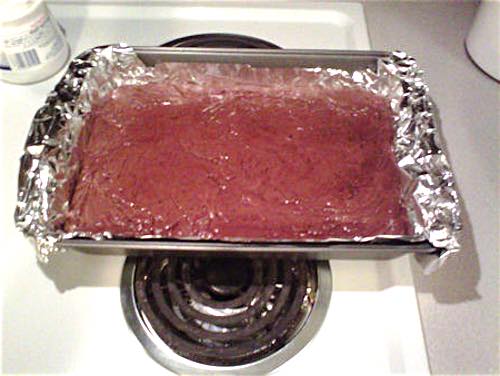 Fantasy Fudge in Pan Waiting to Cool
(Source: DIYplr)
When you're ready to cut your Fantasy Fudge, lift the foil from the pan. Cut your fudge in half, then cut each section in half. Continue to do this until you have small squares, approximately 1 inch in size.
Fantasy Fudge tends to be very rich tasting, so smaller squares are sometimes better. People can always go back for seconds.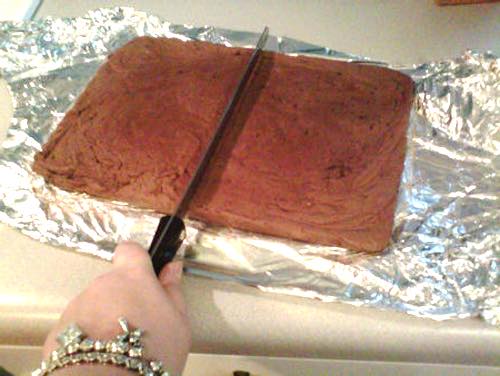 Cut Fantasy Fudge in Half, Then in Small Squares
(Source: DIYplr)
Line your container with wax paper and add your fudge piece by piece. Layer it with wax paper between the layers so that the fudge doesn't stick together.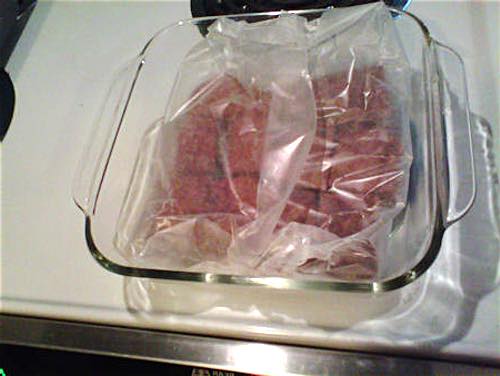 Cover Fantasy Fudge with Wax Paper
(Source: DIYplr)
Cover with the sheet of aluminum foil you covered it with earlier, and put it back in the fridge for serving later.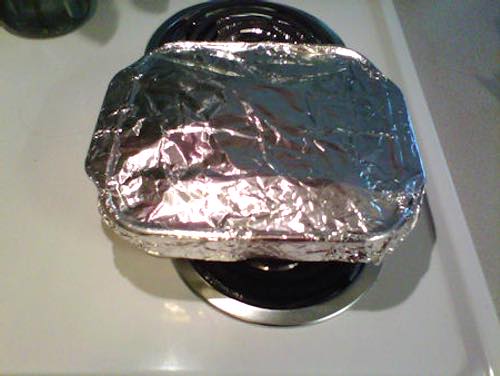 Cover Fantasy Fudge with Aluminum Foil
(Source: DIYplr)
Enjoy your homemade fudge! Once you master this old fashioned Fantasy Fudge recipe, you should be prepared to cook it often as your friends and family will absolutely love this melt-in-your-mouth candy! You can't say you haven't been warned... Make lots.

Marshmallow Creme
The Marshmallow Creme called for in the recipe is an easily spreadable marshmallow-based confection that originated as a tasty filling for layer cakes.
The first cookbook to feature its recipe was Fannie Farmer's "Boston Cooking-School Cook Book" in 1895. "Mrs. Rorer's New Cook Book" had a similar marshmallow filling recipe seven years later, in 1902.
Commercial versions of the confection were first sold in the early 1900s, and today the product can be purchased throughout North America and in many European Union supermarkets.
Brands include Solo® Marshmallow Creme, Kraft® Jet-Puffed Marshmallow Creme, and Marshmallow Fluff® manufactured by Durkee Mower Inc. A popular vegan equivalent is Suzanne's Ricemellow® Creme.
TO MAKE YOUR OWN: Visit my Homemade Icing page for an easy recipe for Marshmallow Creme.

Old Fashioned Havana Fudge Recipe

Mom's Recipe Scrapbooks (1920s)

Havana Fudge tastes amazing on its own, but with the marshmallows variation, its tastes very similar to the fudge made using the old fashioned fantasy fudge recipe calling for Marshmallow Creme. Be sure to try it!
Havana Fudge
1/2 cup cocoa powder
1 cup brown sugar
1 cup white granulated sugar
Dash of salt
1/2 cup water
1/2 cup milk
2 tablespoons butter
1 teaspoon vanilla
1 cup nutmeats, broken
For this chocolate fudge recipe, combine cocoa powder, sugars, and salt; add water and milk, and place over low heat. Stir constantly, until all sugar is dissolved and the mixture boils.
Continue cooking without stirring, until a small amount of mixture forms a very soft ball in cold water.
Then, remove from heat. Stir in butter and vanilla. Cool to lukewarm, then beat until mixture thickens and loses its gloss. Add nuts and pour immediately into greased pan, 8 x 4 inches.
When chocolate fudge has cooled, cut in squares. Makes about 1-1/2 dozen large pieces. Very Good.
Marshmallow Variation

Arrange 14 marshmallows, cut in halves, in bottom of your greased pan, 8 x 4 inches, cut sides facing up. Pour beaten chocolate fudge mixture over the marshmallows. Cut in squares when cold.