Chocolate Caramel Candy Recipes
Thanks to these old fashioned chocolate caramel candy recipes from Grandma's recipe collection, you can make your own deliciously chewy homemade caramels anytime.
These old fashioned candies are easy to make, so chocolatey, and so good tasting. Much better than anything store-bought.
Many people enjoy chewing caramel candies as their flavor is longer lasting than with regular fondant chocolates. Continue reading below to learn how these chewy confections had their surprising origin in Middle Eastern harems.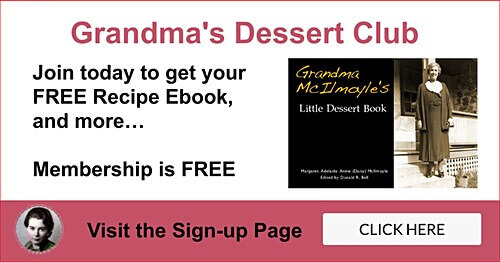 Old Fashioned Chocolate Caramel Candy Recipes

The Boston Cooking-School Cook Book (1916)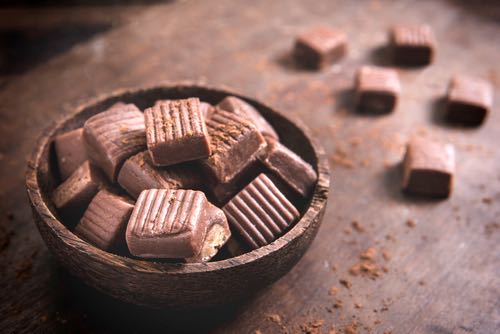 Grandma's Homemade Chocolate Caramel Candy
(Source: ©uroszunic/Depositphotos.com)
Chocolate Caramels

2-1/2 tablespoons butter, 1/2 cup milk, 2 cups molasses, 3 squares chocolate, 1 cup brown sugar, 1 teaspoon vanilla. Put butter into kettle; when melted, add molasses, sugar, and milk.
Stir until sugar is dissolved, and when boiling-point is reached, add chocolate, stirring constantly until chocolate is melted.
Boil until, when tried in cold water, a firm ball may be formed in the fingers. Add vanilla just after taking from fire. Turn into a buttered pan, cool, and mark in small squares.

Nut Chocolate Caramels
To Chocolate Caramels above, add the meat from one pound English walnuts broken in pieces, or one-half pound almonds blanched and chopped.

Old Fashioned Chocolate Caramel Candy Recipes
Buckeye Cookery And Practical Housekeeping (1877)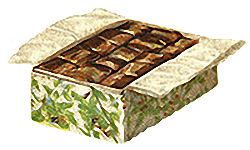 Chocolate Caramels
One cup grated chocolate, four of sugar, two of molasses, two of milk, butter size of an egg, pinch of soda and flour; boil half an hour with quick fire, stirring to keep from burning; pour in pans and mark in squares when nearly cold. —Mrs. J. F. Wilcox, New Haven, Conn.

Emma's Chocolate Caramels
One and a half cups grated chocolate, four of brown sugar, one and a half of cold water, piece of butter size of an egg, tablespoon of very sharp vinegar; flavor with two tablespoons vanilla just before removing from fire. Do not stir, but shake the vessel gently while cooking.
Boil on the top of stove over a brisk fire until it becomes brittle when tried in water; pour into a well-buttered and floured dripping-pan, and check off in squares while soft. —Miss Emma Collins, Urbana

Old Fashioned Chocolate Caramel Candy Recipe

The White House Cook Book (1913)

White House Chocolate Caramels
One cupful of grated chocolate, two cupfuls of brown sugar, one cupful of West India molasses, one cupful of milk or cream, butter the size of an egg; boil until thick, almost brittle, stirring constantly.
Turn it out onto buttered plates, and when it begins to stiffen, mark it in small squares so that it will break easily when cold. Some like it flavored with a tablespoonful of vanilla.

Old Fashioned Chocolate Caramel Candy Recipe

Second Edition of the Neighborhood Cook Book (1914)

Vanilla Chocolate Caramels
One pound vanilla chocolate (Ghirardelli's Monarch), one pound dark-brown sugar, one pound salted butter, two cups milk, one cup Karo® corn syrup, one vanilla bean. Break chocolate and melt in a little cold water over a moderate fire.
When melted add all other ingredients save vanilla bean, and cook over an even fire, stirring only one way. When this begins to boil hard and thicken, add vanilla bean, which must be split down the center.
Test in cold water before removing from fire, and when it snaps pour into buttered pans, and do not cut until the bottom of the pan is cold. The air should be permitted to circulate all around the pan. Be sure not to get it too hard.

Mom's Old Fashioned Chocolate Caramel Candy Recipes

Mom's Recipe Scrapbooks (1920s)

Mom's Soft Caramels
One quart of brown sugar, half a pint of milk, one-third of a cupful of butter, and half a cake of chocolate.
Boil nine minutes, then remove from fire and stir steadily for about five minutes, but not long enough so that you cannot pour them into the pan.
Mark into squares while still soft. These will be rich tasting and crumbly and delicious.

Old Time Patience Candy
You'll love the wonderful taste of this pecan candy. It was called patience candy because making it requires constant stirring and thorough beating — in other words, patience.

3 cups granulated sugar, 2 cups milk, pecans, and butter. Place 1 cup sugar in iron skillet and melt to a light brown to caramelize. When melted a light brown, stir in 1 cup milk. Then stir in remaining milk and sugar.
Boil until it forms soft ball in cold water. Remove from fire, add butter and pecans, and beat thoroughly until creamy. Pour on buttered dish or oiled paper and cut in small squares.
Use about 1/4 pound of butter and as many pecans as desired. Be sure to cook over slow fire.

The History of Caramel Candies

Harem Scene by Artist Quintana Blas Olleras (1851-1919)
(Source: PD via Wikimedia Commons)
Did you know that Caramels are among the world's oldest known candies? The Arabs were known to be making confections with refined sugar as early as the eleventh century.
They were the first to invent caramel, which was originally used as a sticky depilatory (body sugaring hair removal paste) for harem ladies.
Supposedly, the ladies soon discovered that although caramel was great for hair removal, it made an even better candy to satisfy their sweet tooth.