Homemade Candy Bar Recipes
Thanks to Mom's favorite homemade candy bar recipes, you can easily make your own chocolate bars right in your kitchen that taste every bit as good as those that are store-bought — even more so, as they are much healthier for you.
These delicious chocolate and nut bars contain only all-natural ingredients such as dark chocolate, nutmeats, and fruit, and you get to control the sugar and the size of the bar. They're the healthy alternative for school lunches and for nibbling on.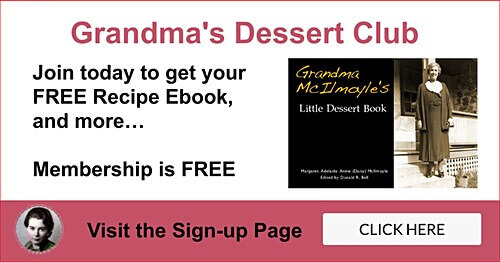 Homemade Candy Bar Recipes
Mom's Recipe Scrapbooks (1920s)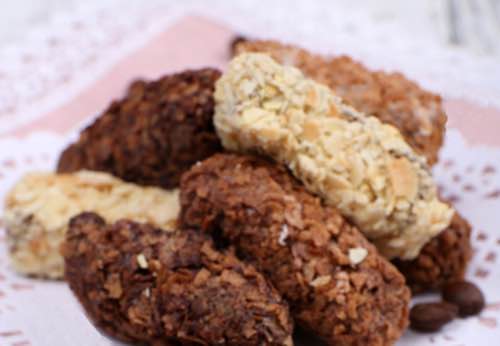 Homemade Candy Bar Assortment
(Source: ©belchonock/Depositphotos.com)
Nut Chocolate Candy Bar

Whites 3 eggs, 7 ounces powdered sugar, 1-1/2 squares Walter Baker & Co.'s Premium No. 1 Chocolate, 1/4 pound. Jordan almonds.
Beat whites of eggs until stiff and add gradually, while beating constantly, powdered sugar. Fold in dark chocolate (which has been melted over hot water then cooled slightly) and three-fourths of the almonds, blanched and chopped.
Spread to one-fourth inch in thickness in a buttered dripping-pan, sprinkle with remaining chopped nutmeats and bake in a very slow oven forty-five minutes.
Cut in finger-shaped pieces or bars and remove from pan. Pile log cabin fashion on a fancy plate for serving. —Homemade Candy Recipes

Fig Candy Bar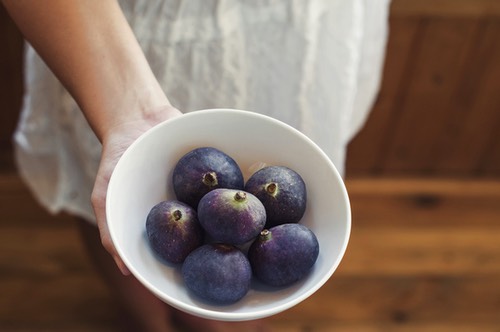 Ripe Figs for Perfect Fig Candy Bars
(Source: ©flowertiare/Depositphotos.com)
2 envelopes Knox® Gelatine, 2 cups cold water, 2 cups sugar, 1/2 pound figs, 1/4 cup chopped walnut meats, 1/4 cup chopped blanched almonds, 1 orange, 1 lemon.
Soak gelatin in one cup of the cold water ten minutes. Force figs through a food chopper, add juice of lemon, juice of orange, and grated rind of orange, bring to the boiling-point and let simmer ten minutes.
Put sugar and remaining water in saucepan and when sugar is dissolved add soaked gelatin. Bring to the boiling-point and let boil ten minutes; then add fig mixture and boil ten minutes, stirring constantly. Remove from range and add nutmeats.
Pour into shallow pan, first dipped in cold water, and let stand overnight. Cut in pieces two and one-half inches by one-half inch. Roll in powdered sugar or finely chopped nuts. —Dainty Desserts for Dainty People

Fruity French Bars
One cup figs, 1 cup seeded raisins, 1 cup stoned dates, 1/2 cup shredded coconut, grated rind of 2 oranges, 2 tablespoons lemon juice, 1 tablespoon orange juice, 12 maraschino cherries, granulated sugar, ground nutmeats.
Put figs, raisins, and dates through food grinder. Combine with the coconut, fruit juices and rind. Blend thoroughly. Work in the cherries, cut into small pieces, being careful not to mash them.
Press into a bar 1 inch square and cut into 1/2-inch pieces. Roll each piece in granulated sugar, dust them with the ground nutmeats, and put on waxed paper to dry. This homemade candy bar recipe makes about 4 dozen pieces. —L. McK.

Brown Sugar Peanut Bars
Slip the skins from enough roasted peanuts to make a cupful. When ready for use, roll them quite fine. Melt two cupfuls of light-brown sugar, and when it bubbles well, stir in the peanuts. Pour at once into buttered pans, and mark into bars before it hardens. No water is required.

Creamy Nut Bars
Melt fondant any flavor, stir in any kind of nutmeat, cut in pieces. Turn in an oiled pan, cool, and cut in bars with a sharp knife. Maple Fondant is especially delicious with nuts.

London Fruit Bars

1 8-ounce container mixed candied fruits
1 4 ounce container candied cherries, halved
2 cups raisins, chopped
3/4 cup Port (or wine of choice)
1-1/2 cups sifted flour
1/2 teaspoon salt
1/2 teaspoon baking soda
1 teaspoon cinnamon
1 teaspoon nutmeg
1 teaspoon cloves
6 tablespoons softened butter
1 cup packed light brown sugar
2 eggs
Overnight, soak fruit in Port. Sift together dry ingredients. Mix butter, sugar, and eggs in mixer until fluffy. Add dry ingredients and blend. Stir in fruits and excess juices.
Spread in prepared jellyroll pan. Butter, line with wax paper, and butter again. Bake at 350°F for 35 minutes. Cut into bars.

Children's Raisin Candy Balls
One cup powdered sugar, 2 tablespoons cocoa, 2 tablespoons melted butter, and enough boiling water to mix stiff. Flavor with 1/2 teaspoon vanilla.
Take a little of the mixture on the end of a teaspoon and form into a ball, taking 2 raisins to each ball, and press together until nearly flat. If white candy is preferred leave out cocoa. —Fruits and Candies, circa 1920s

Rich Butter Crisp Bars

For this homemade candy bar recipe, put into saucepan 1-1/4 cups butter, 2-1/4 cups sugar, 1/2 cup water, and 1 tablespoon salt. Stir until the sugar is dissolved, heating the mixture very slowly, else the butter will cook out.
When it boils, add 1/4 pound unblanched almonds and cook slowly, stirring gently as possible until the almonds are done. This can be determined by cutting one. It should be slightly brown. If using a thermometer, cook to 298°F.
Add 1 teaspoon baking soda, 1/4 pound blanched, roasted almonds and 1/4 pound walnut dust, made by chopping English walnuts very fine and sifting them.
Pour candy on a greased, marble slab, turn and roll mixture with a rolling pin, working it into a square shape, about 1/4 inch in thickness. Crease into bars or squares while warm.
When candy is cool, brush over with melted milk chocolate (plain dipping chocolate may be used), and coat with fine-chopped nuts, preferably Brazil nuts, although blanched and browned almonds can be used.

Famous Homemade Candy Bar Recipe

by D Reid

Sweet Marie Candy Bar

Ingredients:
1 tablespoon butter
1/2 cup corn syrup
1/2 cup peanut butter
1/2 cup brown sugar
1 cup peanuts
2 cups Rice Krispies®
Chocolate icing
Method:
To make this homemade candy bar recipe, mix butter, corn syrup, peanut butter, and brown sugar together and put on stove. Melt through, but do not boil. Add peanuts and Rice Krispies®.
Mix well and put in greased 8 x 8-inch pan. Let cool. Ice with chocolate icing and cut in bars. —D. Reid


This homemade candy bar recipe has a sweet background story. Cy Warman was visiting his girlfriend, Myrtle Marie Jones who attended school in London, Ontario, in July 1891.
After bidding Marie good evening, Cy stopped to sit on a bench in London's Victoria Park, and he penned a love poem to his future wife entitled "Sweet Marie."
The newlyweds visited New York City in 1893, and a friend set Warman's poem to music, and "Sweet Marie" quickly became a popular hit song.
In 1931, the Willard Chocolate Factory in Toronto named one of its chocolate bars, Sweet Marie, after the song. The chocolate bar soon became a hit with Canadians familiar with the song and its story.

The song saw greater recognition after being sung by Irene Dunne and William Powel in the 1947 classic movie, "Life with Father," as seen in this brief YouTube video clip below.

Sadly for Canadians, Cadbury® Canada has stopped making its Sweet Marie Chocolate Bar. But, thanks to the homemade Sweet Marie Candy Bar Recipe, you can make a delicious version that will remind you of the original.
Fannie Farmer's Homemade Candy Bar Recipe
The Boston Cooking-School Cook Book (1896)

Almond Cinnamon Bars
Fannie Farmer was the Martha Stewart of her day and since she featured this old fashioned homemade candy bar recipe in her celebrated cookbook, you know it must be good!

10 ounces almond paste, white 1 egg, 5 ounces confectioners' sugar, 1/2 teaspoon cinnamon. Mix same as Macaroons.
To mix, work together almond paste and sugar on a smooth board or marble slab. Then add white of egg gradually, and work until mixture is perfectly smooth.
(Confectioners at first use the hand, afterwards a palette knife, which is not only of use for mixing but for keeping the board clean.)
Dredge a board with sugar, knead mixture slightly, and shape in a long roll. Pat, and roll one-fourth inch thick, using a rolling pin. After rolling, the piece should be four inches wide.
Spread with frosting made of white of one egg and two-thirds cup confectioners' sugar, beaten together until stiff enough to spread. Cut to size.

White House Homemade Candy Bar Recipe
The White House Cook Book (1913)

Roley Poley Candy Bar

Take half a pint of citron, half a pint of raisins, half a pound of figs, a quarter of a pound of shelled almonds, one pint of peanuts before they are hulled; cut up the citron, stone the raisins, blanch the almonds, and hull the peanuts; cut up the figs into small bits.
Take two pounds of coffee sugar and moisten with vinegar; put in a piece of butter as large as a walnut; stew till it hardens, but take off the heat before it gets to the brittle stage; beat it with a spoon six or eight times, then stir in the mixed fruits and nuts.
Pour into a wet cloth and roll up like a pudding, twisting the ends of the cloth to mold it (into a cylindrical bar shape). Let it get cold in the icebox and slice off pieces as it may be wanted for eating.

How to Make Candy Bar Wrappers
Homemade Candy Bar Wrapper
(Source: ©Don Bell)
The old fashioned homemade candy bar recipes don't call for preservatives, so your bars will need to be kept fresh until eaten. So, for the nicest presentation and to preserve the quality of the bars, it's best to individually wrap them tightly in kitchen foil.
Colorful wrappers to dress up homemade chocolate bars are sold at some candy making stores, but you can easily make your own wrappers to slip onto your foil-wrapped chocolate bars.
For an average-sized bar make the wrapper about 5 x 5-1/2 inches (13 x 14 cm).
You can cut your wrapper from a roll of colorful gift wrap, suitable for the season, or you can use your computer app to hand design an attractive wrapper that can be printed out on your color printer.
To use the wrappers, simply cut your candy to chocolate-bar size, or whatever size you prefer, wrap it in kitchen foil, and place your homemade wrapper around it, securing the bottom edge with some clear tape.
The results are very attractive, suitable for gift giving, and the candy bar is kept perfectly fresh until eaten.

A Sweet Gift Suggestion

Your homemade bars make a great gift idea for any occasion, especially when packaged in a colorful box or container.
Fancy candy boxes with soft pads to separate layers can be purchased at some department stores in the baking area. Colorful containers such as boxes and tins suitable for candy giving can be found at dollar stores and craft shops.
Just choose one or two homemade candy bar recipes from those given, and make special gifts for your loved ones that are sure to be appreciated.

Happy Memories

Back when I had been a young boy in the 1950s, the chocolate bar selection in the stores was not as huge as it is now.
Butler's Groceries in Peterborough, where my parents shopped, had a small candy display sitting on the front counter with a selection of about a dozen 5 and 10-cent chocolate bars to choose from.
For me, it was a real treat to buy a 5-cent Jersey Milk® bar. Nickels did not grow on trees in the 1950s!

Now and then, Mr. Eddie Butler, the kindly Yorkshireman who owned the store, would generously hand me one. What a treat!
In those days, that 5-cent chocolate bar was about the same size as one that you would pay over one dollar for today — and I happen to think it tasted better too!