Easy French Dessert Recipes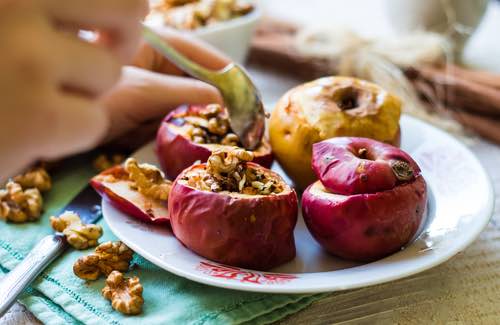 Easy French Baked Apple Dessert Recipe
(Source: ©haarmony/Depositphotos.com)
These easy French dessert recipes are surprisingly simple and straightforward to make, yet the apple flavored dishes taste so delicious your guests will think you spent the entire afternoon preparing them. When it comes to desserts made with fruit, nothing beats the taste of apples, and these old fashioned French apple desserts are the best. Ils sont délicieux!


Easy French Dessert Recipes
La Cuisine Francaise (1893)


Pommes au Four / Easy Baked Apple
8 apples, sugar. Do not peel the apples. Core them, and dispose them on a buttered dish. Put some granulated sugar in the hole and let them bake. When ready to serve, sprinkle some granulated sugar over. Top with walnuts if desired.


Pommes Frittes / Fried Apples
6 apples, 1/2 pound sugar, 1 glassful milk, 4 tablespoonfuls flour, fat enough to fry. Pare the apples, slice them crosswise 1/4 inch thick, dip them in milk, roll in flour, and fry till well cooked. Sprinkle over some granulated sugar and serve on a folded napkin. For five persons.


Peches Frittes / Fried Peaches
As for Pomme Frittes, but cut the peaches in 2 or 4, according to the size and don't peel them.


Ananas Frit / Fried Pineapple
As for Pomme Frittes, but cut the pineapples in slices 1/4 inch thick.


Pommes au Beurre / Apples with Butter
8 apples, 3 tablespoonfuls sugar, 1 glassful apricot sauce (below) or jam. Preparation:

(1) Pare and core 8 nice apples, and dispose them on a buttered dish.

(2) Sprinkle sugar over them and let them bake in an oven until soft.

(3) Prepare a hot syrup with some marmalade of apricot and water, and pour over the apples.

Proportions for five persons.


Charlotte de Pommes / Apple Charlotte
12 apples, 1/2 pound butter, 1/4 pound sugar, a little cinnamon, 1/2 pound bread. Preparation:

(1) Peel 12 nice apples, cut them in four, core and slice them fine.

(2) Melt in a saucepan 1/4 pound butter, add the apples and 1/4 pound sugar, and a little pulverized cinnamon, cook on a bright fire till the apples are soft.

(3) Slice enough bread to line the cake mold and fry the slices in butter.

(4) Line a cake mold with the slices of bread, pour in the apples, bake for 1/4 hour in an oven, knock out and serve with an apricot sauce (below).

Proportions for five persons.


Sauce Apricot / Apricot Sauce
12 apricots, 1/2 pound sugar, 2 tablespoonfuls Kirsch. Preparation:

(1) Place in a saucepan 12 apricots cut in pieces with 1/2 pound sugar, and cook till soft.

(2) Pass through a sifter, add 2 tablespoonfuls Kirsch and enough water to have a half-thick sauce; or, mix 2 tablespoonfuls apricot marmalade with 2 tablespoonfuls Kirsch and add enough water to make quite a thick sauce.

Proportions for five persons.


Easy French Dessert Recipe for Apple Pie

Mom's Recipe Scrapbooks (c. 1920s)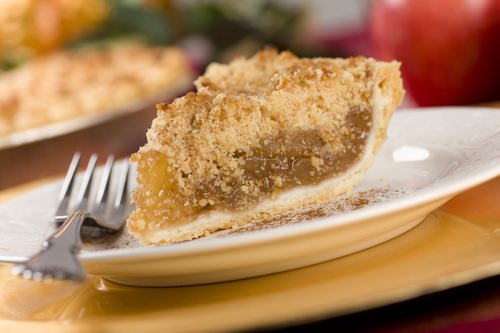 French Apple Pie with Golden Crumb Topping
(Source: ©Ferverpitch/Depositphotos.com)
Line a pie plate with your best pastry; fill with 6 cups sliced apples and sprinkle with mixture of 3/4 cup sugar and 1/2 teaspoon each cinnamon and nutmeg.

Mix together 1/2 cup each butter and brown sugar, then work into it 1 cup sifted flour. Spread this over top evenly. Bake at 425°F for 40 to 50 minutes or until tender and crumb top is golden and slightly crisp.

This French apple pie is good when eaten with white cream cheese, but sweet cream and ice cream are good with it too. Serve warm.


Easy French Dessert Recipes
With a Saucepan Over the Sea (1902)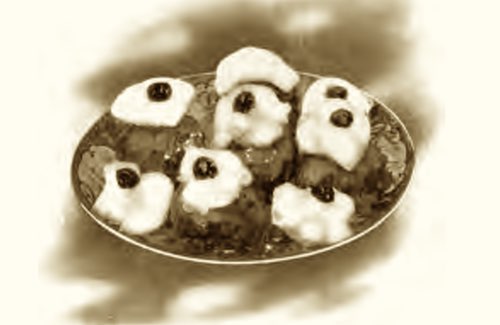 Traditional Compote of Apples (Cherbourg, France)
(SP Source: With a Saucepan Over the Sea, 1902)
Compote of Apples (Cherbourg)
Pare and core and cut into halves 6 large, fine apples. To each pound add 1 pound sugar, rind of 2 lemons, and a little ginger. Cook, covered, for 1 hour. Add 1/2 cup of cider, and boil for 1/2 hour, then stir in a spoonful of vanilla, and let them cool, arranged in a dish. Serve with whipped cream, and garnish of cherries, citron, or Angelica.


Rum Omelette (Paris)
Beat 2 eggs with 2 ounces of sugar and a glass of rum. Pour this into a buttered pan with 2 ounces melted butter, cook until set, roll it on a dish, pour a glass of rum over it, light it, send it to the table on fire.


About the Easy French Dessert Recipes

If you love the pleasing taste of homemade apple pie as I do, then you'll love these easy French dessert recipes, especially the one for making a traditional French apple pie with a crumb top. Mom always loved making it, and I can guarantee there were never any slices left over!

Some of the traditional French recipes are from the royal chef of Napoleon III and the Czar of Russia, so you know they must be good!

Also, don't miss the fried apple recipe with the pineapple and peach variations, and you must experience the taste of homemade apple Charlotte smothered in apricot sauce It's simply amazing.

Prepare a tasty fruity dessert to delight your family. You'll enjoy serving these special apple dishes.


You May Also Like

Traditional French Dessert Recipes


Enjoy a

Laugh

to Brighten Your Day!


Listen to Bud Abbott and Lou Costello's "Who's On First?" skit from the World War 2 Special Services Division V-Disk.


(5: 54 min.)


As an Amazon Associate I earn from qualifying purchases.