St Patrick's Day Cake Recipes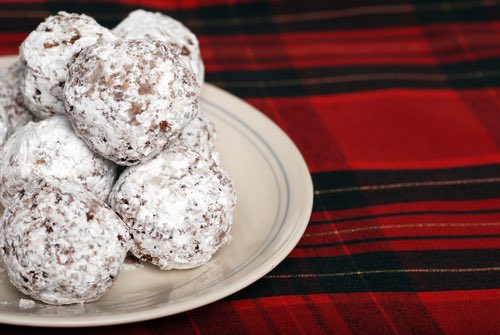 Homemade Irish Whiskey Balls for St Patrick's Day
(Source: ©mcgphoto/Depositphotos.com)
You'll love these St Patrick's Day cake recipes. The homemade Pudding Cake is moist, flavorful, and festive with its shamrock GREEN coloring and its rich chocolate mint icing.
Moreover, it's easy to make. Serve a slice to each guest with a generous scoop of green pistachio ice cream, and you'll get rave reviews. But be forewarned, everyone will want second helpings!

And you'll simply have to try the Irish Whiskey Ball recipe. It makes a St Patrick's Day party treat that's easily made yet tastes rich and indulgent when flavored with chopped pecans and coffee. They're simply bursting with delicious flavor, and the longer you leave them the more flavorful they get!


St Patrick's Day Cake Recipes

Adapted from Traditional Cake Recipes


To Greet You on St Patrick's Day, c.1915
(Source: Don Bell)
These desserts are perfect for your St. Patrick's Day celebrations, and the recipes can easily be adapted for any special occasion by altering the green color.
The green pudding cake is wonderfully moist and exceptionally flavorful. And if you like rum balls, you'll LOVE the decadent Irish whiskey balls!

Green Pudding Cake Recipe
Grandma's Tip

You could make this dessert cake for serving on other holiday occasions simply by substituting a different food coloring and instant pudding flavor.

Ingredients:
1 package yellow cake mix
1 package (3-4 ounce) pistachio instant pudding/pie filling
4 eggs
1 cup water
1/4 cup canola oil
1/2 teaspoon peppermint extract
8 drops green food coloring
1 package (8 squares) semi-sweet chocolate, chopped or chunked
20 chocolate covered thin mint candies
Instructions:
For this St Patrick's Day cake recipe, set the oven temperature to 350°F and allow the oven to heat up while mixing the cake.
Dump the cake mix and the pudding mix together into a large mixing bowl. Break the eggs into the mix. Pour in the water and canola oil. Add the peppermint extract and the green food coloring. Beat with an electric mixer on medium speed for 4-1/2 minutes. Fold the chopped chocolate into the batter.
Grease and flour a large rectangular baking pan being sure to shake out any excess flour. Spread the batter evenly into the pan.
Place in oven and bake 40 minutes or until the cake begins to pull away from the sides of the pan and a toothpick inserted in the center of the cake comes out clean.
Carefully place the chocolate covered mint candies on the top of the baked cake in a single layer.
Return the cake to oven to bake an additional 3 minutes or just until the candy has just begun to melt — no longer. Remove the cake from the oven and use a rubber spatula to evenly spread the melted candy over the top of the cake like icing.
Let the cake cool to room temperature before cutting pieces.
If your cake mix already has pudding in it, cut your water amount down to 3/4 of a cup. You can save time on chopping the chocolate by using 1-1/2 cups of semi sweet chocolate chunks.
Makes about 15 delicious servings.


St. Patrick's Irish Whiskey Ball Recipe
Grandma's Tip

You can decorate the whiskey balls for St. Patrick's Day by rolling them in green tinted sugar crystals instead of the white confectioners' sugar.

Ingredients:
3-1/2 cups vanilla wafer cookies, crushed
1 cup pecans, chopped very fine
1-1/2 cups confectioners' sugar, divided
1/3 cup Irish whiskey
3 tablespoons instant coffee powder
1/3 cup light corn syrup
Directions:
For this fun St Patrick's Day cake recipe, place the crushed cookies into a mixing bowl. Add the pecans and toss to combine. Pour 1 cupful of the sugar into the mixture and stir to combine well.
Place the whiskey into a mixing bowl. Add the coffee powder and stir until completely dissolved. Pour the mixture into the cookie mixture. Add the corn syrup and blend the ingredients together well.
Line a cookie sheet with waxed paper and pour the remaining sugar into a shallow bowl.
Form the mixture into balls, roll the balls through the sugar being sure to coat them well, and place them on the waxed paper. Allow the balls to stand 15 minutes, then store in an airtight container.
These little whiskey balls become more flavorful the longer they set. Make them ahead of time and store them for 2 to 3 days to get the full flavor.
Serves approximately 32, depending on how large you make each ball.


Related Pages You May Like


As an Amazon Associate I earn from qualifying purchases.