St Patrick's Day History

St Patrick's Day history begins with a remarkable missionary priest named Patrick (385-461 AD) who was chiefly responsible for converting the Irish people to the Christian faith in the first half of the fifth century.
Patrick became forever known as the national Apostle of Ireland, and the beloved Irish Patron Saint.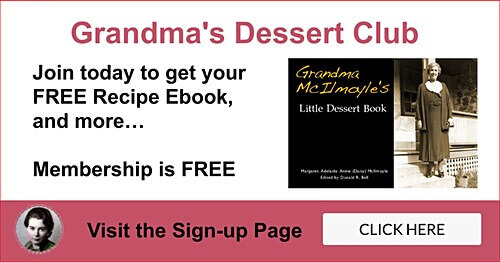 Celebrating Ireland's Patron Saint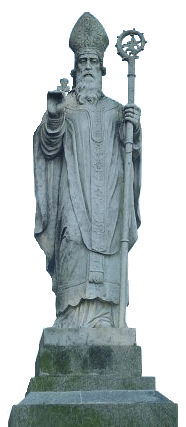 Saint Patrick Statue
A study of St Patrick's Day history reveals that the life of St Patrick was colorful, adventurous, and above all, pious. Born in Roman Britain to wealthy parents, Patrick was kidnapped by Irish raiders at age 16 and sold as a slave in Ireland, where he served as a shepherd of an Irish chieftain in Ulster.
It was during his Irish captivity that he grew close to God and dedicated himself to prayer. Just imagine. If it hadn't been for those unknowing Irish pirates, we wouldn't be celebrating the history of St Patrick and this glorious day of celebration.
About six years later in 417 AD, Patrick managed to escape his captor and return to Britain where he increasingly felt God's call to take the Gospel message back to Ireland.
To prepare for the challenge of his missionary task, Patrick traveled to the monastery of Lerins off the French coast to devote himself to prayer and theological study.
Patrick later studied under the bishop, Saint Geremanus, in Auxerre, France, before he was sent to Ireland by Pope Celestine I, around 431 AD.
Christianity had never been preached in northern and western Ireland before Patrick arrived, but he won the respect and trust of influential tribal leaders. It's said that he planted over 300 churches and baptized more than 120,000 people during his long ministry.
St Patrick dedicated the remainder of his life to preaching and ministering to his beloved people of Ireland.

St Patrick's Croagh Mountain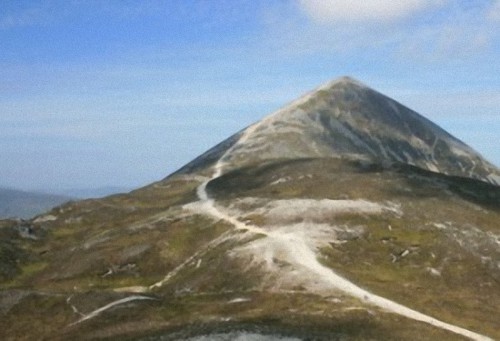 Croagh Patrick Mountain and Pilgrim's Pathway
(Source: ©123rf/John Quinn)
The 2,507 foot tall Croagh Patrick mountain in county Mayo, Ireland is closely associated with the patron saint of Ireland and St Patrick's Day history.
Patrick reputedly fasted on the summit of the mountain for forty days in the fifth century and now modern-day pilgrims from around the world climb the steep slope day and night, sometimes barefoot, to identify with Patrick, and worship in a small chapel built on the holy site.

Celebrating St Patrick's Day History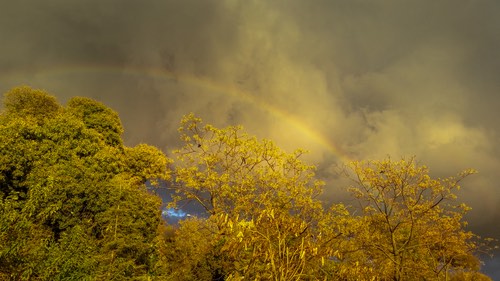 St Patrick Taught the Rainbow Was God's Blessings
(Source: ©ipekmorel/Depositphotos.com)
Saint Patrick's Day became a Roman Catholic feast day in the early 17th century through the influence of Luke Wadding, a Waterford-born Franciscan scholar. Then, the color BLUE was the color long-associated with Saint Patrick.
However, in recent years the color GREEN became prominent in St Patrick's Day celebrations through the symbol of the green shamrock and the Wearing of the Green, a sign of Irish nationalism or loyalty to the Catholic Church.
Irish tradition states that St Patrick used the single-stemmed, three-leaved shamrock to explain the concept of the Holy Trinity to new converts: one God as revealed in the Father, Son, and Holy Spirit.
The shamrock is similar in appearance to the common three-leaf clover (Trifolium) found in many countries.
March 17th is generally the day set aside to celebrate the feast day of St Patrick who became Ireland's patron saint through his fervent preaching and Christian example.

One of the more popular legends surrounding St Patrick is his feat of clearing the Emerald Isle of snakes. And if you doubt that he did, one of Ireland's surprising facts is there are NO snakes on the island. Account for that if ye can!
Indeed, the history of St Patrick's Day and Ireland's beloved patron saint is firmly interwoven with Irish history and culture.
Saint Patrick's Day is a national religious holiday in the Republic of Ireland, but it's also celebrated around the world by Irish immigrants and those of Irish ancestry, and by non-Irish declaring themselves Irish for the day.
In Chicago, on Lake Michigan in Illinois, the city even uses vegetable-based dyes to color the Chicago River green for the day. Imagine!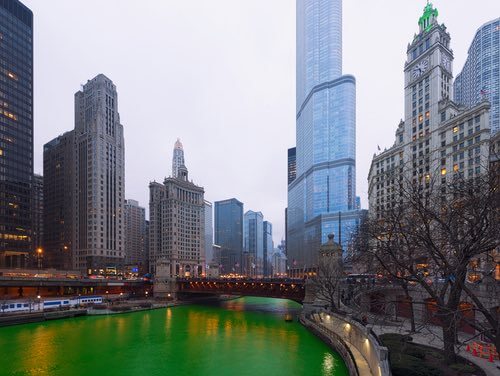 The Emerald Green Chicago River on St. Patrick's Day (Source: ©tampatra/Depositphotos.com)
And while it's not a public holiday outside Ireland, an annual celebration of Irish culture and St Patrick's Day history is always held in the United States, the United Kingdom, Canada, Australia, and New Zealand on March 17th.
People of Irish decent love to celebrate by wearing green clothing and eating traditional Irish foods — especially corned beef and Irish soda bread. Fun desserts and the drinking of Irish beverages, including a frosty mug of green beer are also popular.

Be sure to watch for annual St Patrick's Day parades in your area. There's always a huge parade in New York City with a long parade route, since that city is home to many Irish Americans.
Happy St Patrick's Day

Irish Shamrock
Which is correct? Is it St Patty's Day or St Paddy's Day? Well, it turns out that Saint Patrick's name in Irish Gaelic is Pádraig, whereas the Anglicized Patrick became shortened to Pat or Patty.
So, St Paddy's Day is the right and proper version!

May the roof above us never fall in, and may we friends gathered below never fall out. —An old Irish saying

Traditional Irish dessert recipes from Grandma's collection can help you to celebrate St Patrick's Day history in an authentic style whether you are Irish or not.