St Patricks Day Cookie Recipes
St Patrick's Day Cookie Recipes
These St Patrick's Day Cookie recipes are easy to make and call for simple ingredients, yet the results look and taste absolutely fantastic.
Irish-GREEN colored cookies look terrific on a dessert table, and they can make a great edible St. Patrick's Day gift for someone special on your list. Be sure to get your kids to help you decorate the cookies.
St Patrick's Day Cookie Recipes

Adapted from Vintage Cookie Recipes


Enjoy Making Irish Shamrock Leprechaun Nibblers
(Source: ©123rf/Joerg Beuge)
Lucky Leprechaun Nibblers

Sugar Cookie Ingredients:
1/4 cup unsalted butter, room temperature
1/4 cup sugar
1 tablespoon of egg, well beaten
1/2 teaspoon vanilla extract
1/2 cup plus 1 teaspoon flour
1/4 teaspoon baking powder
1/8 teaspoon salt
Directions:
For this St Patrick's Day cookie recipe, place the butter into a mixing bowl. Add the sugar and beat on medium speed with an electric mixer until fluffy. Beat in the egg and the vanilla.
Place the flour into a sifter. Add the baking powder and salt to the sifter. Sift the ingredients into the bowl with the butter mixture. Place the mixer speed on low and mix until the dough is well blended.
Lightly flour a flat surface and turn the cookie dough onto the surface. Place a little flour on your hands and knead the dough gently for 30 seconds.
Shape the dough into a round disk, cover with plastic wrap, and chill for at least 2 hours. Remove the chilled dough and allow it to set at room temperature for 10 minutes.
Allow the oven to heat to 350°F while cutting the cookies. Very lightly spray a cookie baking sheet with a non stick coating or lightly grease with shortening.
Sprinkle a little flour on a flat counter surface and on a rolling pin. Roll the dough out to 1/4-inch thickness, turning the dough as needed and adding flour to the surface as needed to keep the dough from sticking.
Use a shamrock cookie cutter to cut the dough into shamrock shapes for St Patrick's Day nibbling.
Place the cut cookies on the prepared baking sheet. Bake 8 minutes or until they are just beginning to brown. Remove and allow to cool 2 minutes then transfer to a wire rack to continue cooling before adding the Green Shamrock Icing.
There's wonderful selection of Grandma's recipes for making sugar cookies and delicious shortbread cookies elsewhere on this site that could also be decorated as Leprechaun Nibblers.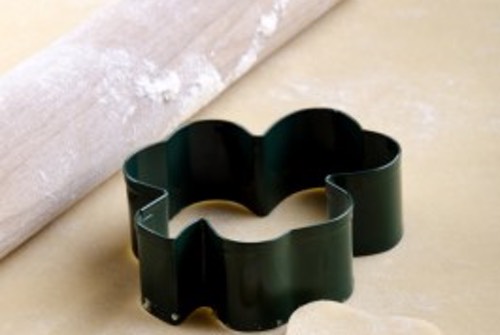 Enjoy Using Your Shamrock Cookie Cutter
(Source: ©123rf/Joerg Beuge)
Grandma's Tip

Use other St. Patrick's Day cookie cutter shapes and make whatever designs you like. Be sure to divide the icing into separate bowls if you want to use different colors.

Green Shamrock Icing:
2-1/4 cups of confectioners' sugar
1 tablespoon plus 1 teaspoon powdered egg whites
3 tablespoon water
4 drops green food coloring
Place the confectioners' sugar into a mixing bowl. Add the powered egg whites and toss to combine. Whisk the water into the mixture until the icing is smooth.
Add the food coloring and gently stir to color the icing. Extra green food coloring can be added to make your shamrocks darker in color, if desired.
Ice one side of each cookie with the icing. Set the cookies back on the wire rack and allow the icing to harden slightly before serving. This St Patrick's Day cookie recipe makes about 18 decorated nibblers.

Golden Cinnamon Scones

Based on a traditional Irish recipe, this scone recipe makes a potful of rich golden scones that leprechauns would love to find at the end of an Irish rainbow.
Irish scones are sure to please any discriminating taste and are perfect for serving at breakfast or luncheon or on any occasion.
Split the scones open while still warm from the oven and serve them with a dab of rich creamery butter or your favorite homemade jelly. Heavenly!

Ingredients:
1 cup of self-rising flour
1/8 teaspoon salt
2 tablespoons butter
1 egg, lightly beaten
3/4 cup of buttermilk
1 egg white
1 teaspoon cinnamon
2 tablespoons sugar
Yellow food coloring (optional)
Directions:
Allow the oven to heat to 425°F. Place the flour and the salt into a sifter and sift together into a large mixing bowl. Work the butter into the mixture with your hands until completely combined.
Make a well in the center of the mixture. Add the egg and pour in 1/2 cup of the buttermilk. Use your hands and work the mixture into a soft dough adding the remaining buttermilk as needed.
An optional drop or two of yellow food coloring will make your scones especially golden in color for St. Patrick's Day.
Lightly flour a flat surface and place the dough on the flour. Roll the dough with a lightly floured rolling pin until it's one inch thick. Using a round cookie cutter, cut 16 two-inch round pieces. Brush each round with the egg white.
Place the cinnamon in a shaker or small bowl. Add the sugar and shake or mix until completely combined. Shake the cinnamon sugar mixture over each scone to taste. Bake 18 minutes or until a golden brown.
Note: Self-rising soda-bread flour works best for these scones, if you can find it. If not, any self-rising flour will work too. Makes about eight servings.
The golden cinnamon scones are delicious when served for breakfast fresh from the oven and buttered, but without the cinnamon, they can also be served in a bowel with lime green jello cubes and sweetened whipping cream. Yummy.

Lucky Green Cookie Pops — No Bake

Ingredients:
20 vanilla wafers
1/2 cup smooth peanut butter
10 wooden ice cream sticks
1 (12 ounce) bag white chocolate chips
4 drops green food coloring
Waxed paper
Directions:
For this St Patrick's Day cookie recipe, spread each of the vanilla wafer cookies on one side with the peanut butter. Place a wooden ice cream stick halfway up the cookie in the peanut butter on half of the cookies. Take the other cookies and place peanut butter side down on top of the wooden stick.
Melt the white chocolate chips in the microwave or stove top as directed on the package. Place the green food coloring into the melted chocolate and stir to combine.
Dip each cookie pop into the white chocolate being sure to cover completely. After dipping, lay each cookie pop on the wax paper. Place the cookie pops in the refrigerator until set, about 2 hours. This recipe makes 10 green cookie pops.

Decorating Your Irish Cookie Pops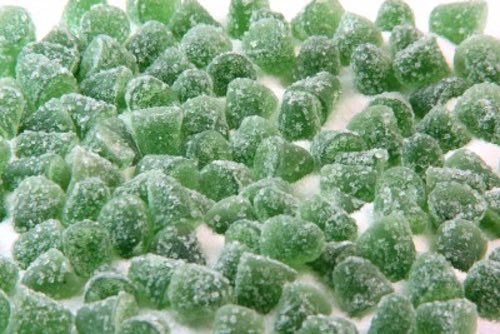 Green Gumdrops for Decorating Your Irish Cookie Pops
(Source: ©Evangelos Thomaidis/123RF.com)
Grandma's Tip

These dessert ideas can also be used for decorating St. Patrick's Day cakes and cupcakes too.

There are many variations to the way these cookie pops can be decorated.
For example, decoration can be added before the chocolate sets as follows:

Make three-leaf shamrocks by cutting green gum drops in halves and positioning the pieces into a leaf form on the chocolate.

A Pot O' Gold design can be made by cutting either a black or dark-colored gum drop in half and placing it on the chocolate. Position 3 or 4 yellow Nerds® candies (or tiny bits of yellow gum drop) above the gum drop pot to represent the gold coins in the pot.

Leprechauns can also be made. Use a yellow gumdrop cut in half and shaped to make the beard. A pink Smartie® can be used for the face. Add chocolate sprinkles to the top for the Leprechauns hair and attach half of a green gum drop to the very top before the chocolate firms for his hat.
Get the entire family involved in decorating the Irish Cookie Pops. Make it part of your St Patrick's Day festivities.

Frosty Chocolate Shamrock Cookies

This frosty frozen St Patrick's Day cookie recipe is adapted from an old fashioned recipe for ice cream sandwiches.
Grandma's Tip

You can serve these frosty chocolate cookies on other holiday occasions simply by using a different cookie cutter to change the shape of the cookies and by changing the ice cream flavor and color.

You'll love making these Frosty Chocolate Shamrock Cookies. Actually, it's more like an ice cream sandwich than a cookie, that's what's so great about it. It's the frozen treat that's perfect for a Saint Patrick's Day party.
Just imagine: Frozen, light-green mint chocolate chip ice cream sandwiched between two homemade chocolate flavored shamrock cookies. It can't get any better than that!
Ingredients:
6 tablespoons butter, softened at room temperature
3/4 cup sugar
1 egg
1-1/2 teaspoons milk
3/4 teaspoon vanilla extract
1-1/3 cups of flour
1/4 cup baking cocoa
1-1/4 teaspoons baking powder
1/4 teaspoon salt
2 cups mint chocolate chip ice cream, softened
Directions:
Place the butter into a mixing bowl. Add the sugar and use an electric mixer on medium speed to cream the ingredients together. Add the egg, milk, and vanilla, and stir until well combined.
Place the flour into a separate bowl. Add the baking cocoa and baking powder. Sprinkle in the salt and toss to combine ingredients together well. Slowly add the dry ingredients to the creamed mixture and blend together until the dry ingredients are just moistened.
Divide the dough into two equal sections then flatten both sections. Wrap in plastic wrap and refrigerate for 1 hour or until the dough is firm.
Allow the oven to heat to 350°F while finishing the cookie preparation.
Flour a flat surface lightly and place the sections of flattened firm dough onto the surface. Use a shamrock cookie cutter and cut the dough out into cookie pieces.
Place the pieces on a cookie sheet covered with parchment paper in a single layer. Prick each cookie in the middle with a fork.
Bake about 8 minutes, or until set. Allow the cookies to cool 2 minutes then transfer to a wire rack to completely cool to room temperature.
Spread six cooled cookies with the ice cream using about 1/4 cup for each cookie. Top the ice cream with the remaining 6 cookies.
Wrap each cookie individually in plastic freezer wrap and freeze for 1 hour or until the ice cream is frozen solid.
This frozen St Patrick's Day cookie recipe makes 6 frosty shamrock sandwich cookies.

Bookmark these St Patrick's Day cookie recipes, as your friends and family will love eating the homemade St. Patrick's Day party treats!

IRISH HEARTS
Let the Clarion notes resound
On Dear Ireland's distant shore
And re-echo through our hearts,
For St. Patrick evermore. c.1915
Related Pages You Might Like

Traditional Irish Desserts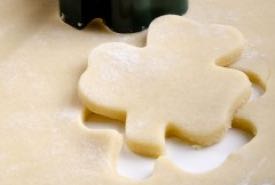 St Patrick's Day Desserts