Old Fashioned Potato Candy Recipe

These old fashioned potato candy recipes make novelty candies that actually resemble little potatoes. You would never guess that they are made of mashed potatoes!
This is a delicious homemade treat that's very easy to make and perfect for gift giving or for snacking on any time. Everybody loves them!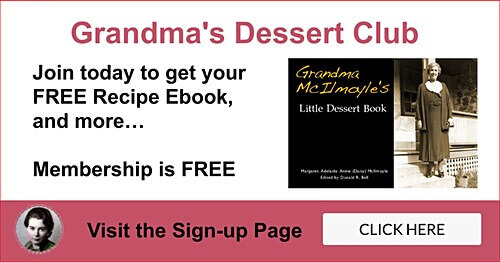 Mom's Favorite Old Fashioned Potato Candy Recipes

Mom's Recipe Scrapbooks (1920s)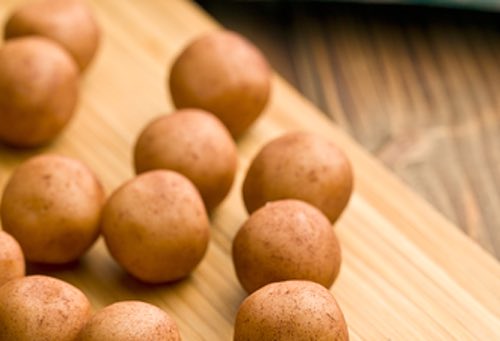 Delicious Old Fashioned Mashed Potato Candy
(Source: ©jirkaejc/Depositphotos.com)
Refrigerator Potato Candy
This is how I make potato candy. Take one small potato (tennis ball size) peeled and cooked like mashed potatoes, or use leftover ones warmed. One box powdered sugar. Peanut butter.
Mix enough sugar with the potato to make dough, roll out dough, spread with layer of peanut butter, roll jelly roll style.
Place roll in wax paper and refrigerate until firm, then slice. If you like, you can add a drop of food color to the potatoes before rolling out, green or red coloring is nice. Hope this works for you. —Angalyn

Potato Candy With Peanut Butter
This old fashioned potato candy recipe is so easy to make, and combined with peanut butter, it's a favorite family treat to nibble on.

1/2 cup mashed potatoes
1/2 cup peanut butter
1 pound powdered icing sugar
Mix warm mashed potatoes with icing sugar to a stiff dough, then roll out to thickness wanted, spread with a layer of peanut butter, roll up like a jelly roll and slice in 1/2 inch pieces. Coat pieces in granulated sugar for serving.

Old Fashioned Potato Candy Recipes

Various Sources With Permission

Old Time Potato Candy

2 baking potatoes, peeled and cubed
1/2 teaspoon salt
2 teaspoons vanilla extract
2 pounds confectioner's sugar
1 pound semisweet chocolate, chopped
2/3 cup flaked coconut, or 2/3 cup ground salted peanuts
Place potatoes in a medium saucepan with water to cover. Bring to a boil, then reduce heat and simmer potatoes 20 minutes, until potatoes are soft. Drain and mash. Do NOT add butter or seasoning to potatoes!
In a large bowl, combine 1 cup mashed potatoes, salt, and vanilla until smooth. Sift confectioner's sugar over potato mixture one cup at a time while stirring into potatoes. Mixture will liquefy when sugar is first added, then gradually begin to thicken.
When it becomes the consistency of stiff dough, knead it, adding more sugar, if necessary, or not using the whole amount if mixture is very stiff.
After kneading, cover with a damp cloth and chill until mixture holds its shape when formed into small balls. Form potato mixture into 1/2-inch balls.
Melt chocolate in a double boiler or in a small saucepan over low heat. Dip balls in melted chocolate, then roll in coconut. Let cool completely. Store in an airtight container. Makes about 2 dozen potato candies.

Grandma's Irish Potatoes

Evaporated Milk

To substitute 1 cup evaporated milk, use 1 cup heavy cream, or gently simmer 2-1/4 cups whole milk in a saucepan until reduced to 1 cup.

1-1/2 cups white sugar
1 tablespoon butter
1/2 cup evaporated milk
1/8 teaspoon cream of tartar
1/4 teaspoon salt
1 teaspoon vanilla extract
2 tablespoons ground cinnamon
To make this old fashioned potato candy recipe, combine the sugar, butter, evaporated milk, cream of tartar, and salt in a saucepan over medium heat. Mix well and bring to a boil.
Cook to the soft ball stage at 234°F (115°C) when a few drops form a soft ball when dropped into cold water.
Remove from heat and cool to room temperature. Add vanilla and beat until creamy and stiff.
Roll into balls and shape like little potatoes. Roll each ball in cinnamon to coat, then press in pieces of chopped nuts to resemble potato eyes.
You can also dust with powdered cocoa to simulate dirt. Makes about 2 dozen Irish potato candies.

Potato Candy Roll

2 tablespoons mashed cooked potatoes
1 tablespoon butter
1 teaspoon milk
1/2 cup confectioner's sugar
1 cup peanut butter
Mix together mashed potatoes, butter, and milk. Add enough confectioner's sugar to make a stiff dough.
Roll dough into a square shape on a flat surface sprinkled with powdered sugar. Spread dough with a thin layer of peanut butter and roll up.
Chill roll in fridge, and later slice into bite-sized pieces for snacking and eating.

Irish Potato Candy Without Potatoes

Out of Potatoes? No problem!
This old fashioned potato candy recipe does NOT contain potatoes; it calls for cream cheese instead and yet the candies resemble little potatoes.
1/4 cup butter, softened
1/2 (8 ounce) package plain cream cheese
1 teaspoon vanilla extract
4 cups confectioner's sugar
2-1/2 cups flaked coconut
1 tablespoon ground cinnamon
In a medium bowl, beat the butter and cream cheese together until smooth. Add the vanilla and confectioner's sugar, and beat until smooth. Using your hands, if necessary, mix in the coconut.
Roll into small balls or potato shapes, and roll in the cinnamon. Place onto a cookie sheet and chill to set.
If desired, roll potatoes in powdered cocoa for a darker color to simulate soil. Makes about 5 dozen potatoes.
Ground nuts (peanuts) may be substituted for the coconut, if desired.