Old Fashioned Potato Donut Recipes

This old fashioned potato donut recipe was one of my late mother-in-law's favorite recipes. It's said that the Fleming family purchased this prize winning recipe at an estate auction sometime in the 1930s, but it's thought to be much older.
These mashed potato donuts are so easy to make, and they taste so mouth-watering delicious that you'll want to eat them while they're still warm and crispy from the frier!

Prize Winning Old Fashioned Potato Donut Recipe
Helen Fleming's Recipes (c. 1940s)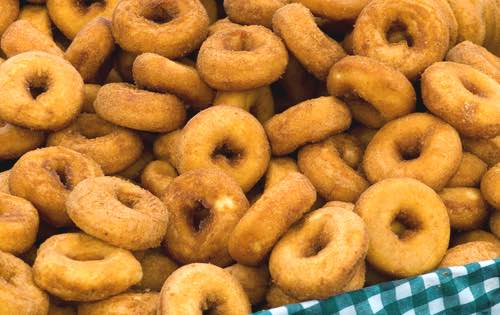 Enjoy Making Old Fashioned Potato Donuts Tonight
(Source: ©photooiasson/Depositphotos.com)
It has become our family tradition to make these potato donuts each year at Christmas time, and they always get rave reviews. Why not make them a holiday tradition in your family too?
People won't believe it when you say they are made from mashed potatoes. You've simply got to try them yourself. They are SO crispy yummy!

Vicki's Tip
My wife Vicki uses about 3 liters (or 3 quarts) of oil to fry her potato donuts in. She finds that canola oil works just fine, but her Grandma always insisted that using pure lard gives them a nostalgic taste.

2 cups mashed potatoes
1/4 cup butter
Pinch of salt
3 cups white sugar
3 eggs, beaten
1 cup milk
7 cups all-purpose flour
4 teaspoons baking powder
Nutmeg
2 cups mashed potatoes; mix butter size of egg (1/4 cup) with potatoes; add pinch of salt, 3 cups white sugar, 3 beaten eggs, 1 cup milk.
Sift 7 cups all-purpose flour. Put 5 cups flour with eggs and milk mixture. Take remaining 2 cups flour and add 4 teaspoons baking powder. Add bit of nutmeg. Mix all together. Fry in deep fat on a medium stove until golden brown.

Old Fashioned Potato Donut Recipe
The Perry Home Cook Book (1920)


Make Old Fashioned Potato Donuts
(Source: ©Don Bell)
Tasty Potato Donuts

1 cup sugar; 1 cup mashed potatoes; 1 cup sweet milk; 4 eggs; 4 teaspoons baking powder; 3 cups flour.
Mix thoroughly then add flour enough to make stiff dough. Do not separate eggs; beat with sugar then add potatoes. Put a teaspoon vinegar in frying fat. —Mrs. Delia Hughes, Seal Beach, Calif.

Canadians Love Donuts
We Canadians Love Our Donuts, Eh!
(Share: ©DesignPicsinc/Depositdonuts.com)
Donuts are immensely popular throughout the world, and it's not surprising that Americans with their large population consume the most. Dunkin' Donuts® and Krispy Kreme Doughnuts® are the most popular brands sold in the United States, and billions are sold each year.
However, did you know that Tim Hortons®, the main donut franchise in Canada, is reported to have over four times as many outlets per capita than its American counterparts?
That's because Canadians are known to eat more donuts than anybody in the world — three times as many per capita than our American neighbors!
We Canadians are nuts about donuts! In most cities, you are never more than four blocks from a donut shop. They've become a social gathering place — an institution!
For many Canadians, it has become a daily ritual to enjoy coffee and donuts at Timmys while reading the newspaper, meeting clients, or while doing one's homework. It's where we socialize.
However, I can share from experience that those made from Grandma's old fashioned potato donut recipe will taste better than any you can buy. And, they'll cost you less too!
You are sure to find a favorite in this collection of recipes. Are you ready? Have fun making a batch today. Your family and friends will be impressed, and you'll get to enjoy a delicious homemade treat.

Related Pages You Might Like

Donut & Pasty Menu