Old Fashioned Cruller Recipe
Old Fashioned Cruller Recipes

These old fashioned cruller recipes are not to be confused with the common soft French cruller. These crullers are the real deal — cake-like, sweet, and wonderfully crisp on the outside.
Form your crullers the old fashioned way by cutting and separating the little strips of dough or simply twist the dough before frying to make them like the ones that Aunt Em served to Dorothy and the farmhands in the Wizard of Oz movie.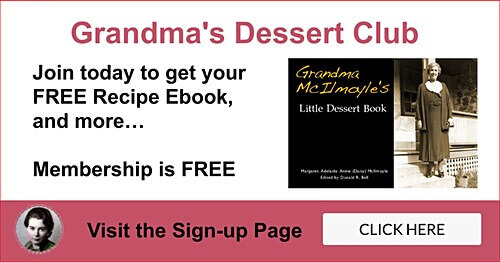 Old Fashioned Cruller Recipe

Calumet Baking Powder Cook Book (c.1921)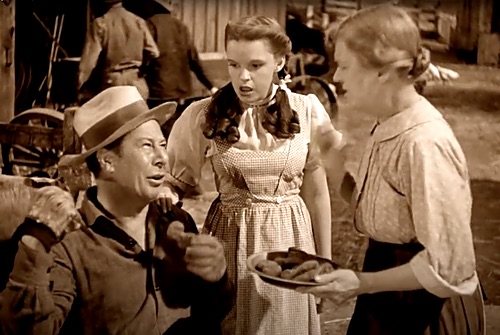 Aunt Em Passes a Plateful of Old Fashioned Crullers
(PD Source: Wizard of Oz, Screenshot, 1939)
Calumet Sugared Crullers

1 cup sugar
2 egg yolks, well beaten
2 egg whites, beaten stiff
4 cups flour
1/4 level teaspoon grated nutmeg
2-1/2 level teaspoons Calumet Baking Powder
1 cup milk
1/4 teaspoon salt
Cream the sugar and egg yolks and add egg whites. Sift together thoroughly flour, nutmeg, baking powder, and salt, and add alternately with milk to first mixture.
Place on floured board, roll thin and cut in pieces three inches long by two inches wide; make four one-inch gashes at equal intervals.
Take up pieces by running finger in and out of gashes, lower into deep hot fat and fry. Take up on a skewer, drain on brown paper, and roll in powdered sugar, if desired.

Flavored Old Fashioned Cruller Recipes

Buckeye Cookery and Practical Housekeeping (1877)

Old Fashioned Cruller Rolled in Sugar
(Source: ©Don Bell)
Cinnamon Crullers

Two coffee-cups sugar, one of sweet milk, three eggs, a heaping tablespoon butter, three teaspoons baking powder mixed with six cups flour, half a nutmeg, and a level teaspoon cinnamon.
Beat eggs, sugar and butter together, add milk, spice, and flour; put another cup flour on molding-board, turn the dough out on it, and knead until stiff enough to roll out to a quarter inch thick.
Cut in squares, make three or four long incisions in each square, lift by taking alternate strips between the finger and thumb, drop into hot lard, and cook like doughnuts. —Miss R. J. S.

Ginger and Spice Crullers

Six eggs, one coffee-cup sugar, six tablespoons melted butter, four of sweet milk, one teaspoon soda in milk, two teaspoons cream of tartar in the flour, one teaspoon ginger, half a small nutmeg (or any other seasoning), flour to roll out; fry in hot lard. —Miss M. B. Fullington

Old Fashioned Cruller Recipes
Pennsylvania Dutch Cooking (1920s)

Pennsylvania Dutch Crullers
2 eggs
1/2 cup cream, sweet or sour
1/2 cup milk
1 teaspoon baking soda
1 teaspoon salt
1/4 cup sugar
3-1/2 to 4 cups flour
Beat the eggs, add cream and milk. Sift dry ingredients and combine with liquid, using just enough flour to make dough that can be rolled, but still remain soft. Mix well and let stand for 2 hours.
Turn dough out on floured board and roll to 1/4-inch thick. Cut into strips 6 inches by 1 inch. Fry in deep fat (360°F) until brown on both sides. Drain on absorbent paper and dust with powdered sugar, if desired.

Tangle Britches

1/2 pound butter
1 cup sugar
6 eggs, beaten
1/2 teaspoon cinnamon
5 cups flour
Cream together the butter and sugar. Add the eggs beating well. Sift in the cinnamon and enough flour to make a stiff dough. Roll out dough very thin on a floured board to about 1/8-inch thickness. Cut into rectangular pieces 3 inches by 5 inches.
Carefully make 5 cuts lengthwise in the dough 1/2 inch apart and 4-1/2 inches long, so that the rectangle remains in one piece.
Fry in hot deep fat (360°F) for 2 minutes or until they bob up to the top of the hot fat. When dropping them into the fryer, pick up the 1st, 3rd, and 5th strips and pull them upward. Let the 2nd, 4th, and 6th strips sag downward so that in frying they get all tangled or as the Pennsylvania Dutch say, all through each other.
Remove from fryer and dust with powdered sugar or dribble molasses over them and eat them while hot.

Old Fashioned Cruller Recipe

Southern Recipes (1910)

Southern Crullers
6 eggs
2 scant cups sugar
3/4 cup butter
Flour, enough
Beat eggs separately. To sugar, add butter creamed, add yolks, and then beaten whites. Add enough White Lily flour to make a stiff dough — or the crullers will not fry well.
Fry in deep fat hot enough to brown the dough but not to burn it. Drain on paper. Sprinkle with powdered sugar. —Mrs. W. A. Bellingrath

Old Time Fried Trifles Recipe

Buckeye Cookery and Practical Housekeeping (1877)

Crispy Fried Trifles

A quart flour, a cup sugar, two tablespoons melted butter, a little salt, two teaspoons baking powder, one egg, and sweet milk sufficient to make rather stiff.
Roll out in thin sheets, cut in pieces about two by four inches; make as many cuts across the short way as possible, inserting the knife near one edge and ending the cut just before reaching the other.
Pass two knitting needles under every other strip, spread the needles as far apart as possible, and with them hold the trifles in the fat until a light brown. Only one can be fried at a time. —Miss Ettie Dalbey, Harrisburg

White House Fried Trifles Recipe

The White House Cook Book (1913)

Fried trifles are a forgotten homemade pastry treat that was once relished by many dessert lovers. As easy to make as an old fashioned cruller recipe, the jelly trifles are super delicious!

Fried Trifles with Jelly
Work one egg and a tablespoonful of sugar to as much flour as will make a stiff paste; roll it as thin as a dollar piece and cut it into small round or square cakes; drop two or three at a time into the boiling lard.
When they rise to the surface and turn over they are done; take them out with a skimmer and lay them on an inverted sieve to drain. When served for dessert or supper put a spoonful of jelly on each. So good!

About Old Fashioned Crullers
Watch the above YouTube video with the opening scene of the 1939 Wizard of Oz movie. Nearing its end, you will see Aunt Em serving a plateful of her homemade crullers to Dorothy and the farmhands. Now, thanks to the old fashioned cruller recipes, you can enjoy them too!