Old Fashioned Cream Puffs Recipe
Old Fashioned Cream Puffs Recipes

Grandma's old fashioned cream puffs recipes will come in handy when you want to serve something light and sweet for dessert. Everybody loves these homemade pastries with the delicious cream fillings.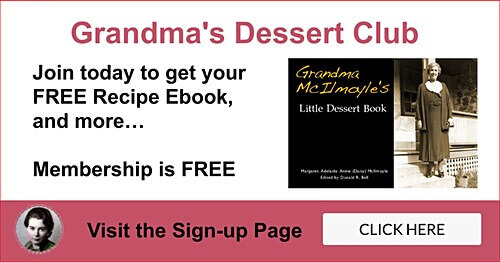 Old Fashioned Cream Puffs Recipes

Mom's Recipe Scrapbooks (c. 1920s)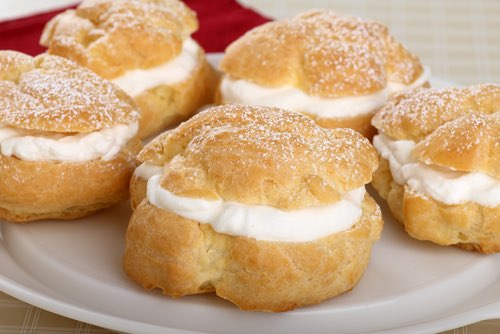 Enjoy Making Old Fashioned Cream Puffs
(Source: ©chasbrutlag/Depositphotos.com)
Cream Puffs With Custard Filling
1 cup water
1/2 cup butter
1 cup cake flour
3 eggs
Put the water in a saucepan to boil. When boiling, add butter and stir in the flour. Let cool. When cold, add the eggs well beaten. Beat all thoroughly and drop on to buttered tins.
Bake 20 minutes in a quick oven. When cool, slit with a sharp knife.
These puffs may be filled with the following custard filling, but the whipped cream is much better.
Cream Puff Custard Filling:
1 cup milk
1/2 cup sugar
1 egg
1/2 dessert-spoon cornstarch
Boil milk, add sugar and cornstarch, lastly the well-beaten egg. When cool, flavor to taste.
If liked, one may brush the tops with a little beaten egg and milk before putting in oven.
When cold, open and fill with whipped cream or custard filling, and dust tops with fine sugar.

Strawberry Cream Puffs
1 cup hot water
1/2 teaspoon salt
1/2 cup butter
1-1/2 cups flour
5 eggs
Put hot water, salt, and butter into a large saucepan, and when boiling work in the flour until smooth. Let cool, and beat in one at a time 5 eggs.
Spread into finger forms on tins, and bake a few minutes in a quick oven (425°F) until light as a feather. Watch carefully and don't over bake.

Let cool, and cut open tops with a sharp knife so as to fill with sweetened whipped cream and strawberries.

Old Fashioned Cream Puffs Recipe

Royal Baking Powder (1919)

Royal Cream Puffs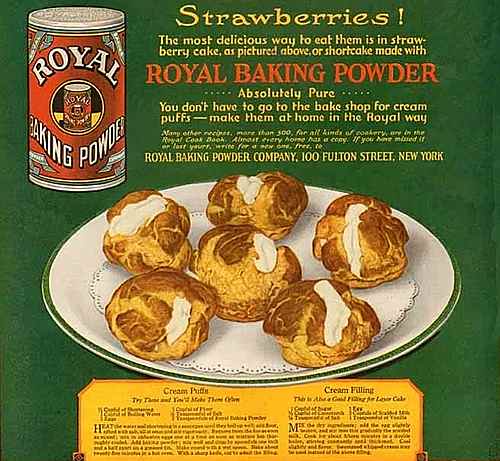 Royal Cream Puffs and Cream Filling Recipe
(PD Source: 1919 Product Illustration)
Try these old time cream puffs and you'll make them often!
1 Cupful of boiling water
1/2 Cupful of shortening
1 Cupful of flour
1/8 Teaspoonful of salt
3 Eggs
2 Teaspoonfuls of baking powder
Heat the water and shortening in saucepan until they boil up well; add flour, sifted with salt, all at once and stir vigorously. Remove from the fire as soon as mixed; mix in unbeaten eggs one at a time as soon as mixture has thoroughly cooled.
Add baking powder; mix well and drop by spoonfuls one inch and a half apart on a greased tin. Make round with a wet spoon.
Bake about 25 minutes in a hot 475°F oven. With a sharp knife, cut near base to admit the filling.

Royal Cream Puffs Filling
This is also a good vanilla cream filling to use when making homemade layer cakes.
1 Cupful of sugar
1/3 Cupful of Corn starch
1/8 Teaspoonful of salt
1 Egg
2 Cupfuls of scalded milk
1 Teaspoonful of vanilla
Mix the dry ingredients; add the egg slightly beaten and stir into this gradually the scalded milk. Cook for about fifteen minutes in double boiler, stirring constantly until thickened. Cool slightly and flavor.
Sweetened whipped cream may be used instead of this cream filling, if desired.