Thanksgiving Cake Recipe

Grandma's old fashioned Thanksgiving cake recipes make delicious cakes that will complement your traditional Thanksgiving meal and provide an alternative for those who don't care for pie. However, I can't imagine that anyone wouldn't care for a piece of Thanksgiving pumpkin pie. It's so good!

Imagine being able to enjoy scratch-made harvest-time cakes with the all-natural baked-in taste of nuts and fruit. You'll love the delicious flavors, and so will your guests. Nothing beats of these homemade cakes. You must try them!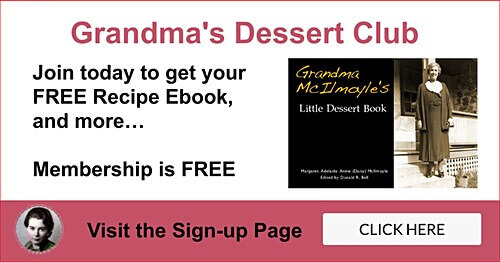 Traditional Thanksgiving Cake Recipes
The White House Cook Book (1913)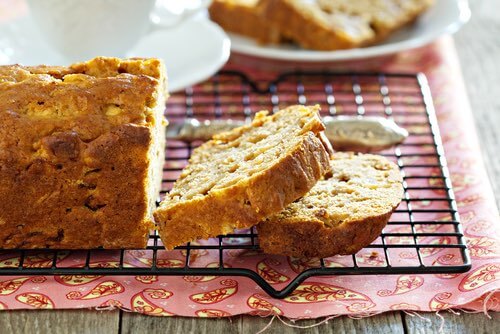 Old Fashioned Dried Apple Fruitcake for Thanksgiving
(Source: ©fahrwasser/Depositphotos.com)
These traditional Thanksgiving cake recipes are so good that they were once used to make dessert cakes for serving at formal White House dinners.

Dried Apple Fruitcake
Soak three cupfuls of dried apples overnight in cold water enough to swell them; chop them in the morning and put them on the fire with three cups of molasses; stew until almost soft; add a cupful of nice raisins (seedless, if possible) and stew a few moments and remove from heat.
When cold, add three cupfuls of flour, one cupful of butter, three eggs, and a teaspoonful of baking soda; bake in a steady oven (325°F).
This traditional Thanksgiving cake recipe will make two good-sized panfuls of splendid fruitcake; the apples will cook like citron and taste delicious.
Raisins may be omitted; also, spices to taste may be added (for example, cinnamon and nutmeg). This is an inexpensive cake, yet it is delicious.

Hickory Nut or Walnut Layer Cake
Walnut Layer Cake Decorated With Whole Walnuts
(Source: Book of Household Management, 1861)
Two cups of fine white sugar creamed with half a cup of butter, three eggs, two-thirds of a cup of sweet milk, three cups of sifted flour, one heaping teaspoonful of baking powder sifted through the flour; a tablespoonful (level) of powdered mace, 3/4 cup raisins, a coffee cup of hickory nut or walnut meats chopped a little, walnuts to decorate.
Fill the cake pans with a layer of the cake, then a layer of raisins upon that, then strew over these a handful of nuts, and so on until the pans are two-thirds full.
Line the tins with well-buttered paper and bake in a steady, but not quick, oven (about 325°F). This is a most excellent Thanksgiving cake recipe.

Whipped Cream Cake
Once cupful of sugar and two tablespoonfuls of soft butter stirred together; add the yolks of two eggs well beaten, then add four tablespoonfuls of milk, some flavoring of choice, then the beaten whites of the eggs.
Mix a teaspoonful of cream of tartar and half a teaspoonful of baking soda in a cup of flour, sift it into the cake batter and stir lightly. Bake (300°F) in a small dripping pan.
When the cake is cool, have ready half a pint of sweet cream sweetened and whipped to a stiff froth, also flavored. Spread it over the cake while fresh. To whip the cream easily, set it on ice or in the ice box before whipping.

Fig Cake With Filling
1/2 cup shortening, 1/2 cup white sugar, 3/4 cup granulated oatmeal, 1/2 teaspoon salt, 1/2 cup milk, 1 teaspoon cream of tartar, 1/2 teaspoon baking soda, flour enough to roll. Put half in bottom of pan and cover with fig filling. Cover with other half as pie.
Fig Filling: 1/2 lb layer figs cut fine and boil till tender; add 1 cup sugar; cool till thick. May be served plain or with sweetened whipped cream. —Mrs. John Henry

Traditional Thanksgiving Cake Recipes
Mom's Recipe Scrapbooks (1920s)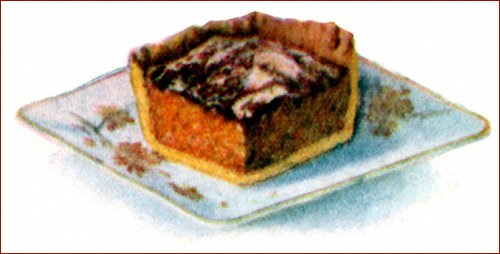 Delicious Old Time Carrot Cake in Pastry
(PD Source: Don Bell)
Carrot Cake In Pastry
This unique carrot cake recipe could also be baked in tart shells instead of cut into squares (see above picture). It makes an attractive tasty dessert for any occasion so keep this old fashioned Thanksgiving cake recipe handy.
Rub four good-sized, cooked carrots through a sieve, add two tablespoonfuls of ground almonds, three tablespoonfuls of sugar, the grated rind and strained juice of half a lemon, the well-beaten yolks of four eggs, three tablespoonfuls of melted butter, and the whites of the eggs beaten stiffly with a pinch of salt.
Pour mixture into a small baking dish that has been lined with pastry. Bake in a hot oven (425°F) until ready and serve hot or cold, cut in squares.

Maple Nut Cake With Maple Icing

Cream 1/3 cup shortening with 1 cup light-brown sugar; add 2 egg yolks, mix well and add 3/4 cup milk; sift together 1-1/2 cups flour, 1/2 teaspoon salt, 2 level teaspoons baking powder; add 1 cup finely chopped nuts, preferably pecans, and 1 teaspoon vanilla. Bake in greased loaf pan in moderate oven (375°F) 35 minutes.
Maple Icing: 1/2 teaspoon butter and 2 teaspoons hot milk; add 1-1/2 cups confectioner's sugar to make a smooth paste; add 1/2 teaspoon maple flavoring and spread on cake; sprinkle with chopped nuts. —Mrs. D. V. Canning

Old Time Crumb Cake
For this crumb cake take two cupfuls of flour, half a pound of breadcrumbs, one egg, a quarter of a pound of currants, half a cupful of sugar, a quarter of a pound of lard, one teaspoonful of baking powder, one teaspoonful of mixed spices, and some milk.
Sift the flour, baking powder and spices into a bowl, rub in the lard, add the currents, sugar and breadcrumbs, then add the beaten egg and enough milk to make a nice dough. Put into a buttered tin and bake (325°F) until a skewer will come out dry.

Recipe for Pumpkin Bars

The pumpkin is traditionally identified with Thanksgiving Dinner, and this traditional Thanksgiving cake recipe features the delicious flavor of the fall pumpkin. These bars are delicious either iced or left plain.

With their rich-and-creamy cream cheese icing, pumpkin bars will be a huge hit with family and friends of all ages. Serve these little cakes as a treat after a walk in the woods or as an evening snack.
Pumpkin Bar Directions:
4 eggs
1-2/3 cups sugar
1 cup vegetable oil
1 (15 ounce) can solid pack pumpkin
2 cups all-purpose flour
2 teaspoons ground cinnamon
2 teaspoons baking powder
1 teaspoon baking soda
1 teaspoon salt
In a large mixing bowl beat together eggs, sugar, oil, and pumpkin. Combine the flour, cinnamon, baking powder, baking soda, and salt. Gradually add the combined dry ingredients to the pumpkin mixture and beat together well.
Pour your mixture into a lightly buttered jellyroll pan and bake at 350°F for 25 minutes or until a toothpick comes out clean when inserted. Always test for doneness.
Allow to cool before cutting into bars and adding the cream cheese icing.
Recommended Cream Cheese Icing:
1 (8 ounce) package cream cheese, softened
2 cups confectioners' sugar
1/4 cup butter, softened
1 teaspoon vanilla extract
1 tablespoon milk
Beat together the cream cheese, sugar, butter, and vanilla extract. Add just enough milk to help get a nice spreading consistency.
If desired, you can add a few drops of yellow or orange (combine drops of red and yellow) food coloring to make them appear more festive in the traditional Thanksgiving and Autumn colors.