Italian Pastry Recipes
Homemade Italian Mantua Tart
(Source: ©lsantilli/iStock)
Add these traditional Italian pastry recipes to your collection. You'll love the delicious flavor of almonds in both the Torta Mantovana and the Torta Ricciolina. They are especially tasty as are the easy-to-make Genoese Pastry Cakes with their melt-in-your-mouth goodness. Delicious desserts with that unbeatable Old World taste.


Gentile's Italian Pastry Recipes
The Italian Cook Book (1919)


Torta Mantovana — Mantua Tart

Take the time to make these Italian pastry recipes and expect to receive lots of compliments from your friends and family when they these classic pastries. They'll marvel at how you learned to make them.


Flour, six ounces; sugar, six ounces; butter, five ounces; sweet almonds and pine seeds, two ounces; one whole egg, four egg yolks, a taste of lemon peel.

First work well with a ladle the eggs with the sugar, then pour the flour little by little, still stirring, and finally the butter, previously melted in a double steamer (bain marie).

Put the mixture in a pie dish greased with butter and sprinkled with flour or bread crumbs ground. On top put the almonds and the pine seeds. Cut the latter in half and cut the almonds, previously skinned in warm water, each in eight or ten pieces.

This tart must not be thicker than one inch, so that it can dry well in the oven, which must not be too hot. Sprinkle with powdered sugar and serve.


Torta Ricciolina — Curly Tart

Sweet almonds with a few bitter ones, four ounces; granulated sugar, six ounces; candied fruits or angelica, 2-1/2 ounces; butter, two ounces; lemon peel.

For this Italian pastry recipe, mix two eggs with flour, flatten the paste to a thin sheet on a bread board and cut into thin noodles. In a corner of the bread board make a heap of the almonds with the sugar, the candied fruit cut in pieces and the grated lemon peel. All this cut and crush so as to reduce the mixture in little pieces.

Then take a pie dish and without greasing it, spread a layer of noodles on the bottom, then pour part of the mixture, then another layer of noodles and continue until there remains no more material, trying to have the tart at least one inch thick. When it is so prepared cover with the melted butter, using a brush to apply it evenly.


Croccante — Almond Crisp Tart

Sweet almonds, four and a half ounces; granulated sugar, three and a half ounces.

Skin the almonds, divide the two parts, and cut each part into small pieces. Put these almonds so cut at the fire and dry them until they take a yellowish color, but do not toast.

Meanwhile, put the sugar on the fire in a saucepan and, when it is perfectly melted, pour the almonds hot and already slightly browned. Now lower the fire and be careful not to allow the compound to be overdone. The precise point is known when the mixture acquires a cinnamon color.

Then pour little by little in a cold mold, previously greased with butter, or oil. Press with a lemon against the walls of the mold, making the mixture as thin as possible. Remove from the mold when perfectly cooled and, if it is difficult to do so, dip the mold in boiling water.

The almonds can also be dried and chopped fine, adding a small piece of butter when they are in the sugar.


Torta di Riso — Rice Tart

Milk, one quart; rice, seven ounces; sugar, five and a half ounces; sweet almonds with four bitter ones, three and a half ounces; candied cedar (angelica), one ounce; three whole eggs, five egg yolks, taste of lemon peel, a pinch of salt.

Skin the almonds and grind or pound them with two tablespoonfuls of the sugar.

For this Italian pastry recipe, cut the candied cedar in vary small cubes. Cook the rice in the milk until it is quite firm, put in all the ingredients except the eggs, which are added when the mixture is cold.

Put the entire mixture in a baking tin greased with butter and sprinkled with bread crumbs ground fine, harden in the oven, and after 24 hours cut the tart into diamonds. When serving dust with powdered sugar.


Torta di Semolino — Farina Tart
Milk, one quart; farina finely ground, four and a half ounces; sugar, four and a half ounces; sweet almonds with three bitter, three and a half ounces; butter, a small piece; four eggs, taste of lemon peel, a pinch of salt.

Skin the almonds in warm water and ground or pound very fine with all the sugar, to be mixed one tablespoonful at a time.

Cook the farina in the milk and before removing from the fire add the butter and the almonds, which will dissolve easily, being mixed with the sugar. Then put the pinch of salt and wait until it becomes lukewarm to add the eggs that are to be beaten whole previously.

Pour the mixture in a baking tin greased evenly with butter, sprinkled with bread crumbs and of such a size that the tart has the thickness of an inch or less. Put it in the oven, remove from the mold when cold and serve whole or cut into sections.


Italian Pastry Recipe for Genoese Cakes

The Cook's Decameron (1905)


Ingredients: Eggs, sugar, butter, flour, almonds, orange or lemon, brandy.

Weigh four eggs, and take equal weights of castor sugar, butter, and flour. Pound three ounces of almonds, and mix them with an egg, melt the butter, and mix all the ingredients with a wooden spoon in a pudding basin for ten minutes, then add a little scraped orange or lemon peel, and a dessertspoonful of brandy.

Spread out the paste in thin layers on a copper baking sheet, cover them with buttered paper, and bake in a moderately hot oven. These little pastry cakes must be cut into shapes when they are hot; otherwise, they will break.


You May Also Like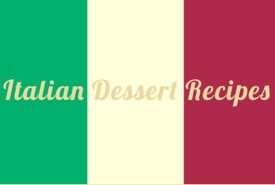 Authentic Italian Desserts

As an Amazon Associate I earn from qualifying purchases.