Italian Cake Recipes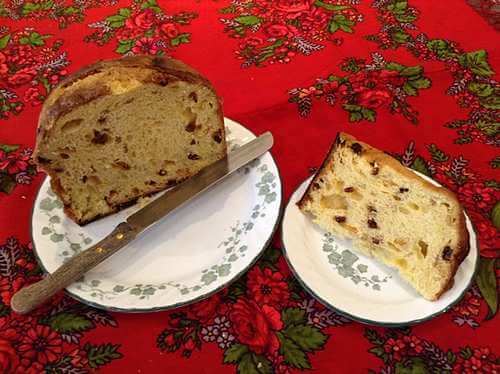 Italian Panettone Sweet Bread Cake
(Source: ©Don Bell)
These traditional Italian cake recipes make the best dessert cakes you've ever tasted. Whether it's the Margherita Cake, the Portuguese Cake, the classic Panettone, or the delicious Torta Mantovana, you are in for a wonderful taste experience.


Traditional Italian Cake Recipes
The Italian Cook Book (1919)


Pasta Margherita / Margherita Cake
Homemade Margherita Cake
(Source: ©salvatore-chiariello/123RF)
Queen Margherita di Savoia
This old fashioned Italian cake was originally a peasant cake meant to be served with and dipped in milk. Some claim it was named after Margherita di Savoia (1851-1926), Italy's first consort queen.
Others say it was named after the Margherita (daisy) because the golden cake's appearance when cut in wedges and dusted with powdered white sugar is similar to the flower.

Potato meal (flour), three ounces; sugar, six ounces; four eggs, lemon juice.
Beat well the egg yolks with the sugar, add the potato meal and the lemon juice and stir everything for half an hour. Finally, beat well the whites, and mix the rest, stirring continually but slowly.
Pour the mixture in a smooth and round mold, greased with butter and sprinkled with powdered sugar. Put at once in the oven. Remove from the mold when cold and dust with powdered sugar and vanilla.


Bocca di Dama / Almond Cake

This traditional Italian cake recipe makes a sweet crumbly almond cake of ancient origin that's often served at Passover. Bocca di Dama translates as "Lady's Mouth" in Italian.
Granulated sugar, nine ounces; very fine Hungarian flour (or substitute any fine cake flour), five ounces; sweet almonds with some bitter ones, two ounces; six whole eggs and three egg yolks; taste of lemon peel.
After skinning the almonds in warm water and drying them well, grind or better pound them well together with a tablespoonful of sugar and mix well with the flour.
Put the rest of the sugar in a deep dish with the egg yolks and the grated lemon peel (just a taste) and stir with a ladle for a quarter of an hour.
In another dish beat the six whites of egg and when they have become quite thick mix them with other ingredients stirring slowly everything together.
To bake, place the mixture in a baking tin greased evenly with butter and sprinkled with powdered sugar and flour.


Focaccia alla Portoghese / Portuguese Cake

This Portuguese-style sponge cake is made with almonds and orange and has a moist spongy texture when baked. It's important to grind the almonds very fine and make sure the eggs are well beaten for good results.

Sweet almonds, five ounces; granulated sugar, five ounces; potato meal (flour), one and a half ounces; three eggs; one big orange or two small.
First mix the yolks of the eggs with the sugar, then add the flour, then the almonds skinned and chopped fine, then the orange juice (through a colander), then a taste of orange peel (zest). Finally add to the mixture the whites of the eggs well beaten.
Put in a paper mold greased evenly with butter, with a thickness of about an inch and bake in a very moderately hot oven.
After baked, cover with a white glaze or frost, made with powdered sugar, lemon juice, and the white of eggs.


Torta Mantovana
This tasty cake from Tuscany is served on special occasions. The almonds and pine seeds give this cake a satisfying crunch, and it's especially good for serving with coffee or tea.

Flour, six ounces; sugar, six ounces; butter, five ounces; sweet almonds and pine seeds, two ounces; one whole egg, four egg yolks, a taste of lemon peel.
First work well with a ladle the eggs with the sugar, then pour the flour little by little, still stirring, and finally the butter, previously melted in a bain marie (double boiler).
Put the mixture in a pie dish greased with butter and sprinkled with flour or bread crumbs ground. On top put the almonds and the pine seeds. Cut the latter in half and cut the almonds, previously skinned in warm water, each in eight or ten pieces.
This tart must not be thicker than one inch, so that it can dry well in the oven, which must not be too hot. Sprinkle with powdered sugar and serve.


Torta Ricciolina / Curly Tart

This traditional Italian cake recipe comes from Bologna. It's especially good when served sprinkled with powdered sugar.

Sweet almonds with a few bitter ones, four ounces; granulated sugar, six ounces; candied fruits or angelica, 2-1/2 ounces; butter, two ounces; lemon peel.
To begin this old fashioned Italian cake recipe, mix two eggs with flour, flatten the paste to a thin sheet on a bread board and cut into thin noodles.
In a corner of the bread board make a heap of the almonds with the sugar, the candied fruit cut in pieces and the grated lemon peel. All this cut and crush so as to reduce the mixture in little pieces.
Then take a pie dish and without greasing it, spread a layer of noodles on the bottom, then pour part of the mixture, then another layer of noodles and continue until there remains no more material, trying to have the tart at least one inch thick.
When it is so prepared cover with the melted butter, using a brush to apply it evenly.


Torta di Riso / Rice Tart

This traditional Italian cake recipe originated in Bologna when rice was plentiful and affordable. It was often prepared for the Addobbi festivity to celebrate the anniversary of a Parish.
Slowly cook the rice in milk and then once all ingredients are mixed, bake until soft and springy in a 350°F (180°C) oven for best results.

Grandma's Tip
You may substitute candied citron for candied cedar.

Milk, one quart; rice, seven ounces; sugar, five and a half ounces; sweet almonds with four bitter ones, three and a half ounces; candied cedar (angelica), one ounce; three whole eggs, five egg yolks, taste of lemon peel, a pinch of salt.
Skin the almonds and grind or pound them with two tablespoonfuls of the sugar.
For this Italian cake recipe, cut the candied cedar in vary small cubes. Cook the rice in the milk until it is quite firm, put in all the ingredients except the eggs, which are added when the mixture is cold.
Put the entire mixture in a baking tin greased with butter and sprinkled with bread crumbs ground fine, harden in the oven, and after 24 hours cut the tart into diamonds. When serving dust with powdered sugar.


Torta di Semolino / Farina Tart

This traditional Italian cake recipe makes an old fashioned cake that's unpretentious yet delicious. For best results, bake mixture at 350°F (180°C) in a greased springform pan until golden on top, about 3/4 hour.

Milk, one quart; farina finely ground, four and a half ounces; sugar, four and a half ounces; sweet almonds with three bitter, three and a half ounces; butter, a small piece; four eggs, taste of lemon peel, a pinch of salt.
Skin the almonds in warm water and ground or pound very fine with all the sugar, to be mixed one tablespoonful at a time.
Cook the farina in the milk (about 8 or 9 minutes while stirring) and before removing from the fire add the butter and the almonds, which will dissolve easily, being mixed with the sugar. Then put the pinch of salt and wait until it becomes lukewarm to add the eggs that are to be beaten whole previously.
Pour the mixture in a baking tin greased evenly with butter, sprinkled with bread crumbs and of such a size that the tart has the thickness of an inch or less.
Put it in the oven, remove from the mold when cold and serve whole or cut into sections.


Traditional Italian Cake Recipes
The Cook's Decameron (1905)


Authentic Cremona Cake / Cream Cake

This old fashioned Italian Cream Cake is traditionally served for holiday occasions. Imagine several layers of moist cake separated with a maraschino flavored whipped cream filling and topped with icing sugar, almonds, and cherries. Delicious!

Ingredients: Ground rice, ground maize, sugar, one orange, eggs, salt, cream, Maraschino, almonds, preserved cherries.
Weigh three eggs, and take equal quantities of castor sugar, butter, ground rice, and maize (the last two together); make a light paste with them, but only use one whole egg and the yolks of the two others, add the scraped peel of an orange and a pinch of salt.
Roll this paste out to the thickness of a five-shilling piece, color it with the yolk of an egg and bake it in a cake tin in a hot oven until it is a good color, then take it out and cut it into four equal circular pieces.
Have ready some well-whipped cream and flavor it with Maraschino, put a thick layer of this on one of the rounds of pastry, then cover it with the next round, on which also put a layer of cream, and so on until you come to the last round, which forms the top of the cake.
Then split some almonds and color them in the oven, cover the top of the cake with icing sugar flavored with orange, and decorate the top with the almonds and preserved cherries.


Cake alla Tolentina
Tolentina is an old town in the province of Macerata in Central Italy.

Ingredients: Sponge cake, jam, brandy or Maraschino, cream, pineapple.
For this Italian cake recipe, make a medium-sized sponge cake; when cold cut off the top and scoop out all the middle and leave only the brown case; cover the outside with a good coating of jam or red currant jelly, and decorate it with some of the white of the cake cut into fancy shapes.
Soak the rest of the crumb in brandy or Maraschino and mix it with a quarter of a pint of whipped cream and bits of pineapple cut into small dice; fill the cake with this; pile it up high in the center and decorate the top with the brown top cut into fancy shapes.


Genoese Cakes
This old fashioned sponge cake named after the Italian City of Genoa is traditionally baked in thin sheets.
The cakes can be rolled for jelly rolls or cut into shapes that are sometimes stacked with a favored filling between.

Ingredients: Eggs, sugar, butter, flour, almonds, orange or lemon, brandy.
Weigh four eggs, and take equal weights of castor sugar, butter, and flour. Pound three ounces of almonds, and mix them with an egg, melt the butter, and mix all the ingredients with a wooden spoon in a pudding basin for ten minutes, then add a little scraped orange or lemon peel, and a dessertspoonful of brandy.
Spread out the paste in thin layers on a copper baking sheet, cover them with buttered paper, and bake in a moderately hot oven.
These little pastry cakes must be cut into shapes when they are hot; otherwise, they will break.


Old Fashioned Italian Cake Recipe

Mom's Recipe Scrapbook (c. 1920s)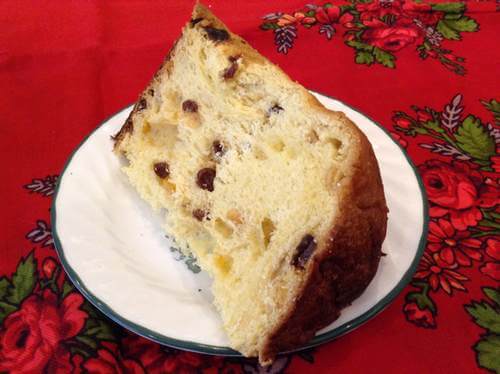 Slice of Homemade Panettone Cake
(Source: ©Don Bell)
Homemade Panettone
Bake a traditional Italian Panettone Cake for Christmas. Panettone is a delicious sweet bread that's loaded with bits of fruit, orange/lemon zest, golden raisins, and chopped almonds.
The festive cake is baked in a distinctive cylindrical mold making it a Christmas cake like none other. You'll enjoy trying this traditional Italian cake recipe.
3 cups all-purpose flour, sifted
1 tablespoon baking powder
1 teaspoon ground cardamom spice
1/2 teaspoon salt
1/4 teaspoon ground ginger
2 large eggs
2 egg yolks
3/4 cup granulated sugar
1/2 cup plus 1 tablespoon butter, melted and cooled
1 cup milk
1-1/4 cups golden raisins
1/2 cup coarsely chopped dried fruit (such as peaches, papaya, pineapple, or bananas)
1/4 cup (1 ounce) coarsely chopped blanched almonds
1-1/2 teaspoons grated orange peel
1/2 teaspoon grated lemon peel
Confectioners' sugar for dusting
Preheat oven to 325°F. Grease two 16-ounce empty coffee cans or two 6 x 4-inch panettone molds.
Mix together flour, baking powder, cardamom, salt, and ginger. Beat together eggs, egg yolks, and sugar until thick and pale yellow in color. Beat melted butter into the egg mixture. Alternately add flour mixture and milk to egg mixture. Then, stir in raisins, dried fruit, nuts, orange peel, and lemon peel.
Spoon cake batter into prepared cans, dividing amount evenly. Place cans, batter-side up, on a baking sheet. Bake panettone at 370°F until top is golden brown and a wire cake tester inserted in the center comes out clean, about 1 hour or so.
If necessary, cover can tops with aluminum foil toward end of baking time to prevent over browning.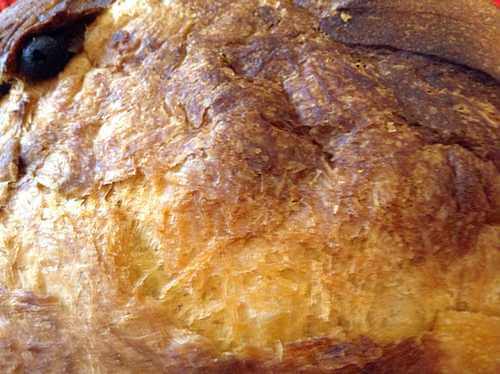 Golden Brown Top of Homemade Panettone
(Source: ©Don Bell)
Carefully slide loaves from cans (tapping the can's bottom helps), transferring them to a baking sheet. Return to oven and bake panettone until crusty, about 5 to 10 minutes more.
Transfer loaves to a wire rack to cool. Dust with confectioners' sugar.
Allow your panettone to cool completely before slicing. Can be stored in an airtight container for up to one week.  Be sure to keep this classic Italian cake recipe handy for whenever you desire to serve a special cake.


Potato Meal isn't often found for sale nowadays, but potato flour offers a good substitute, though it's a finer grind or texture.

Different from potato starch, potato flour is a flour made from grinding dried, whole potatoes and is used as an alternative to wheat flour for gluten-free cooking. It helps to improve texture and add moisture and a natural sweetness when added to cookies and cakes.

If potato flour is unavailable, twice the amount of instant potato flakes can be substituted with good taste results in recipes. For example, 2 ounces potato flour = 4 ounces potato flakes.

About the Italian Cake Recipes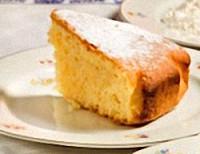 Margherita Cake
Italians have long enjoyed a deserved reputation for their skill in perfecting dessert cakes, and these traditional Italian cake recipes represent some of their finest creations.
The old fashioned Margherita cake and the creamy Cremona Cake represent two of the finest Italian cake recipes from the past. Plus, there's the trifle-like Cake alla Tolentina recipe and the quintessential Panettone.
You'll want to make them all. Really!
You'll quickly come to appreciate the delicious, Old World taste of these rich yet wholesome dessert cakes. As Grandma often said, the proof is in the eating, and you'll find plenty of proof here!
Ricette Italiane originali.


Related Pages You May Like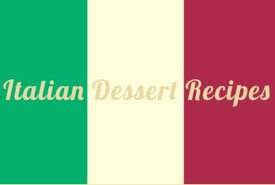 Italian Desserts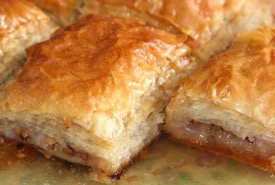 Traditional International Desserts