Ice Cream Dessert Recipes
Ice Cream Dessert Recipes

You will love these ice cream dessert recipes. Now, you can make the original sundaes, banana splits, and frozen dessert specials from the days of the old fashioned ice cream parlors right in your own home.

Ice Cream Dessert Recipes
Enjoy Making Original Ice Cream Parlor Sundaes
(Source: ©mc_atolye/Depositphotos.com)
Have an Ice Cream Sundae Party
Simply set several containers of frozen ice cream into a large tub filled with crushed ice to prevent the ice cream from melting. There should be enough ice cream available to satisfy all your guests.
Offer the usual ice cream flavors along with a couple of the more unusual old time flavors such as Fig, Violet, Clove, Rhubarb Cream, and Brown Bread.
Be generous with the toppings. Have containers of sundae sauces along with pieces of homemade fudge, crushed hard candies, and chopped candied fruit. Offer your guests as many fun topping choices as possible.
And to add to the fun, print out several of your favorite ice cream sundae recipes and leave them handy to inspire your guests.

Ice Cream Sundae History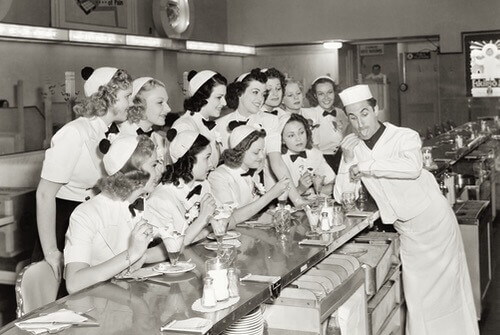 College Girls Enjoying Ice Cream Parlor Sundaes
(Source: ©everett225/Depositphotos.com)
It was in 1881 while visiting an ice cream parlor in Two Rivers, Wisconsin, that a teenager named George Hallauer is credited with inventing the original homemade ice cream sundae recipe.
It's alleged that Hallauer spontaneously asked the fountain operator, Ed Berner, to drizzle chocolate syrup over his dish of plain ice cream. However, there are other credible sources that indicate the sundae wasn't invented until some time later, in the 1890s.
Drinking soda water was considered improper by some Victorians and various Midwest towns even passed laws preventing its sale on Sundays. The so-called "soda suckers" were even vilified in church sermons and in the popular press at the time.
Wanting a solution, a clever pharmacist in Evanston, Indiana created an alternative taste treat to sell on Sundays that contained fountain syrup and ice cream but no soda water.
Meanwhile, over in Wisconsin, George Giffy, and other soda fountain owners also began to sell what were deemed legal ice cream sodas — that is, sodas without the soda — on Sundays, offering the customer a choice of ice cream and flavoring syrups for only 5 cents.
The new ice cream and fountain syrup combination became quite popular, and people began calling it a Sunday Soda or simply a "Sunday."
They were only sold on Sundays at the beginning, but soon people began to ask for them on other days of the week too. Eventually, the spelling was changed from Sunday to "sundae" out of respect for the Lord's Day and to make the treat popular during the rest of the week.
It was around this time also that the ice cream sandwich and the ice cream float appeared, but no one really knows the exact dates or who it was that invented them.
Many soda fountain treats, and the original ice cream parlor sundae recipes were developed spontaneously as customers demanded combinations of their favorite ingredients.
Now, you can enjoy making these original ice cream dessert recipes anytime.