Traditional French Cake Recipes

Homemade French Cream Cakes
(Source: ©sergey-skleznev/123RF)
Traditional French cake recipes are prized by those who appreciate rich tasting, memorable desserts, and these are some of the best ever published. Below is a delicious selection of old fashioned cream cakes and loafs, and there's even a vintage French Canadian recipe for the to-die-for Gâteau à la Française. Bake one of these delicious desserts tonight.

Fannie's Traditional French Cake Recipes

The Boston Cooking-School Cook Book (1916)


French Cream Cake
1/2 cup butter, 1 cup boiling water, 4 eggs, 1 cup flour. Put butter and water in saucepan and place on front of range. As soon as boiling point is reached, add flour all at once, and stir vigorously. Remove from fire as soon as mixed, and add unbeaten eggs one at a time, beating, until thoroughly mixed, between the addition of eggs.
Drop by spoonfuls on a buttered sheet, one and one-half inches apart, shaping with handle of spoon as nearly circular as possible, having mixture slightly piled in center. Bake thirty minutes in a moderate oven.
If cream cakes are removed from the oven before being thoroughly cooked, they will fall. If in doubt, take one from oven, and if it does not fall, this is sufficient proof that others are cooked.
When done, with a sharp knife make a cut in each large enough to add cream filling. This cake recipe makes eighteen small cream cakes.
French Cream Filling: 3/4 cup thick cream, 1/4 cup milk, 1/4 cup powdered sugar, white one egg, 1/2 teaspoon vanilla. Dilute cream with milk and beat until stiff, using Dover eggbeater. Add sugar, white of egg beaten until stiff, and vanilla.

French Strawberry Cream Cake
These delicious little cream cakes are bursting with the flavor of fresh strawberries. They are so delicious, they taste as though you've slaved over them all day long, but only you'll know you haven't.
These cakes are perfect for serving at a private party or at an old fashioned picnic lunch by the lakeside.
Shape cream cake mixture (above) oblong, making twelve cakes. Split when done and fill with strawberry cream filling.
Strawberry Filling: 1 cup thick cream, 1/3 cup sugar, white 1 egg, 1/2 cup strawberries, 1/4 teaspoon vanilla. Beat cream until stiff, using Dover eggbeater, add sugar, white of egg beaten until stiff, strawberries mashed, and vanilla.

Traditional French Cake Recipe for French Canadian Gâteau à la Française

Cookery (1895)


Gâteau à la Française

1 large plain sponge cake, 6 oz fresh butter, 8 oz icing sugar, 3 oz grated chocolate, a few drops of caramel, 2 tablespoons brandy. Beat together the butter and sugar to a cream, add the brandy and caramel.
Mix well together, and take out a quarter, add chocolate to remainder. Cut the cake into thick slices, spread them with the chocolate mixture, replace, and garnish with remainder of icing.

Traditional French Cake Recipe

The Woman Suffrage Cook Book, Second Edition (1890)


Cream Cake with Chocolate Filling

Cake: One cup sugar, three eggs, one and a half cups flour, two tablespoonfuls cold water, one teaspoonful cream of tarter, half a teaspoonful soda. Make three layers in Washington pie plates.
Cream: One egg, half a pint of milk, three heaping tablespoonfuls sugar, two even tablespoonfuls flour, and a little salt. Flavor with lemon or vanilla. Stir into the milk when hot the flour mixed in a little cold milk, also the beaten egg and sugar.
The same cake may be used for jelly, and for chocolate Washington pie, only add butter the size of an egg.
Chocolate Filling: Half a cake of chocolate, grated, one cup sugar, one egg, one tablespoonful cold water. Stir all together, and steam ten minutes, as for boiled custard. Put on the cake while warm.

Dr. Chase's Traditional French Cake Recipes


Dr. Chase's Third, Last and Complete Receipt Book (1891)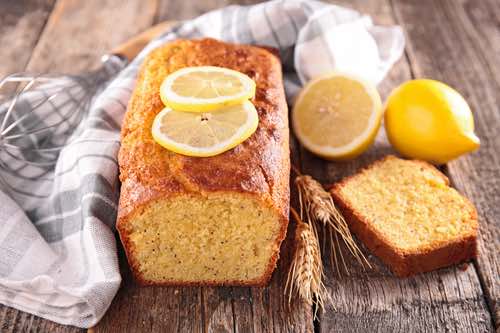 Traditional French Lemon Loaf Cake
(Source: ©studioM/Depositphotos.com)
French Loaf Cake, Lemon

Sugar, 2-1/2 cups; butter, 1-1/2 cups; flour, 1-1/2 cups; 8 eggs; some milk, 2 tablespoonfuls; soda, 1/4 teaspoonful; 1 lemon.
Directions: Cream the butter and sugar together, then stir in the yolks (the French always beat the yolks and whites separately), then the whites; and, having grated off the yellow of the lemon (peeled off the white and thrown away), and also grated up the inside upon a coarse grater and picked out the seeds, stir this in, then the flour, and having dissolved the soda in the sour milk, stir it in and bake in a moderate oven.
An orange or two may be used instead of a lemon, for variety's sake, if desired or preferred.
Remarks. —It may not be amiss to say that the French not only beat the yolks and whites of eggs separately, and for a long time, but they also make their cakes very rich. If it is desired to have cake like theirs, we must follow their directions.

French Loaf Cake, Plain
Sugar, 2 cups; butter, 1/2 cup; sweet milk, 1 cup; flour, 3 cups; 3 eggs; baking powder, 3 teaspoonfuls.
Directions: Cream the sugar and butter together with the hand; beat the eggs well and stir in; then add the milk; stir the baking powder into the sifted flour and mix in thoroughly, and bake in a moderate oven two fair-sized cakes.
Remarks. —Flavoring of any kind may be used with this French cake; but the first time I ate of it was at my own table, made by one of my married daughters, without flavoring. If flavoring is used, of course, it is not plain, and it certainly is very nice with any flavoring.

About the Traditional French Cake Recipes

Fannie Farmer was the most famous cookbook author of her day, and her French cream cakes positively did her credit. They are so easy to make, yet the little cream filled cakes will look fantastic on your dessert table. They are especially delicious and perfect for serving on any occasion.
You'll also love Dr. Chase's homemade French loaf cakes. They're delicious without being pretentious. If you're planning to celebrate a special occasion, or if you simply wish to make any occasion special, then consider trying these traditional French cake recipes.

Related Pages You May Like