Fizz Recipes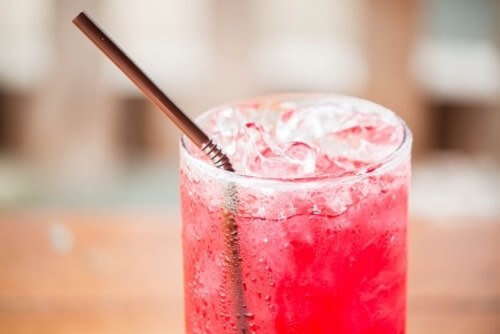 Sparkling Cherry Fizz Drink with Crushed Ice
(Source: ©punsayaporn/123RF Stock Photo)
Wow! You've got to try these old fashioned Fizz recipes. Fizz drinks are flavored with the natural juices of lemons, pineapples, oranges, and other citrus fruits, and they're served while at their peak of effervescing. Refreshing and delicious!


What IS a Fizz Drink?
Fizzes are beverages made from citric-acid syrups like lemon, pineapple, orange, and so on, and they're served while effervescing.
Their unique "fizz" effect is gained by injecting or pouring the carbonated water in a series of quick dashes (amounts), or by the addition of a little bit of bicarbonate of soda (baking soda) and shaking. There's no doubt about it, fizzes are unique AND delicious!
Sometimes the old time soda fountain operator added an egg to the standard soft drink mixture to lend richness to the beverage and to hold the effervescence longer.
If the white of an egg is added and the beverage is shaken, it becomes a Silver Fizz. If an egg yolk is used and the drink is shaken, it becomes a Golden Fizz. Enjoy an old time fizz today!


Old Fashioned Fizz Recipes

The Dispenser's Formulary or Soda Water Guide (1915)


Soda Jerk Taking Orders for Fizzes and Fountain Beverages
(Source: ©everett255/Depositphotos.com)
Fizzes are refreshing and so good tasting you'll want to down seconds. And for non-alcoholic drink recipes, you can't beat these. Why not set up an old fashioned soda fountain for your next party? Fizzes would be a huge hit with all ages.

Cherry Fizz
1-1/2 ounces cherry syrup, juice of 1/2 lemon (1/2 ounce). Squeeze juice of 1/2 lemon in cherry syrup in mixing glass half full of carbonated water.
Strain into 12-ounce glass, add a little sodium bicarbonate (baking soda) from end of spoon and fill glass with carbonated water. Price—10 ounces, 10 cents.


Resolution Fizz
1-1/2 ounces cherry syrup, 1/2 ounce lemon juice. Pour into a mixing glass half full of cracked ice, stir well, strain into a fancy glass which has previously been filled about one-third full of fine ice, add a little sodium bicarbonate (soda water) on the end of a spoon, stir well, add a slice of lemon and orange, or a cherry and a slice of orange. Price—10 ounces, 10 cents.


Crown Prince Fizz
Into a 12-ounce glass put: 2 ounces strawberry syrup, 1 ounce orange syrup, juice of half a lemon, 1/4 glassful shaved ice. Shake, strain, and fill with carbonated water. Price 10 cents for 10 ounces. —Martin S. Meyer


Festival Fizz
1/8 ounce lemon juice, 1 ounce pineapple syrup, 1 dash Angostura bitters, enough shaved ice. Place in glass, fill with carbonated water, top off with a slice of orange and cherries, and serve with spoon and straws. Price—10 ounces, 10 cents.


Silver Tonique Fizz
For this old fashioned fizz recipe, fill a glass half full of shaved ice, add white of 1 egg, 3 spoonfuls powdered sugar, 3 dashes Angostura bitters, 4 dashes lime juice. Shake well, pour into 12-ounce bell-top glass, and fill with soda water in short dashes to make fizz.


Carbonated Water (soda water) can be found for sale in the soft drink section of most food and convenience stores.

Affordable Soda Fountain Syrups

Prairie Moon Has Everything You Need
Make your beverages with  flavored syrup concentrates from The Prairie Moon Company. Choose from over 50 old fashioned soft drink flavors including Root Beer, Sarsaparilla, and Cola. Simply add water and your own sugar or sweetener.
Prairie Moon offers low cost shipping to U.S. and Canadian customers. I highly recommend them!
Disclosure: This is an affiliate link, which means that if you purchase a Prairie Moon product through this link, I receive a small compensation to help support this site — at no extra cost to you.

Related Pages You May Like