Easy Cupcake Recipes From Scratch
You will love Mom's easy cupcake recipes from scratch. They are so simple to make, and you'll appreciate the all-natural ingredients that these recipes call for when making them. These delicious homemade cupcakes are the perfect comfort food. Make a bunch today!

Easy Cupcake Recipes From Scratch
Easily Make Delicious Cupcakes From Scratch
(Source: ©ArturVerkhovets/Depositphotos.com)
About Mom's Homemade Cupcakes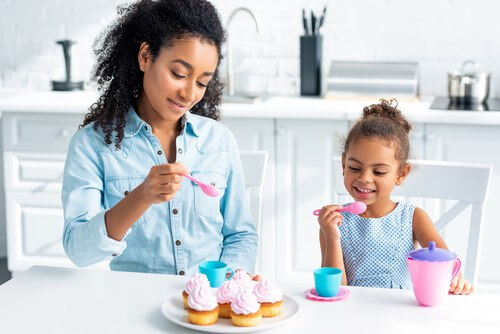 It's Always Fun to Make Cupcakes From Scratch
(Source: ©AllaSerebrina/Depositphotos.com)
It's a personal preference, but I enjoy my cupcakes without icing when topped with fresh or preserved fruit, or with a favorite homemade ice cream.
However, they also taste wonderful when thickly iced with a favorite frosting. I especially liked Mom's chocolate SURPRISE cupcakes, and her orange flavored ones too, with their fluffy jelly meringue topping. Both recipes are given with other Delicious Cupcake Recipes.

Most cupcakes can be beautifully decorated for festive occasions. Be sure to check out the helpful decorating ideas presented in the links above. The flower cupcakes are especially eye catching when creatively displayed on a cupcake stand as an edible bouquet.

I can recall eating Mom's cupcakes decorated with thick chocolate icing at birthdays and decorated with frosting and colorful candy sprinkles at family wedding showers. However, you needed to get first in line because they were quick to disappear!

When you're young, or young at heart, cupcakes are really special. It's like having a tiny cake all to yourself.

Cake Batter Cupcakes
Aside from these easy cupcake recipes from scratch, did you know that you can make tasty cupcakes from almost any cake batter?
Most of the basic chocolate cake and white cake recipes on this site will make great tasting cupcakes.
However, your homemade cupcakes should be baked in a slightly hotter oven than you would use for baking cakes because of their small size. Also, watch your cooking times.