Cupcake Decorating Ideas

Here's a whole bunch of fun cupcake decorating ideas that you will want to try. If you've just baked a batch of vintage cupcakes and now you're wondering how to decorate them, or you need a dozen prize winners for a bake sale, DO NOT panic! Simply look below for some inspired ideas.

Fun Cupcake Decorating Ideas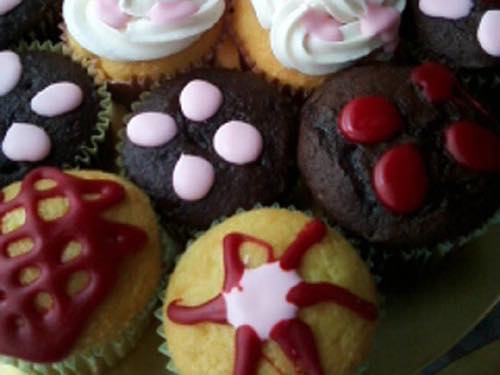 Examples of Vintage Cupcake Creations That You Can Do
(Source: DIYplr)
You don't have to be a Martha Stewart to create some pretty looking flower decorations for your homemade cupcakes. These easy cupcake decorating ideas will give your creativity an edge.
Using Fondant Shapes on Cupcakes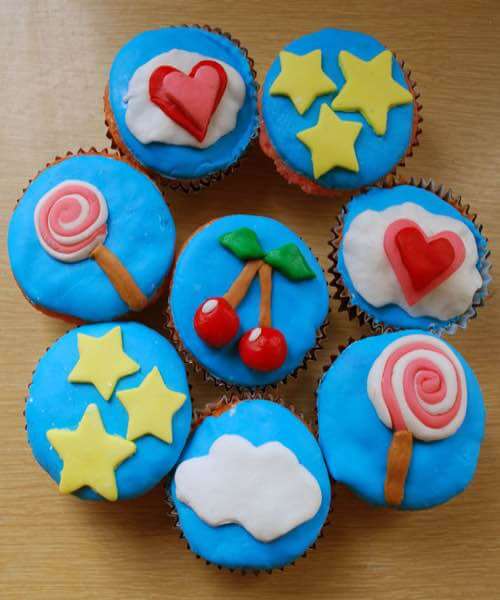 Cupcakes Decorated with Fondant Shapes
(Source: DIYplr)
If you're wanting a very specific design or shape, you can do what the professional bakery chefs have done for years to decorate cupcakes without frosting — choose a fondant.
Select a store-bought fondant, or you can make your own fondant in the colors you want. The dough-like fondant lets you mold a variety of shapes or cut out specific shapes, and more.

Using Royal Icing Accents on Cupcakes

Use Royal Icing Accents to Decorate Cupcakes
(Source: DIYplr)
Sometimes just a little icing accent can make a cupcake stand out dramatically. These are examples of the royal icing decorations you can purchase ready-made at your local cake decorating shop, or you can make your own using candy molds.

Using a Simple Glaze on Cupcakes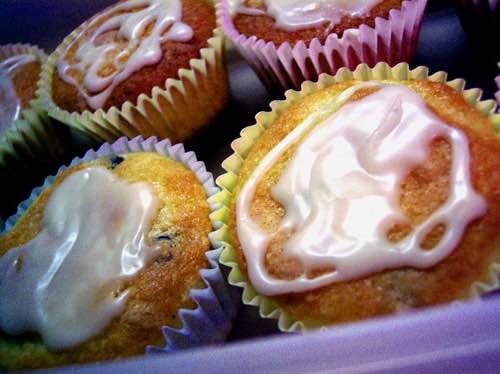 Cupcakes with a Simple Glaze Decoration
(Source: DIYplr)
In a hurry? Go with cupcake decorating ideas that are simple and easy. Just a little bit of warm glaze placed on a cupcake and allowed to set creates a beautiful and tasty masterpiece.
Glazes are pretty simple to make. Just a little icing sugar, butter, and milk are needed. Try adding a favorite flavoring like vanilla or almond to your glaze to compliment the taste of your cupcake.

Sometimes Less IS More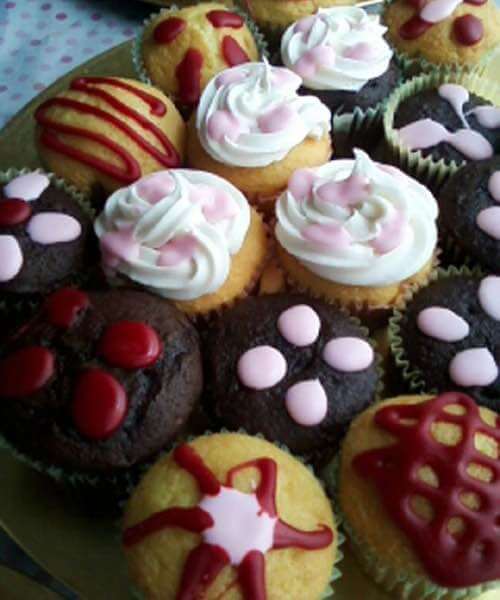 Simply Decorated Cupcakes That Catch Attention
(Source: DIYplr)
Most of the homemade cupcakes above are very simply decorated. Just use a swirl of icing, or some gel, or piped icing to attract the eye.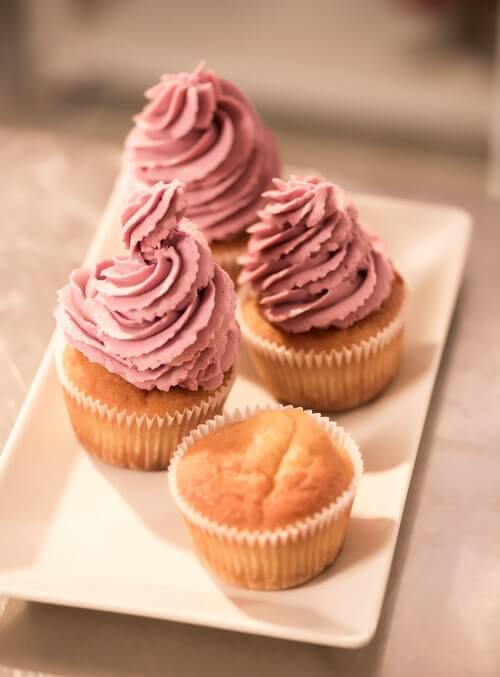 People Love Their Cupcake Icing Swirled High
(Source: ©ArturVerkhovets/Depositphotos.com)
Often, the best cupcake decorating ideas don't need to be complicated to produce mouthwatering results. Everybody loves the swirled icing when it's piled high!
Using a Bright Color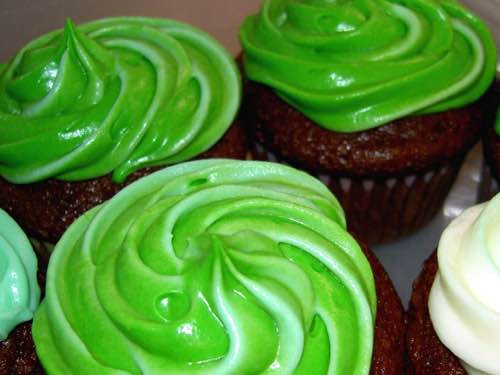 Decorate Your Cupcakes with Bright Colors
(Source: DIYplr)
If you're in a hurry and there isn't time to think about fancy designs, just use a swirl of brightly colored icing to make your homemade cupcakes really stand out.
You can color your homemade icing or use a decorator's icing spray to get the bright colors you want.

Just Release Your Creativity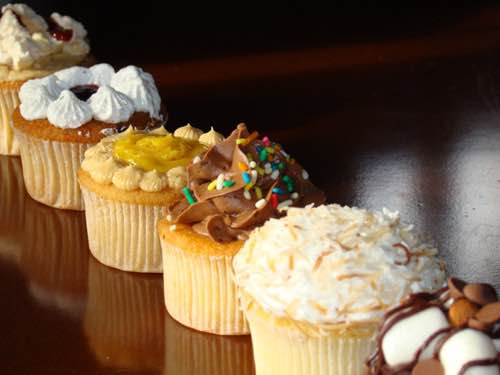 Different Ways to Decorate Cupcakes
(Source: DIYplr)
The sky's the limit with cupcakes. Each cupcake in your batch can be made to look different if you want, and you have the time. Try a rocky road theme with chocolate, marshmallows and graham crackers.
Maybe you'd prefer to top your cupcake icing with shredded coconut. Or, go for the simple look and just add a little frosting and colored sprinkles, or chocolate flakes. People love a choice.

Go for the Unusual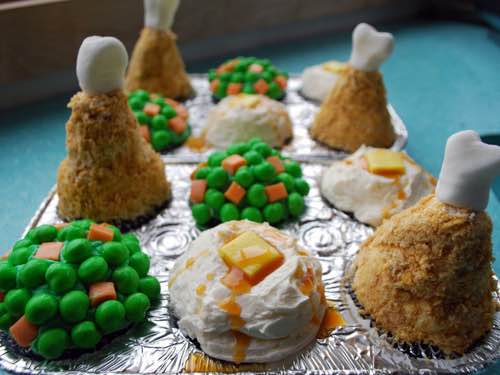 Cupcakes Decorated as a Turkey Dinner
(Source: DIYplr)
Turkey drumsticks with mashed potatoes and butter, and green peas? Now that IS different. However, it's perfect "cupcake combo" for Thanksgiving Day!

Isn't it just amazing what you can do with a little icing, some marshmallows, store-bought candies, and chewing gum?
The unusual cupcakes in the above photo were inspired by the cupcake decorating ideas featured in the popular cookbook, "Hello, Cupcake!" by Karen Tack and Alan Richardson.

Watch the above YouTube video, as the book's authors demonstrate How to Make Corn On the Cob Cupcakes. Then, visit Amazon and instantly get the "Hello, Cupcake!" Kindle book. Treat yourself. You'll love it!

The book describes different ways to decorate cupcakes using candies commonly found in local stores, and ordinary utensils found in your home kitchen.

As you can see, there's really no end to fun cupcake decorating ideas when you release your imagination.
No fancy equipment or special skill is needed aside from a simple icing bag an a few easy tips. You will be amazed at what you can accomplish, and you'll have loads of creative fun doing it.

Related Pages You Might Like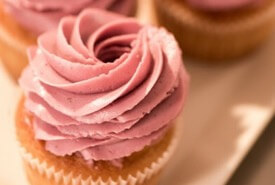 Easy Cupcake Recipes