Easy Flower Cupcake Ideas
Thanks to these easy flower cupcake ideas, you can create beautiful cupcake arrangements to brighten any dessert table. And you don't have to be a Martha Stewart, as these buttercream icing flowers are simple and fun to make with just a little practice.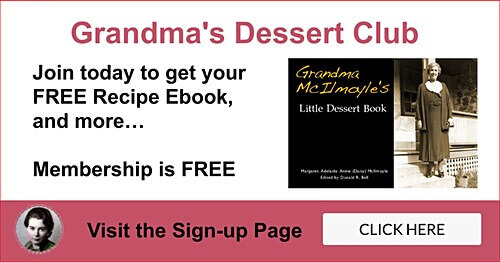 Easy Flower Cupcake Ideas Using Buttercream Icing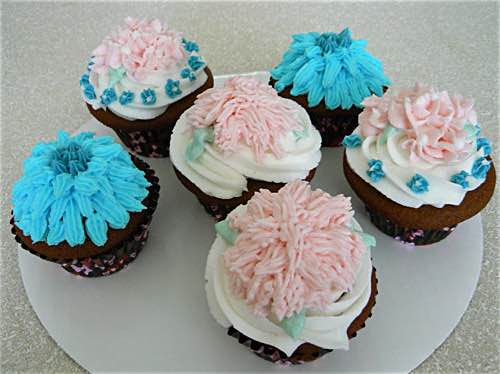 How to Decorate Cupcakes with Icing Flowers
(Source: DIYplr)
Blue Buttercream Icing Flowers

For the blue flowers on the cupcakes shown above, use a No. 12 tip on your decorating bag and make a small mound of dark blue icing in the center of your cupcake.
Next use a No. 16 tip to make a small cluster of long star shapes at the top. Then starting around the edge, use No. 18 tip with light blue icing to make the petals.
Carefully work around in a circle and then make another row above, until you come to the topmost flowers.
Small Buttercream Icing Flowers
For tiny blue flowers on the pink and blue flowered cupcakes above, add a few pastel-green leaves and use a star tip (No. 16) to create small flowers around the cupcake's edge.
Then use a small round decorator tip (No. 3) to add a white dot to the center of the tiny flowers.
Large Shaggy Buttercream Icing Flowers
For the shaggy pink flowers, begin with a white swirl base, then make your light-green leaf shapes with a leaf tip (No. 352).
Next use a multi-opening tip (No. 233) to make the shaggy pink petals. Beginning from the outside, make a circle. Then make another circle further in, until the entire cupcake center is filled.
Yellow Sunflower Cupcakes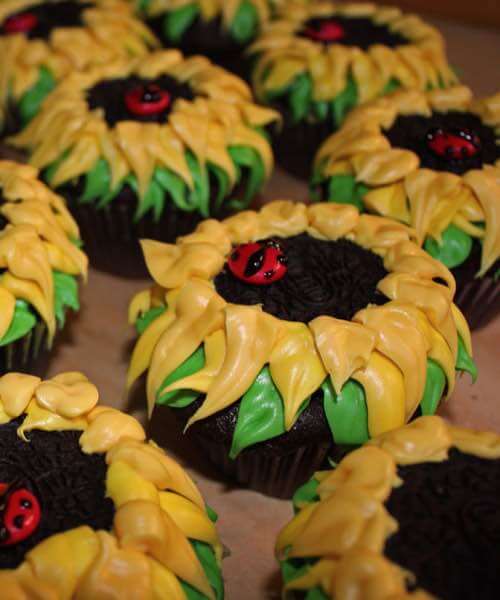 Cupcakes Decorated with Yellow Sunflowers
(Source: DIYplr)
These icing sunflowers look tricky, but you'll be surprised at how easy it is to make them. All you need is a bit of buttercream icing on the top of the cupcake, topped with a chocolate OREO cookie.
Use a leaf tip (No. 352) nozzle to create the green leaves on the bottom. Top with 2 more rows of yellow leaves. Finally, for the pièce de résistance, add a tiny ladybug royal icing accent.
Fresh Flower Cupcake Arrangements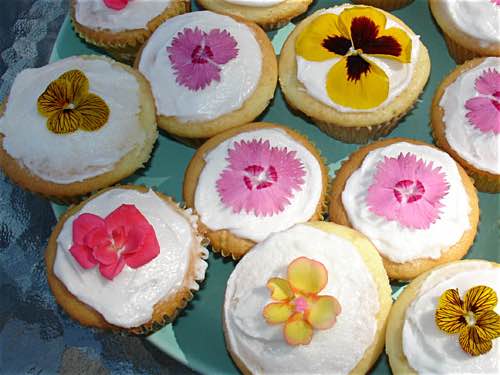 Yummy Cupcakes Decorated with Fresh Flowers
(Source: DIYplr)
Here's an elegant yet very easy flower cupcake idea. After icing the top in white frosting, each cupcake is crowned with a colorful edible flower blossom from your garden.
Just make double sure the flowers are organically grown and food safe; that they have NOT been sprayed with any harmful chemicals or fertilizers before adding them to your cupcakes.