Brownie Recipes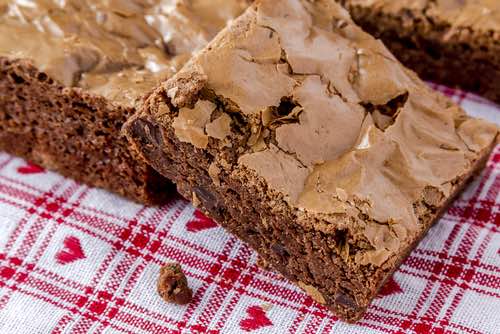 Bake Your Own Homemade Chocolate Brownies
(Source: ©TeriVirbickis/Depositphotos.com)
Below are Mom's old fashioned brownie recipes straight from her recipe box. Do you love the taste of chocolatey, chewy brownies with bits of walnuts in them? Then you'll really love these! They are always a favorite treat at our house.
Whenever Mom needed to quickly bake a tray of brownies to take to a family get-together, these are the old fashioned recipes she used. The chocolate brownies always turned out well from the oven, and they always tasted super delicious.

Mom's Old Fashioned Brownie Recipes
Mom's Old Recipe Box (c. 1940s)


I can still recall the beckoning aroma of Mom's freshly baked brownies filling our old farm kitchen. I burned my tongue once because I couldn't wait long enough for them to cool before eating.
Mom's Favorite Chocolate Brownies
Grandma's Tip
Mom's secret to baking the best brownies was to leave them slightly underdone.
Whatever you do, DO NOT over bake them, and they should turn out deliciously soft and chewy every time.
Cream 1/2 cup butter; add 1 cup sugar, mix in 2 eggs beaten slightly, add 1 teaspoon vanilla.
Stir in 2/3 cup sifted flour, add 2 squares bitter chocolate, melted, and 1/2 cup nutmeats.
Use an 8-inch pan lined with wax paper and bake 25 minutes in an oven preheated to 325°F.
Be watchful NOT to over bake; to have them underdone is the delicious secret for making perfect brownies.

Chocolate Nut Brownies

1/3 cup shortening or butter
1 cup brown sugar
1 egg
3/4 cup flour
1 teaspoon baking powder
1/2 teaspoon salt
3 heaping teaspoons cocoa
1/2 cup chopped nuts
Melt shortening, add sugar, then egg. Sift flour, salt, baking powder. Add nuts. Mix ingredients well together.
Put in greased 8-by-8-inch tin. Bake in 375°F oven for 20 minutes, or until done. Ice while still warm.

No Bake Brownies
1 cup walnuts, chopped
4 cups graham cracker crumbs
1/2 cup icing sugar
2 cups (12-ounce package) chocolate chips
1 cup evaporated milk
1 teaspoon vanilla
To make this no bake brownie recipe, combine nuts, graham cracker crumbs, and icing sugar in large mixing bowl. Heat chocolate chips and evaporated milk in small pan over low heat while stirring constantly until smoothly blended.
Remove from heat and add vanilla. Reserve 1/2 cup of the chocolate mixture, then mix remainder with the crumb mixture.
Spread breadcrumb batter mixture evenly in a well-buttered 9-inch square pan. Spread reserved chocolate over top for glaze. Chill in refrigerator until ready to serve. Cut into squares or bars.

Grandma Fleming's Old Fashioned Brownie Recipe

Submitted by Vicki Bell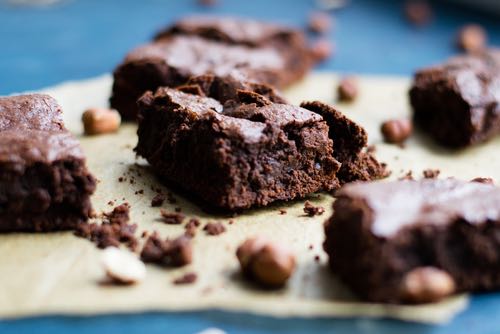 Homemade Chocolate Brownies with Walnuts
(Source: ©elenademyanko/Depositphotos.com)
Old Fashioned Fudge Brownies
Melt 6 tablespoons cocoa and 1/2 cup butter. Add 1 cup sugar, 2 beaten eggs, 1 cup flour, 1/2 cup chopped walnuts, 1/8 teaspoon salt, and 1/2 teaspoon vanilla extract.
Spread like fudge in a greased cake pan (8-inches square). Bake for 20 minutes at 325° F. Cut into squares while still hot.

Chewy Chocolate Brownie Recipe

Submitted by Onkar Matharu, UK


Chewy Chocolate Brownies

Here's a simple recipe for making delicious Brownies.
Ingredients:
250 grams (9 ounces) chocolate pieces
240 grams (8 ounces) unsalted butter (diced)
1 cup cane sugar
3 eggs (beaten)
3/4 cup plain wheat flour
1/4 cup self-raising flour
Instructions:
1) Get the diced butter and put it in a saucepan. Put the saucepan on the hob (UK stove element) on low heat.
2) When it starts to melt, add in the chocolate pieces. Stir until all is melted.
3) When it's all melted, turn the heat off. Add the sugar, mix it, add all the flour, and mix, and then add the beaten egg.
4) Mix until slightly thick. Get a tray and put grease-proof paper in it. Put in the brownie mix and put tray in oven for 25 minutes on 170°C (340°F) heat.
5) When made, put brownies in fridge for 30 minutes.
6) Take brownies out of fridge and enjoy!

I loved that Chewy Chocolate Brownie! It was so yummy, and the way you make it, the smell, everything, it makes it yummier. —Milly

Grandma Beulah's Old Fashioned Brownie Recipe
Submitted by Bill of Kansas, USA


Grandma Beulah's Chocolate Brownies
You'll love my Grandma Beulah's homemade brownies. I spent a lot of time up at Grandma and Grandpa's house when I was a kid. They lived just a quarter of a mile from my family's home within easy walking distance.
There were several great climbing trees near their house; and better yet, my Grandma Beulah liked to spoil us kids with her homemade brownies.
Sometimes they had nuts in 'em, from one of the black walnut trees that grew behind the place, and sometimes they didn't. But either way, they were great.
What I mainly liked about her brownies was that there was a thin crust on top, so when I bit in, there was a little crunch to go with the moist insides. —Bill

Ingredients:
2 squares of unsweetened chocolate, melted
1/3 cup of shortening
1 cup white cane sugar
1 egg, beaten
3/4 cup flour
1/2 teaspoon baking powder
1/2 teaspoon salt
1/2 cup black walnut pieces (optional)
Directions:
First, cream the shortening and sugar together. Mix in the beaten egg, then stir in the melted chocolate. In a separate bowl, combine the flour, baking powder and salt, then mix that into the wet ingredients.
Stir just enough to moisten the dry ingredients, then fold in the walnut pieces.
Pour the batter into an 8 inch square baking pan, and level with the spoon. Bake for 35 to 40 minutes in an oven set to 350°F.
Test the brownies with a toothpick — when it comes out clean, they're done.

Bill, thanks for sharing your Grandma Beulah's homemade brownie recipe. I'm a brownie lover from way back.
I can remember as a child, whenever I attended a family get-together or any social event, I would head for the dessert table and look for the chocolate brownies.
I tried your recipe, and THE RESULTS WERE DELICIOUS! —Don, HomemadeDessertRecipes.com

Brownie Serving Suggestion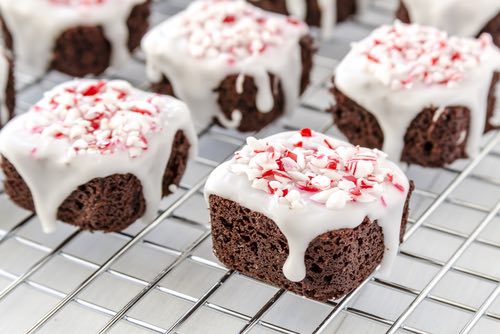 Decorated Chocolate Brownies with Candy Cane Pieces
(Source: ©TeriVirbickis/Depositphotos.com)
Brownies are a versatile dessert, and you can dress them up in many ways for any occasion. The example shows them generously covered with white icing and topped with candy cane pieces for the Christmas and New Years. Don't they look tempting?

Related Pages You May Like