Old Fashioned Cornflake Cookie Recipe
Old Fashioned Cornflake Cookie Recipe

Annie's old fashioned cornflake cookie recipe is so easy to make, and the results taste so delicious. Some people claim these NO BAKE treats are too good to be called cookies. Whether they are cookies or candies, you get to decide!
You'll also find some easy recipes for cornflake squares, patties, and candy. These crunchy cornflake treats are truly comfort foods guaranteed to bring back fond memories of childhood.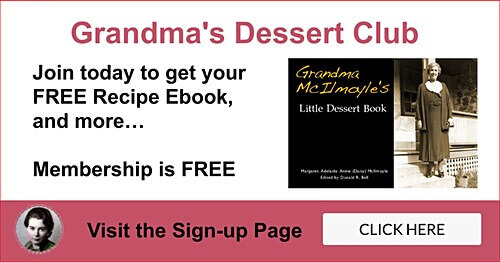 Annie's Old Fashioned Cornflake Cookie Recipe

Submitted by Annie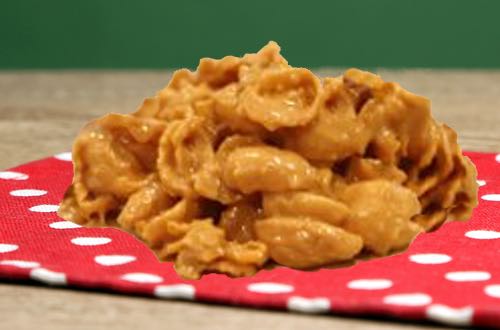 Cornflake Cookies Are Peanut Buttery Delicious
(Source: ©Don Bell)
I discovered these vintage NO BAKE cornflakes recipes in an old fashioned cookbook once belonging to my Mother. Believe me, these cookies are crispy crunchy delicious! —Annie

Cornflake Cookie Crunchies

Ingredients:
1 cup dark corn syrup
1 cup sugar
1-1/4 teaspoons vanilla
2 cups peanut butter
5 cups cornflakes
Preparation:
Bring corn syrup, sugar, and vanilla to a boil in a small saucepan. Remove from heat. Add peanut butter and stir until mixture is smooth. Poor over cornflakes in a large bowl.
Drop mixture by spoonfuls onto waxed paper. Chill. Store the Crunchies in a tightly covered container.

I am so glad to finally see Annie's old fashioned cornflake cookie recipe. I have been looking for it. Had these treats in grade school and my mom's best friend used to make them for us as kids in the 60s. Thanks. —W.H.

Cornflake Candy

Ingredients:
1 cup sugar
1/2 cup corn syrup
1/2 cup Evaporated Milk
1/4 teaspoon salt
1/2 teaspoon vanilla
1 cup shredded coconut
1 cup chopped nuts
4 cups cornflakes
Preparation:
Mix sugar, corn syrup, evaporated milk, salt, and vanilla. Boil to soft ball stage, 20 to 25 minutes. Stir until boiling. Remove from heat and add coconut, nuts, and cornflakes. Stir until well mixed. Shape into small balls, loosely packed. Chill to firm.

Cornflake Wopsies Recipe

Mom's Recipe Scrapbooks (c. 1920s)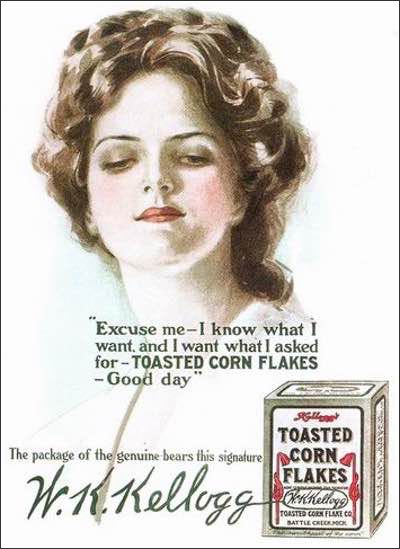 Toasted Corn Flakes®
(Source: Vintage Illustration 1908)
Wenham Wopsies
Whites of 2 eggs beaten stiff, 2-1/2 cups cornflakes, 1/2 cup coconut, 1 scant cup of sugar and a little vanilla. Mix well and bake on greased pan in moderate 350°F oven. —Fruits and Candies, circa 1920s

No Bake Cornflake Patties Recipe

Submitted by Jennifer Talkington

Cornflake Peanut Butter Patties
1/2 cup sugar
1/2 cup corn syrup
1 cup peanut butter
2 cups cornflakes
Bring sugar and corn syrup to boil. Remove from heat and add peanut butter until melted then add cornflakes. Stir till combined. Drop by teaspoonfuls on cookie sheet.

Old Fashioned No Bake Cornflake Squares Recipe

Submitted by Cheri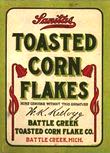 Did you know that brothers Will Keith Kellog and Dr. John Harvey Kellog invented Toasted Corn Flakes® cereal in Battle Creek, Michigan back in 1894? And we've enjoyed eating them ever since!

Scotch-A-Roos Squares
1 cup sugar
1 cup light corn syrup
1 cup peanut butter
6 cup cornflakes
1 6-ounce package chocolate morsels
1 6-ounce package butterscotch morsels
Bring sugar and light corn syrup to a boil in a 3 quart saucepan. Remove from heat and blend in peanut butter and cornflakes cereal. Press into a buttered 9 x 13-inch pan.
Melt over hot water both chocolate and butterscotch morsels together. Spread the melted morsel mixture over the mixture in pan. Allow morsel mixture to harden before cutting into squares.

My grandson and I made the old fashioned cornflake cookie recipe from Jennifer. The patties were wonderful. Jennifer, thank you so very much for sharing the recipe with me!
You helped me relive some precious memories and make some for my grandson too. He loves to cook, and I hope this will be one of his favorites for a lifetime. —Sue L.