Hermit Squares Recipe

Are you a fan of hermit cookies? If so, you'll really want this old fashioned hermit squares recipe that has so generously been submitted by Robert of Portland, PA.
This recipe for dessert squares has been a favorite in Robert's family for generations, and it had been improved by his great grandfather who had been the head chef at a country club, so you know it's good.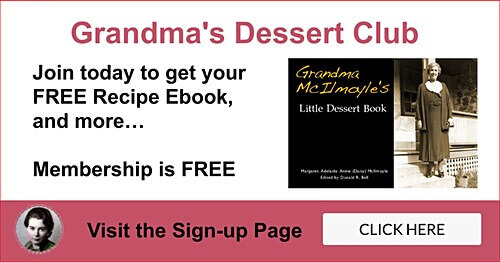 Old Fashioned Hermit Squares Recipe

Submitted by Robert of Portland, PA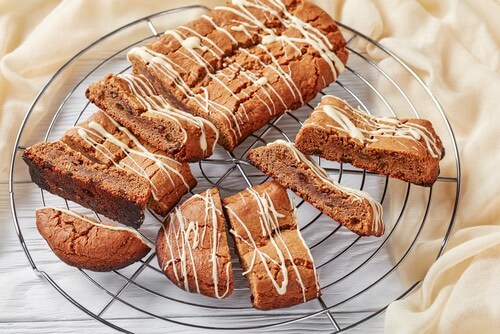 Old Fashioned Hermit Squares With Raisins
(Source: ©myviewpoint/Depositphotos.com)
Hermits are a type of spiced cookie bar. These old fashioned hermit squares recipes have been passed down in my family for generations.
The first baked squares recipe is from my Grandmother's cookbook, and the second is from my Aunt Rose's cookbook; Aunt Rose was my Grandmother's sister.
I suspect that my Grandmother's recipe is a version of my Aunt Rose's modified by my Great Grandfather.
My Great Grandfather was in the food service industry for much of his life. He worked as the head chef and kitchen manager in a country club for many years and at one time owned and ran an old time ice cream parlor.
I believe he modified the hermit recipe during the Great Depression or possibly during Wartime when fresh milk was not readily available; hence, the nonfat dry milk powder. —Robert
Grandma's Hermit Squares

3 cups flour
1/3 cup nonfat dry milk powder
2 teaspoons baking powder
1/2 teaspoon baking soda
2 teaspoons salt
2 teaspoons cinnamon
1 teaspoon nutmeg
1/2 cup margarine
1 cup sugar
1 cup dark corn syrup (Grandma used Karo)
2 tablespoons water
1 egg
1/2 cup raisins
Stir together dry ingredients in a large bowl. Cream margarine and sugar, add corn syrup, water, and egg. Gradually beat in flour mixture and stir in raisins. Spread in a greased and floured 13x9-inch pan.
Bake at 375°F until done — about 25 to 35 minutes. Let cool and cut in squares. Drizzle with icing, if preferred. Store in a tight box or tin.
Ga Ga Hermit Squares

I found this cookie-style hermit squares recipe in my Aunt Rose's cookbook. —Robert
1 cup dark corn syrup (Karo®)
1 cup shortening (Crisco®)
1 teaspoon cloves
1 teaspoon cinnamon
1 teaspoon nutmeg
1/2 cup hot water
1/2 cup brown sugar
1 teaspoon baking soda
2 eggs
3 cups flour
1 cup raisins
Mix Crisco®, Karo®, brown sugar and spices. Mix baking soda with hot water; add. Beat in whole eggs. Add flour and raisins.
Bake in a shallow sheet pan (jellyroll pan) that has been greased and floured. Bake at 350°F until done — about 20-25 minutes. Cool and cut in squares. Keep in closed tin for freshness.
About the Hermit Squares Recipe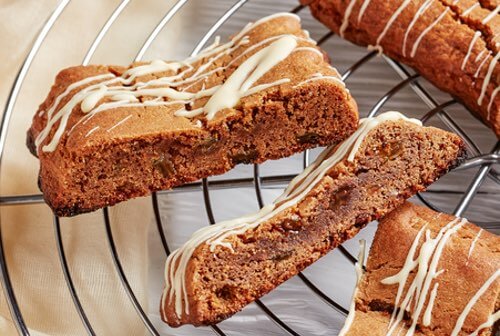 Old Fashioned Hermit Squares With White Icing Drizzle
(Source: ©myviewpoint/Depositphotos.com)
WOW — This is a hermits squares recipe that's really great! Hermits were always served at our family functions, and this one was REALLY tasty. :)
Thanks for the great recipe! —yamfry50